After successful operations in Nha Trang Bay, Emperor Cruises is to launch its Emperor Cruises Bai Tu Long Bay, the 1st five-star all-inclusive cruise with butler and limousine services in Vietnam, the cruise will begin sailing on Bai Tu Long Bay by 16 March 2017.
Emperor Cruises Halong
Emperor Cruises Halong reveals its first image of sailing on the water and a tale of three dragons for its soft opening period. The three-night stay at handpicked hotels in Hanoi is sure to impress. Guests can also become a king for a night on board Emperor Cruises in Bai Tu Long Bay.
Discover the ascending Thang Long – Hanoi, descending child dragon and the living Dragon of Annam, let's book Halong Bay tour in Hanoi. This Hanoi and Halong Bay five-day experience is designed for travelers who seek to explore Hanoi city life on their own, try some local food in the Old Quarter, and shop for fine silk clothing, embroidered linens, bamboo and more. They also get to relax and simply enjoy a glass of draught beer and a cup of Hanoi's famous coffee before escaping to Halong Bay with a fabulous overnight stay on a traditional yet luxurious junk.
Emperor Cruises
Inspired by the lavish lifestyle of Emperor Bao Dai, the last Emperor of Vietnam, this masterpiece is designed to reflect the style of the 1930s, a place for the most sophisticated travelers to enjoy Vietnamese culture, history, and gourmet cuisine, and where glamor and heritage combine to create the epitome of elegance. Each guest is treated to an emperor-like experience, in idyllic privacy, and with every detail attended to.
Itinerary of Emperor Cruises Halong in Bai Tu Long Bay
"Be King For A Night, Experience Our Emperor Cruises & Discover Bai Tu Long Bay In A Two-Day Program. Indulge yourself with a once-in-a-lifetime experience in Vietnam by embarking on our Emperor Cruises and cruising around Bai Tu Long Bay, an alternative to the more touristy and crowded parts of Halong Bay. Venture off-the-beaten track, go kayaking and visit floating fish farms and villages to experience the daily life of the locals. There is plenty of time for nature lovers to discover secluded beaches, lagoons, coves, and caves," said Kevin Nguyen, Sales and Marketing Manager of Emperor Cruises.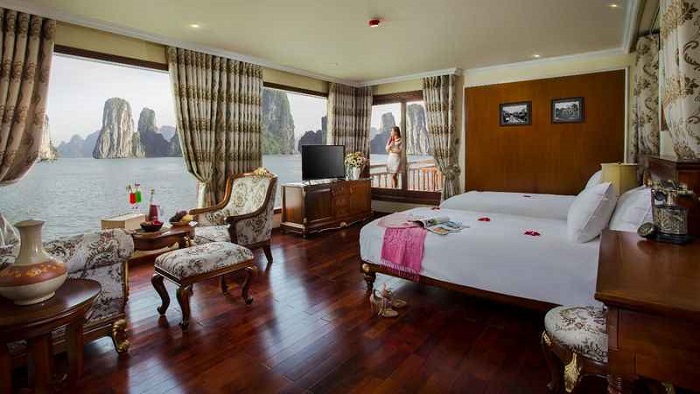 Emperor Cruises
Off-the-beaten-track - Bai Tu Long means 'the place where the dragon children descended.' Renowned for its unspoiled beauty that surpasses even Halong Bay, it is rich in biodiversity, with a pristine environment and blessed with a spectacular landscape. The bay is dominated by thousands of limestone karsts and islets which rise out of the water and is dotted with floating villages, unspoiled beaches, caves, and grottoes.
This new experience starts from 1,381 USD per person based on a private party of two people including airport pick up and drop off services. A three-night stay with daily breakfast is at the five star Sofitel Legend Metropole Hanoi Hotel, and a signature cabin on Emperor Cruises for two people on an all inclusive basis. Bookings are subject to upgrade upon availability and this offer is valid until 30 September 2017.
Emperor Cruises Halong is one of the most wonderful cruises offering an amazing excursion in Bai Tu Long Bay. There is no reason to not book a Halong cruise tour to have great moments there.