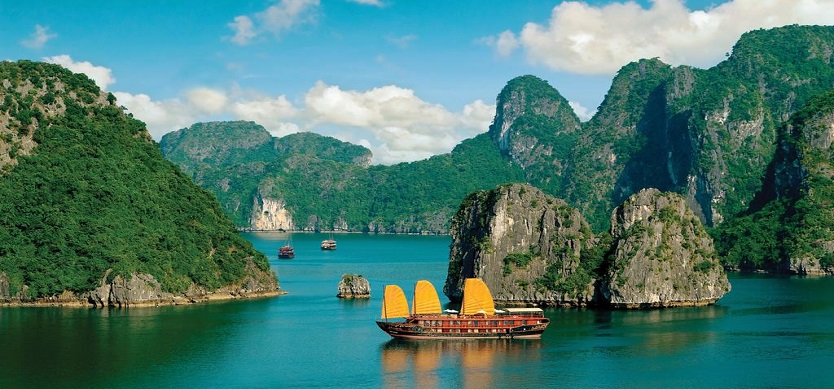 Halong has many interesting tourist attractions. This place always promises to bring visitors the new and lively feeling with the romantic natural scenery. With fresh and fresh climate. Every year, Halong welcomes millions of both domestic and foreign tourists to visit.
One of the attractions that cannot be missed in Halong tours is Tuan Chau Island - the most beautiful island in Halong Bay. It is known as the sparkling paradise of tourism here. Come to visit Tuan Chau island of Halong, visitors will admire the beauty of this place. Here are travel guides from Halong to Tuan Chau Island.
The best time to visit Halong - Tuan Chau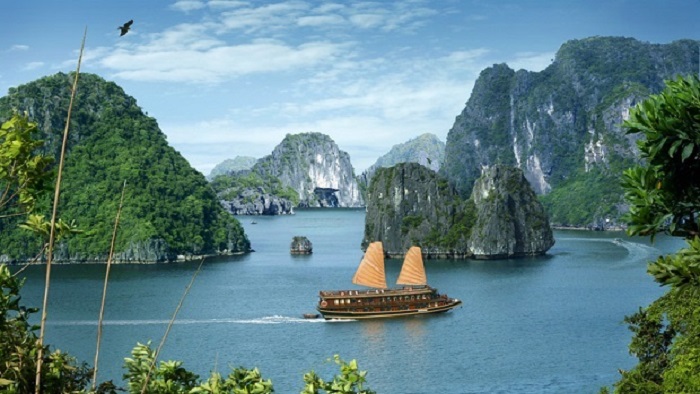 Halong Bay
Many people ask that when to go to Halong Vietnam to enjoy the best in this destination. Here, tourists should visit Tuan Chau from April to October. This is the best time because the weather is quite cool and ideal. You should come here in the middle of the week to avoid the crowds because there are a lot of tourists here on the weekend or holiday. As a result, tourism services are also higher at the weekend and holidays.
How to travel from Halong to Tuan Chau Island
Located in the tourist area of Halong Bay,Tuan Chau Island is by a long road about 2km from the mainland to the island.
With the development of services in Halong tourism now, finding transportations from Halong to Tuan Chau is not difficult. With a distance of about 2km, visitors have many options for this trip:
Taxi
Around Halong tourist area, there are many taxi companies to serve the needs of travelers. The average price of Halong taxi is about 10,000 VND/km. If you travel by taxi, it costs about 20,000 VND to 30,000 VND.
Motorbike
If you do not want to take a taxi, you can choose to rent a motorbike from Halong to Tuan Chau. The motorbike rental in Halong is about 200,000 VND/day, depending on the type of motorbike that you choose to hire. Travel time is about 5 - 10 minutes. To rent motorbikes in Halong, you can rent right in the hotel that you stay. Most of Halong hotels have motorbike rentals for tourists. You can rent motorbike taxi from Halong City to Tuan Chau, the average price is about 20,000 VND.
Bicycle
From Halong to Tuan Chau, visitors can also use bicycle facilities, mainly double bicycles. Watching the beautiful Halong city when riding these bikes will be a great experience for visitors. Hiring a bicycle in Halong is simple and convenient. The rental service is at the resort, along Halong road or at the hotel. The bicycle rental in Halong is about 20,000 VND per hour.
What to do
After admiring the beautiful landscapes in Halong Bay, you can move to Tuan Chau Island to enjoy the most enjoyable experiences at the entertainment sites here. Tuan Chau international entertainment center opens from 7:30 to 22:30 every day. The program time is as follows:
Tuan Chau water music performance: 40 minutes per show with 3 times: 9.15 am - 10 am (no laser); 7 pm - 7.40 pm (Friday and Saturday); 8.15 pm - 8.55 pm; 9.15 pm - 10.15 pm.
Seal and sea lion performances: 30 minutes/show from 10 am - 10.30 am; 3.30 pm - 4.00 pm; 8.15 pm - 8.55 pm; 9.15 pm - 10.15 pm.
Circus performance: Crocodile and Monkey: 20 minutes/program from 9 am - 9.20 am, 11.00 am - 11.20 am, 2.30 pm- 2.50 pm, 4.30 pm- 4.50 pm, 7.30 pm - 7.50 pm, 8.15 pm to 10.35 pm (only on holidays).
Screening of 5D film: 10 minutes/ show from 8.30 am - 11:30 am; 1.00 pm - 6.00 pm; 7.00 pm - 10.00 pm
Dance performance: "Snow in the summer": From 5.00 pm - 6.00 pm (at the outdoor stage of White Castle); 9.00 pm to 10.00 pm (at the outdoor stage of White Castle)
There are also other games such as Kangaroo carousel, horses carousel, electric car race, mysterious house, nursery house, online games on the big configuration.
The entrance ticket:
Group ticket: 180.000d/ticket (reservation is before 1 day for groups of 20 or more)
Personal ticket: 200,000 VND/ticket
Children under 1m are free of charge. Children over 1m have to buy the same tickets as adults.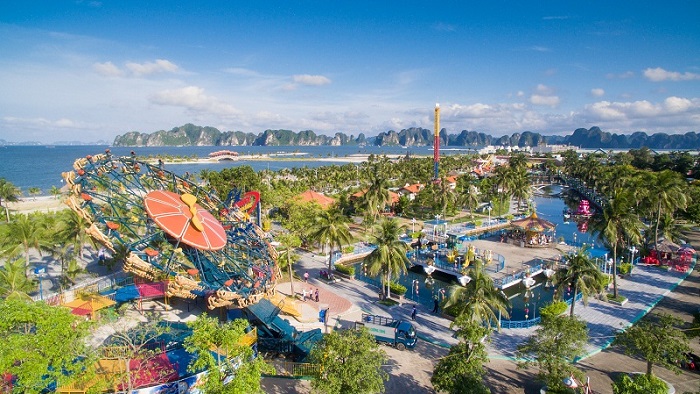 Tuan Chau international entertainment center from above
In addition, tourists can also swim in the sea with the crystal blue water, walk on the silky white sand beach on Tuan Chau Island.
Where to stay
Traveling to Tuan Chau, tourists do not worry too much about accommodations. The following is the list of some cheap and quality hotels and guest houses for visitors.
Hidden Charm Hotel: No. 22D, Tuan Chau Villas, Halong
Holiday Villa: Tuan Chau Island, Halong City, Quang Ninh Province
Morning Star Hotel: Tuan Chau Island, Halong City, Quang Ninh
Bai Chay Hotel: Halong road, Bai Chay Ward, Halong city
Besides, visitors can move to Halong to stay because the distance is not far away. The price may be cheaper and you can see some beautiful destinations of Halong Bay outside Tuan Chau.
What to eat
The two eating areas which extremely crowd are Tuan Chau cuisine and Chinese restaurant. You can eat seafood here, but the price is very expensive. You should go to Hon Gai or Bai Chay to eat cheap and delicious dishes.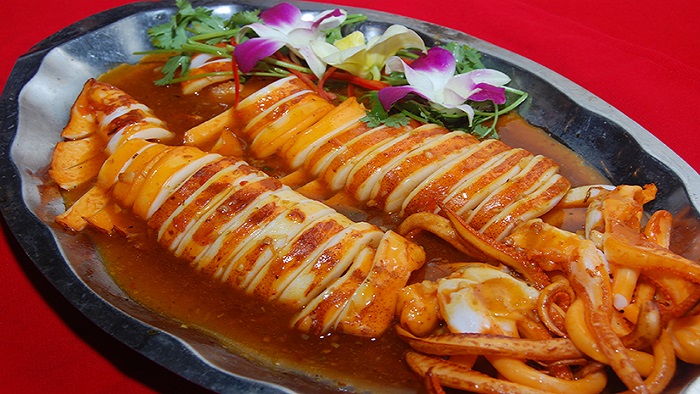 The specialty food of Tuan Chau island
With the above travel guides from Halong to Tuan Chau Island, we hope that you will be happy with the interesting experiences in your journey. Share this article if it is useful for you. Have a great trip!