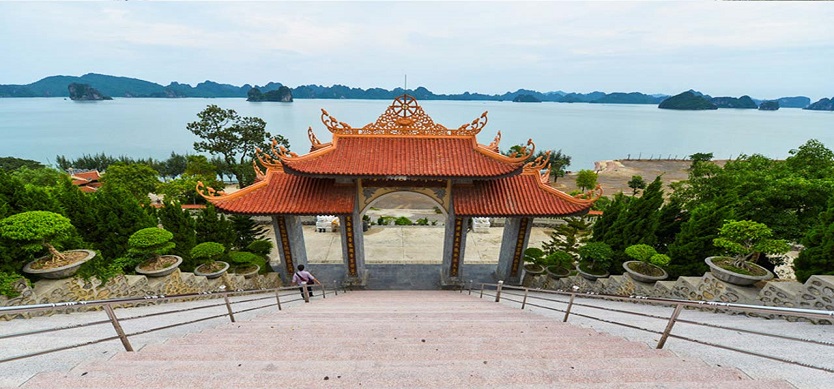 Halong has been renowned for the picturesque natural landscapes and the amazing tourist activities. Being known as "The land of Buddhism", Quang Ninh has several stunning pagodas that are perfectly suitable for the spiritual tourism. Here is the list of top 3 sacred pagodas near Halong you may like to know. Do not hesitate to take Halong bay package tour to get more information about things to do when coming to Halong.
Dong pagoda in Yen Tu peak
Yen Tu pagoda
According to legends, after his abdication, King Tran Nhan Tong who was the third emperor of the Tran Dynasty arrived in Yen Tu after his abdication and began a new life as a Buddhist monk. He devoted his entire life to the Buddhism by the effective action such as establishing temples and monastery and carrying out Zen missions. Later, he was the co-founder of the Truc Lam Zen School that is the first Vietnamese Buddhist Zen Institution.
With breathtaking natural landscapes, valuable historical relics and ancient pagodas, Yen Tu which is the holy land of Vietnamese Buddhism holds an exceptionally important position in the hearts of Vietnamese people, especially Buddhist. Climbing higher and higher breathlessly until you set foot on the summit among white cloud surroundings. This route looks like a stairway to heaven, helping you get away from all everyday troubles and offer you a peace of mind and heart.
The main temple is Dong temple, located at the peak of Yen Tu mountain, at an altitude of 1,068m above sea level, that is a majestic mountain range in Northern coastal Quang Ninh Province, to the Northeastern of Vietnam. The pagoda owns statues of Lord Buddha Sakyamuni, as well as three founders of Truc Lam Zen sect including King Tran Nhan Tong, Hue Quang and Phap Loa. From this location, you can get a spectacular view of the entire coast area leading up to Halong Bay that a well-deserved reward for anyone who takes the effort to reach the top.
To approach Dong pagoda, you can choose to climb 6000 meters of stone steps or transport by the cable car that pick you off at Hoa Yen Pagoda. From here, you must continue to hike up to the top. However, most pilgrims, including many over 80-year women, decide to climb since they believe that they like to express their sincerity to Buddha by taking this challenging path. You can visit Yen Tu pagoda via Halong daily tour.
Long Tien pagoda
The gate of Long Tien pagoda
Located at the foot of Bai Tho Mountain, Long Tien pagoda which is the largest one in Halong city was established in 1941 to worship Buddha and generals of Tran reign who made the great contribution to the country. The pagoda was designed in a distinctive architectural style of Nguyen dynasty the decorative patterns of the dragon, Phoenix and stylized flowers . There is a three-entrance gate with 3 doors: Huu, Vu and Dai. A statue of A-Di-Da Buddha lies at the top of three-entrance gate, with a bell-tower below. The statues of Bo De Dat Ma, the ancestors of Chinese and Vietnamese Zen stand outside the entrance gate. The worshipping statues are taken place on the main altar. Being organized on the 24th day of the third lunar month, Long Tien pagoda festival attracts lots of visitors to enjoy the scenic landscape as well as Buddhist offering incense and chanting. Moreover, in the festival several exciting activities are also taken including the traditional folk games such as Chinese chess, wrestling, etc or chau van and cheo (Vietnamese traditional singing) performances.
Cai Bau pagoda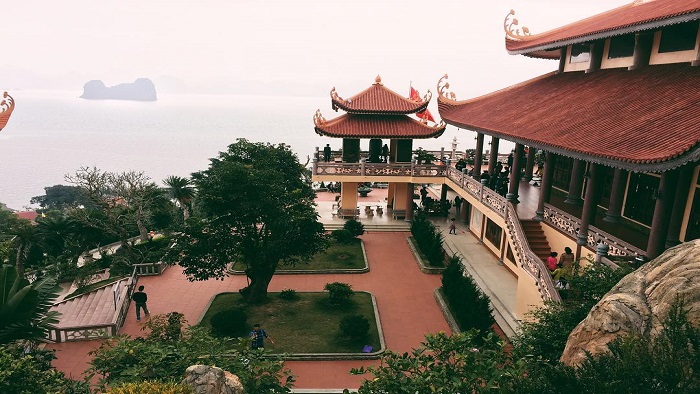 Cai Bau pagoda
Located in Van Don District, Cai Bau Pagoda (also called Giac Lam Zen monastery) has been a famous destination for spiritual tourism in Quang Ninh province. Being established on the base of Phuc Linh Tu pagoda (was built under Tran dynasty about 700 years ago), Cai Bau is near well-known Bai Dai tourism site and pristine Bai Tu Long bay coast. The pagoda is considered to be one of the pagodas having the most beautiful location in Vietnam since Cai Bau backs against the mountain and looks forward to the ocean. Moreover, this is one of two Giac Lam Zen monasteries in Quang Ninh province.
Cai Bau pagoda is situated near Bai Tu Long bay coast where is closely related to victories of great heroes. , the pagoda was seriously damaged during the ups and downs of history. Since 2007, the pagoda has undergone the reconstruction. According to the Abbot of the pagoda, to ensure that the Buddhist sanctuary is well-preserved, works of security and order must be carried out well by nuns and Buddhism followers. The pagoda's campus is not permitted for sale. Visitors can enjoy the free vegetarian meal. You can donate as the merit and virtue of a visitor. Be one with the flock of pilgrims, you will find a peaceful mind, fresh air and an appealing landscape here.
The atmosphere in Cai Bau pagoda is extremely peaceful, sacred and pure. Mixing with the bell voice, chanting of the pilgrims and the sound of the wooden bell is wave echo that can offer you calm and stillness as well as the peace of heart and mind. In springtime, many visitors come to Cai Bau to pray for health, property and good fortune in the New Year. The pagoda is located about 9 kilometers from Van Don town, so you can reach there by bus or private transportation.
It is a shortcoming to set foot on "the land of Buddhism" without visiting the sacred pagodas. Paying a visit to these pagodas will help you to have a glimpse at Vietnamese's spiritual and religious life. Let's explore Yen Tu, Long Tien, Cai Bau pagoda and have an unforgettable trip.