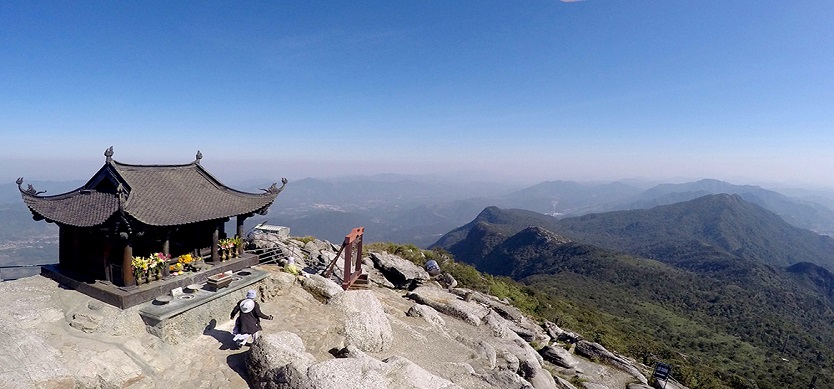 Yen Tu mountain is located in Uong Bi town, Quang Ninh Province. It is not only a famous natural landscape but also a historical site of Quang Ninh province. Therefore, Yen Tu mountain always attracts a great number of Vietnamese and foreign tourists to visit here every year. If you are planning a Halong tour on a yacht, an extra day to Yen Tu Mountain would be perfect for your journey to the coastal province.
The best time to visit Yen Tu mountain
If you want to travel Yen Tu mountain to participate in the festival, you should go in the spring. Yen Tu festival is usually held on the 10th of January to the end of March in the lunar calendar so you can choose this time to make your trip. However, if you want to go to Yen Tu for sightseeing, you should not go in the period of the festival to avoid the crowd and not visiting full of places.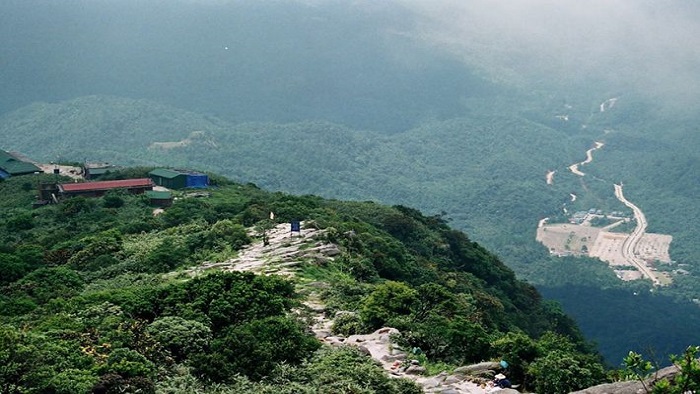 Yen Tu Mountain Day Trip from Halong
The way to reach Yen Tu mountain
You can climb the Yen Tu mountain in two ways:
Cable car: If you used to visit Halong by cable car, you would be keen on traveling in this way. The modern cable car system exceeds the distance of 1.2km up to the height of 450m near Hoa Yen Pagoda. In this way, you can save energy when climbing and seeing the panorama of Yen Tu mountain with centuries-old trees and fresh air from above. Taking the cable car will bring visitors a feeling of comfort.
On foot: With thousands of rock steps over 6km, travelers who climb Yen Tu mountain by road will be immersed themselves in nature between the bamboo and forest. It is extremely interesting.
Because the road to Yen Tu mountain is quite long and you will lose a lot of energy, it is very necessary to prepare your own bottles of mineral water and some snacks. However, we recommend that you should take the cable car to save time to visit other places of Yen Tu.
The attractive locations in Yen Tu mountain
If you climb Yen Tu mountain in a day, you can visit some below famous destinations.
Giai Oan Stream, Giai Oan Pagoda
To reach Giai Oan Pagoda, you need to cross the blue stone bridge connecting the two banks of Giai Oan stream. The bridge is 10m long with the simple architecture creating ancient beauty. According to the ancient tradition, after the son of Tran Nhan Tong was throned, Tran Nhan Tong went to the mountain to reach the Buddha's realm. Many of his wives had advised him to stop but not succeeded so they have jumped into the stream to kill themselves. Because of compassion, the king built Giai Oan Pagoda to help those who died for him.
Giai Oan Pagoda is one of the three main pagodas on Yen Tu Mountain. When you reach the pagoda, you will easily see 6 towers in front of the yard. The largest tower is the tomb tower of Tran Nhan Tong.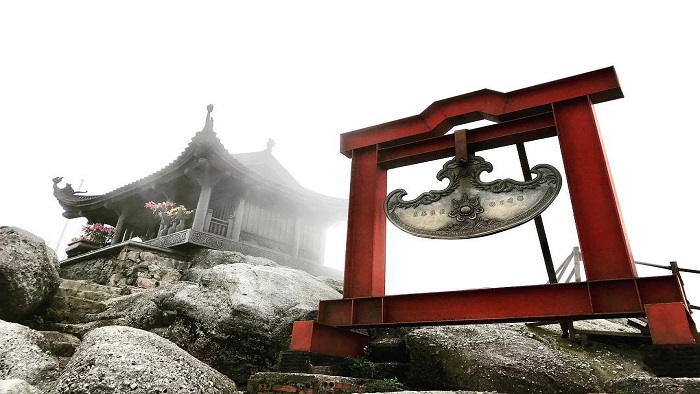 \
Yen Tu Mountain Day Trip from Halong
Hoa Yen Pagoda
With the height of 534m, Hoa Yen Pagoda is considered the largest and most beautiful temple in Yen Tu. It was built by the Ly dynasty and named Phu Van. Then the Tran dynasty renamed this mountain, Van Yen. At the end of the Le dynasty, when King Le Thanh Tong visited the pagoda in the blooming flower season, it was renamed to Hoa Yen until now.
Dong Pagoda
This is one of the beautiful temples inYen Tu that you can not ignore. Located on the top of Yen Tu mountain with the height of 1.068m, Dong Pagoda was built from the Le Dynasty with the name Thien Truc Tu. The pagoda is made of pure copper with a width of 3.6 meters, 4.6 meters in length, 3.35 meters in height and weighs over 70 tons. It creates an impression on visitors when they come here.
Mot Mai (one roof) Pagoda
Mot Mai (one roof) Pagoda is also known as Ban Mai ( half roof) pagoda. This pagoda with three pavilions corresponding to 3 altars: Ancestor altar, Tam Bao altar, and the altar which is lower than the two. In particular, this temple is associated with the myth of "breast milk" and "rice heap".
In addition, if you have more time, you should visit some other beautiful tourist attractions in Yen Tu mountain such as To Tower, Ngoa Van, the fairy chessboard, Bao Sai pagoda, Yen Ky Sinh stone statue, Thac Vang eco-tourism, and Truc Lam Yen Tu- the largest monastery in Vietnam. You will get more knowledge about historical relics.
Being one of the highest peaks in Dong Trieu Mountain in the northeast area of Vietnam, Yen Tu Mountain preserves a lot of historical relics. This mountain is also known as "The cradle of Buddhism in Vietnam". Therefore, Yen Tu mountain tourism is an indispensable part of Halong Bay tours. If you want to get more information about Halong Bay and Yen Tu mountain, feel free to contact us via our website. Share it if it is helpful to you. Have a great trip!