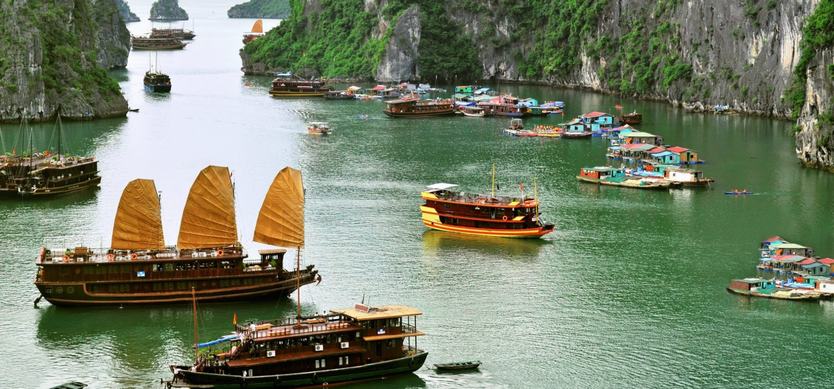 Thanks to the pristine and rich nature, Halong Bay with many types of tourism is known as one of the most attractive destinations for domestic and foreign tourists.
Halong Bay is a small bay on the western bank of the Gulf of Tonkin, including the sea area of Halong city and a part of Van Don island district, Quang Ninh province. The tectonic history of limestone geology of the bay has been around 500 million years. The karst formation and weathering processes here have entirely created a unique Halong bay with thousands of rocky islands in many different shapes and sized scattering on the sea, in a small area of the bay.
The combination of the environment, climate, geology, and geomorphology has made Halong bay become a collection of biodiversity, suitable for organizing a variety of types of tourism. At present, Halong Bay is a dynamic developed area thanks to the conditions and advantages available, especially the great potential for tourism. Coming to Halong bay, visitors can participate in many activities such as swimming, sailing, parachuting, climbing, scuba diving, or fishing, etc.
The most popular types of tourism that travelers can enjoy in Halong bay include sightseeing tour, water sports tour, cultural exploration, ecotourism, and relaxing tour on the luxury beach resorts or the exciting cruises.
Sightseeing tour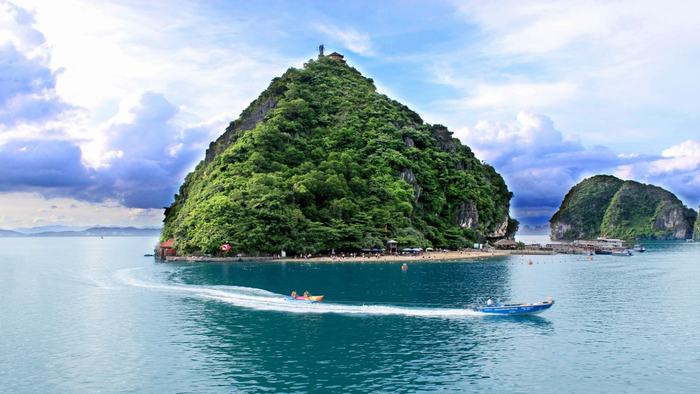 Titop Island
On the sightseeing Halong tours, visitors will have a chance to admire the attractions of the bay, visit the majestic caves like Heaven cave, Wooden Stakes cave, Surprise cave, etc, join the fascinating activities, and swim in many beautiful beaches on Titop island, Tuan Chau, Ngoc Vung, Quan Lan, Minh Chau, Three Peaches islands, and Bai Chay beach.
Water sport tour
Kayaking is a type of romantic travel that is very popular in Halong. A yacht will take visitors and small kayaks to the deserted beaches so that tourists can sail by themselves and have their discovery on the bay. Also, Halong is very suitable for many other water sports such as playing volleyball, climbing in the mountains and rocks, biking, and diving, etc.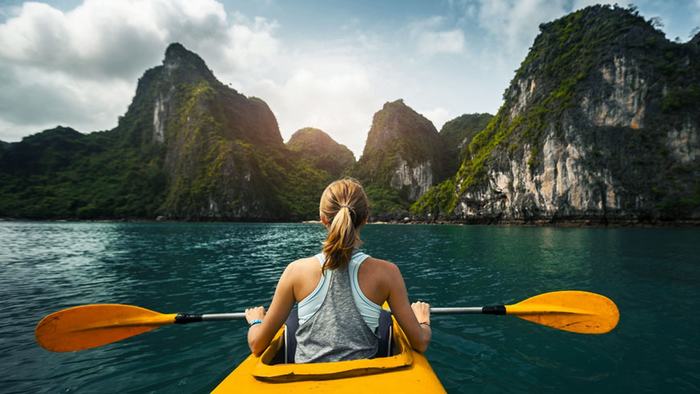 Kayaking in Halong Bay
Cultural exploration
Cultural tourism is suitable for cultural tourists who passionate about exploring the culture and have plenty of time to visit and learn the archaeological sites, tangible and intangible cultural values on the Gulf. Halong Bay was once the cradle of the ancient Vietnamese people, where there are many vestiges of archaeological sites for visits as well as research the source of the ancient culture here.
From 7,000 to 18,000 years ago, Soi Nhu is a long-standing culture concentrated in the limestone islands of Halong Bay, Bai Tu Long bay, and many caves. The typical cultural relics are Me Cung, Thien Long, and Tien Ong caves, etc. Moreover, at present, Halong Bay has many famous historical and cultural monuments that tourists can explore and learn in many ancient fishing villages with the unique cultural features such as Cai Beo, Cua Van, Van Gia, Vung Vieng, Viet Hai, and Cong Dam.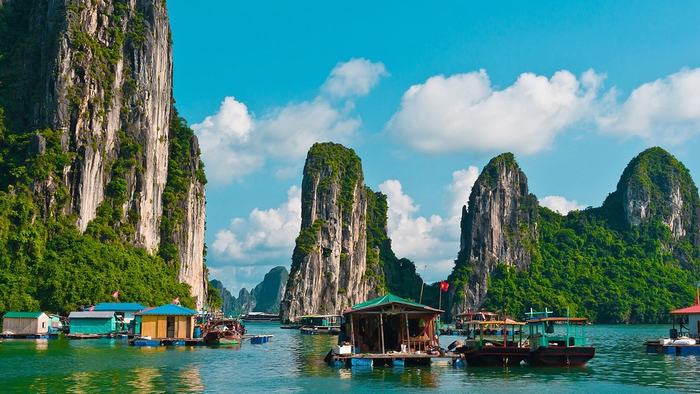 Floating village in Halong Bay
Ecotourism
Halong bay ecotourism is a type based on nature and indigenous culture associated with environmental education in the bay, bringing visitors to the pristine rocky islands and bays, the beaches with rare coral reefs in Halong Bay, and many other unique natural landscapes.
Halong Bay is recognized by UNESCO as the natural heritage of the world with thousands of islands made by the majestic and lively creation of nature. The bay has beautiful scenery, so this place is a desirable tourist destination with domestic and international visitors. Halong Bay is also home to high biodiversity with typical ecosystems along with thousands of the rich and diverse plant and animal species.
Relaxing tourism
With the relaxing tourism at many luxury resorts and cruises, watching the sunset and spending the night in Halong is very exciting to enjoy the cool atmosphere and the sparkling moonlight on the sea. Currently, more than 100 cruise ships have been licensed by the competent authorities to operate overnight accommodations on the Gulf for travelers. These ships are designed with state-of-the-art architecture, equipped with elegant and harmonious furniture, and they always ensure the safety of guests. Visitors will enjoy the best experience with full of facilities such as cabins, dining rooms, living rooms, bar, and deck, etc.
Many luxury Halong bay cruises in the bay that visitors can experience are La Pinta, Au Co, Mon Cheri, Jasmine, and Orchid cruise, etc. Halong bay with the fresh air, pleasant climate, and breathtaking scenery will make visitors feel comfortable, relax, and recover from the daily stressful work.
Halong bay is a small world of mystery and diversity. Coming to Halong, tourists have various ways and choices of tourism to enjoy the wonder of the world. If you like the place, don't hesitate to like and share this with your friends to plan a vacation here. Thank you.