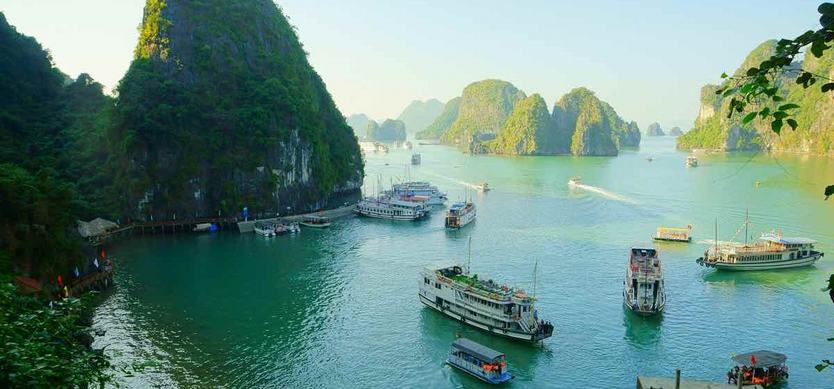 Halong - the coastal city of Quang Ninh - has many attractive tourist landscapes. Therefore, Halong Bay - a UNESCO World Natural Heritage Site always welcomes a larger number of domestic and foreign travelers to visit each year. Do you know how to transfer from Noi Bai airport, Hanoi to Halong Bay? If you do not know, do not worry — the following transportation to Halong Bay from Noi Bai airport for you.
The best time to Halong Bay
Halong Bay is a part of the Gulf of Tonkin - where the weather has four distinct seasons with the different weather: spring, summer, autumn, and winter. Thanks to the clear division of weather, so any time in a year is the ideal time for tourists to visit the attractive tourist destination of Halong.
The best time to Halong Bay for Vietnamese visitors is summer (from April to October) while summer is the main tourist season of Halong for foreign travelers. However, you should not go to Halong in June and July every year because the weekends of June - July are the peak days, there are a large number of tourists to visit here. Therefore, you will feel the discomfort and the price of services is usually higher.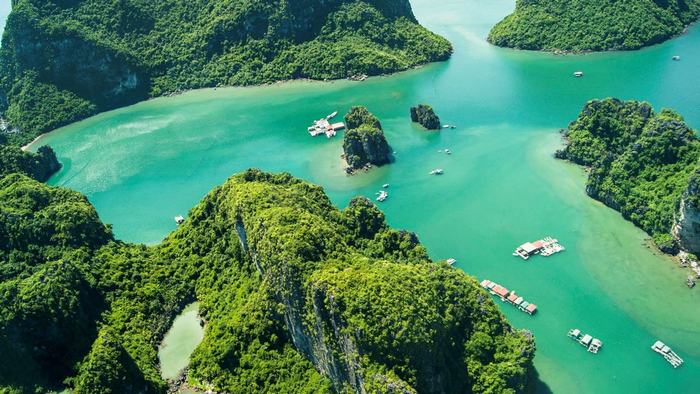 Halong Bay from above
Motorbike
Today, riding a motorbike from Noi Bai airport, Hanoi to Halong is also an interesting way that many young people choose. Moreover, you are also active in terms of travel time. Moving from Noi Bai airport to Halong Bay by motorbikes will take about 4 hours and can make visitors tired throughout the journey.
If you are not a skillful driver, traveling by motorbike will be extremely dangerous. Make sure you understand the route and are ready to face the risks. From Noi Bai airport to Halong, you can travel along the following road: Noi Bai Airport, Hanoi - Bac Ninh - Pha Lai - Sao Do - Dong Trieu - Uong Bi - Halong with a distance of 160km.
Tour Bus
The travel companies own tour buses. These buses always offer the greatest convenience and advantages because they focus on meeting the needs of foreign visitors. The bus route starts from Noi Bai airport, Hanoi. Tourists can be easy for the area of concentration. A high-quality bus company is Anbasco with many bus routes every 30 minutes in a day from 7.00 am to 7.00 pm. The price bus ticket is 290.000 VND/ person/ time. If you buy from 2 tour bus tickets, the price is only 250.000 VND/ person/ time.
Shuttle bus from Noi Bai to Halong
This option helps the small group of tourists to travel easily. However, like the motorbike, it takes 4 hours for you to visit Halong Bay. If your vacation lasts several days, the tour bus will help you to save time and cost for your Halong Bay tour.
Taxi
Taxi is also a popular means of transportation for those who want to travel from Noi Bai Airport to Halong Bay. You can easily catch a taxi in the parking lot near Noi Bai International Airport. If you use the package taxi service, you will have to pay from 1.200.000 - 1.600.000 VND.
You will be seated in new luxury cars like Vios, Honda City, Mazda, K3, Elantra (for five seats) or Fortuner, Innova, Ford Everest (for seven seats) with the friendly, polite and punctual driver. Also, you can use Grab car- a popular taxi service application to get the car quickly. The ticket prices also range from 1.5 million to 1.7 million VND. To use this app, you can download from the app store on your cell phone.
The road to Halong Bay will take you more than 3 hours from Noi Bai airport.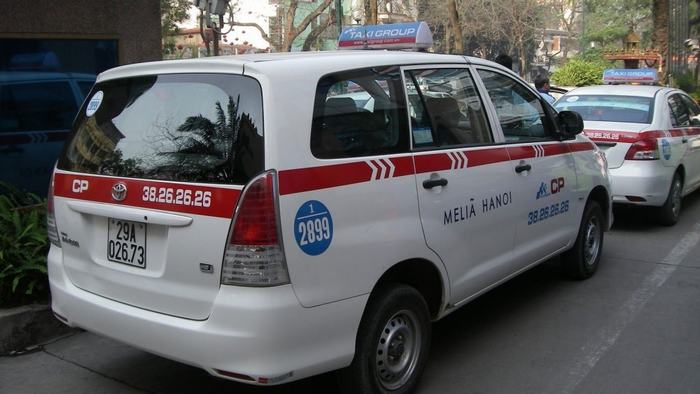 Transfer by taxi
Train
It is another popular public transportation. The train offers tourists the opportunity to watch the beautiful scenery on both sides of the road. However, the train from Noi Bai airport to Halong will last 7 hours. To go to the railway station from Noi Bai airport, you can rent a motorbike taxi or taxi. It is often not the right selection for visitors.
From the train station, visitors will spend more time and money catching the train to move to the city center. Also, you will have to wake up earlier if you want to enjoy a full day in Halong. Besides, you should know that the pier is about 5km from the station. So make sure you arrive at the right time.
The train offers visitors two options which include "soft seats" with air conditioning and "hard seats" with different prices. However, the train from Hanoi to Halong can only be hard seats.
The train is designed primarily for local people. For some visitors, this is a great opportunity to understand the Vietnamese's life better. However, the disadvantage of the train is the time and schedule of departure is not stable.
This above information is our sharing about the road and travel time from Airport to Halong Bay. We hope that they will be useful for you on the way to Halong Bay. If you want to get more information about Halong Bay tours, feel free to contact us via our website. Share it if it is helpful to you. Have a great trip!