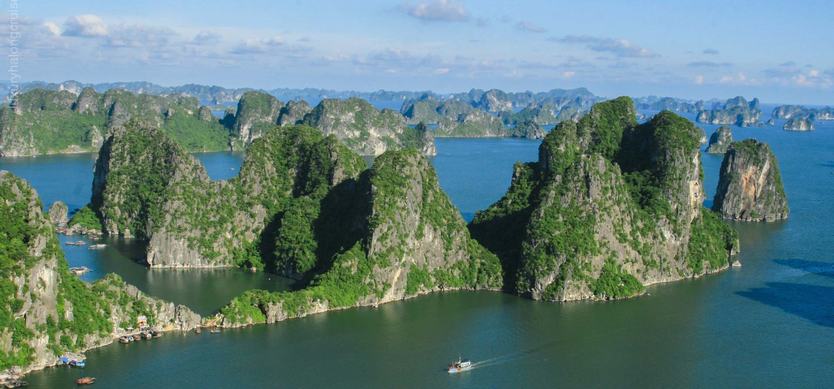 Bai Tu Long in Quang Ninh is more peaceful than Halong bay attractions with the white sand beaches and pristine destinations which are considered as "gold mining."
Bai Tu Long is a bay in the Northeast of Vietnam, located in the Gulf of Tonkin, next to Halong Bay. Bai Tu Long bay consists of the sea areas of Halong city, Cam Pha city, and Van Don island district. It borders Halong bay to the southwest, the sea to the east, Cam Pha to the west, and Co To island to the northeast. Bai Tu Long consists of hundreds of large and small islands, many of which are large and have population living.
A legend named Bai Tu Long
The formation of Bai Tu Long bay has attached to a legend of the Vietnamese people. In the past, when the ancient Vietnam country was just set up, foreign invaders immediately invaded our country. The Jade Emperor sent a mother dragon down the world with her baby dragons to help the Vietnamese people fight the enemies.
When the enemy ships came in from the sea, the dragons erupted countless jewels and turned them into thousands of rocks on the sea, creating a solid wall to block the advance of the enemy ships. Their ships of the invaders were fastly rushing forward, suddenly blocked to crash into the rocky islands or crash into each other. After the war, the mother dragon and baby dragons do not return to heaven but stay in the world where the battle took place. The position that the mother dragon laid down is Halong bay and where the baby dragons landed is Bai Tu Long Bay.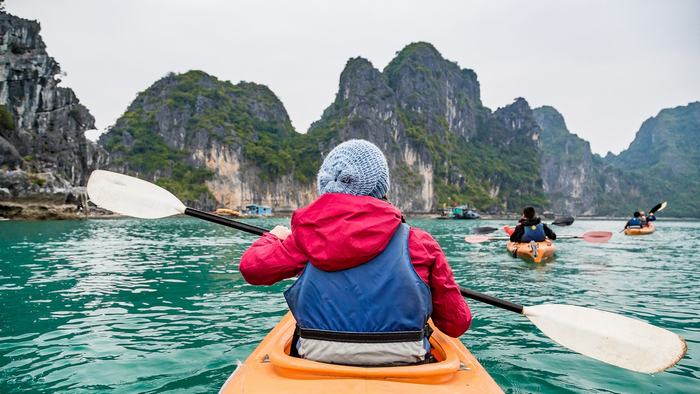 Kayaking in Bai Tu Long
Best time to travel
Bai Tu Long is an island region with a distinct climate: hot and humid summer (from April to October) and dry and cold winter (from November to March). The average temperature is from 15-25 degrees Celsius. Bai Tu Long bay also has a tidal system with a tide of about 3.5-4 meters/day.
With the distinct weather, the summertime from March to May and the winter time from August to October are the best times that attract tourists traveling to the country. While the domestic tourists like to immerse themselves in the cool beaches in summer, winter time is favored more by foreign travelers. Notably, don't travel to Bai Tu Long from June to July because this season often has storms.
Best ways to travel
From Hanoi, travelers can go to Halong by passenger cars of different car manufacturers to Bai Tu Long, Cam Pha city, Quang Ninh provinces such as Dai Phat, Duc Phuc, Duc Thanh, and Anh Quy. Also, there are high-quality limousines like Nghia Anh, Van Don Green, and Xuan Truong. Ticket prices are around VND 120,000-220,000/guest which takes about 4-5 hours.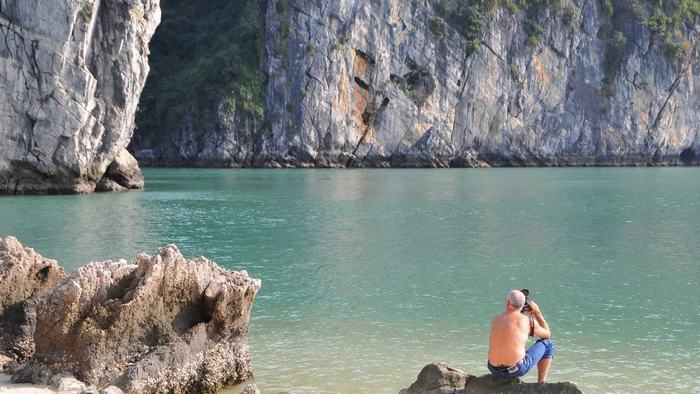 Beautiful beach in Bai Tu Long
What to explore
Peaceful beaches
Visiting Bai Tu Long, tourists can reach a highlight in the ecotourism population which is just 60 kilometers or 1.5 hours cruise through the bay from Bai Chay beach. In here, tourists will be surprised with the 2-kilometer-long smooth white sand, clear blue water, and airy space. It is one of the most beautiful beaches in the North.
Pagodas and temples
Besides, travelers can visit Bai Tu Long and go back to ancient times through the temples and pagodas built during the Ly Dynasty to better understand the culture and people here such as Cua Ong temple, Tinh Hai temple, and 100-compartment pagoda, etc.
Bai Tu Long National Park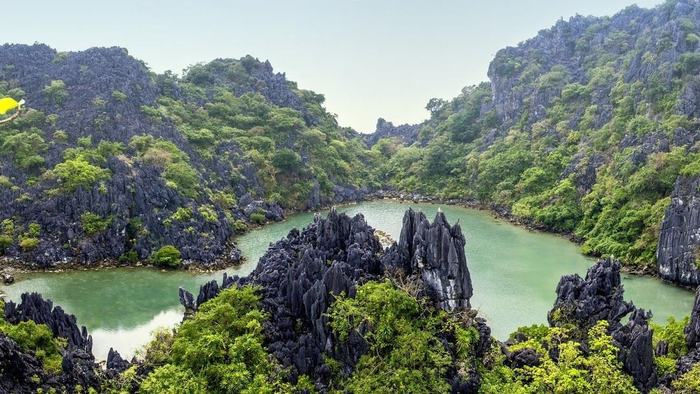 Bai Tu Long National Park
Bai Tu Long National Park is a national biosphere reserve and a diverse biological environment. In here, visitors will be able to admire the beauty of the wildlife with scattered rocky islands such as Ba Mun, Big Tra Ngo, Small Tra Ngo, Sau Nam, Dong Ma, and Hon Chinh, etc. Many limestone mountains are surrounding the vast valleys that make up the lagoons, creating the rich habitat of many different plant and animal species, of which the most notable one is Bat cave located in the Cat Lim area, Tra Ngo island.
TIP: If you have plenty of time, there are several things to do when coming to Halong like visiting the village of the Tay, Dao Do, San Diu ethnic communities who are very hospitable or spend time on cruises to explore the mangrove and parrot forests.
What to eat
Bai Tu Long cuisine is very diverse with fresh seafood and specialties of Quang Ninh in general and Bai Tu Long - Van Don in particular. The common ones that every visitor should not miss are peanut worm, geoducks, green crabs, "gat gu" cake (rice roll cake like in other regions with a sweet and fatty taste), and Malabar spinach soup with clams, etc.
If Halong bay is considered as a beautiful girl, Bai Tu Long Bay is like a charming and elegant one. Coming to Bai Tu Long, tourists will have a chance to discover the natural beauty as well as enjoy the tasty seafood. If you need more information, feel free to contact us. Don't forget to like and share this with others if you find it helpful. Thank you.