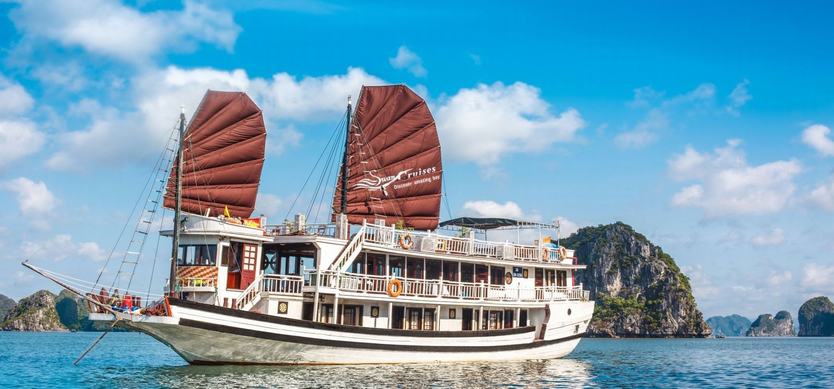 Choosing a great cruise in Halong Bay according to the budget is quite hard. In this article, we seek to introduce you some of the best sails available in Halong Bay right now.
Some tips beforehand: luxury cruises are not for everyone, especially the travelers who want to explore more than usual. But then, newly-weds should choose luxury cruises because of the memorable experience once per life. Depending on the budget, you can choose between 5, 4, or 3-star cruises.
Royal Wings Cruise (5-star cruise)
In Halong Bay tour, the Royal Wings Cruise offers all the comforts of home and more, with space for more than 40 guests and all of our signature features. On board our cruise, your stateroom is your home base. When the day is done, once you've had your fill of fun, you'll head back to your stateroom and settle in for the night. No matter which kind of cabin you choose - whether you're thinking of a simple accommodation or ocean view, or going grand with a sofa bed for the couple next to a panorama window - you'll find yourselves a well-appointed way to wind down the day.
Executive cabin
So homey, so comfy, you'll probably think about moving in. There are 12 Executive cabins at 20 square meters located on the main deck of Royal Wings. Each is furnished in an Oriental traditional style with a choice of double or twin beds and Dong Ho folk paintings. All of our Executive offer you merely the best quality for your pleasure and convenience.
Bringing convenience throughout your cruise, our Executive offer services and facilities can cater to leisure needs and make your trip memorable.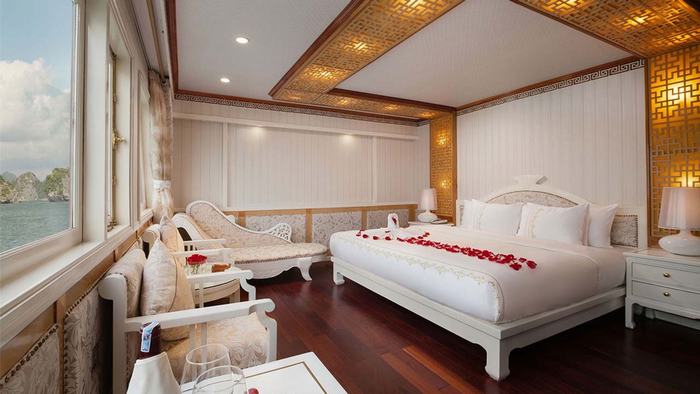 Royal Wings Cruise
Royal Executive Cabin
A Royal Executive is the ultimate way to cruise. With more space for stretching out indoors, large sea view window, try a Royal Executive to experience private, luxurious relaxation. Our 6 Royal Executive cabins at 22 square meters, located on the upper deck, provide you with a double or twin beds, an ensuite and a private in-room Jacuzzi for your relaxation. Royal Executive is a harmonious balance between the amazing view; the luxury and the traditional style, relaxing in our Royal Executive makes your Halong Bay cruise unforgettable.
Royal Suite Cabin
Premium accommodations and luxurious appointments are the signatures of our expansive 22 square meters Royal Suites. Two Royal Suite includes more spacious cabins along with special suite-only benefits. All Suites include a separate seating area with two sofa beds for a couple, in-room Jacuzzi, full bathroom and deluxe amenities. You'll discover the benefits of being a Royal Suite passenger as a variety of special touches welcome you to your luxurious stateroom
Bhaya cruises (4-star cruise)
Bhaya cruises on Halong Bay marry the splendor of the scenery with the significance of the location in Vietnamese history, the cultural importance of the imperial legacy and the sheer beauty of an acclaimed natural wonder in charm and luxury!
Built as a traditional wooden junk with modern contemporary Vietnamese design, Bhaya will provide deluxe amenities and pampering services while cruising through magnificent landscapes. Spacious cabins and suites with bathrooms, large sun deck, elegant dining room, lounge bar, beauty spa, massage kayaking, and entertainment as well as our well-trained, friendly and enthusiastic management and staff will make cruising with Bhaya a truly unique and unforgettable experience.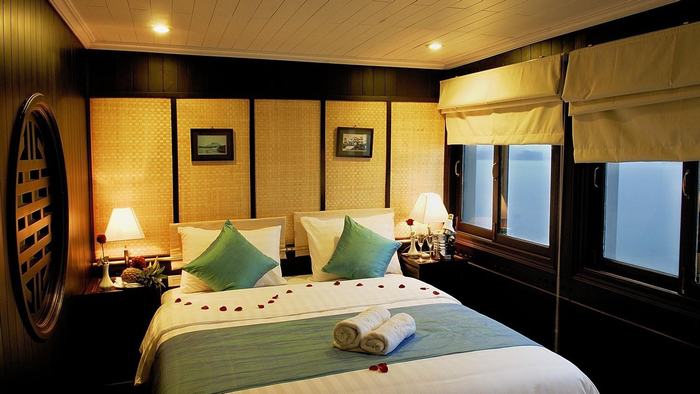 Bhaya cruise
Bhaya Deluxe Cabin
Bhaya Cruise Deluxe cabin (12.5m2) offers all the amenities necessary for you to feel comfortable during your Halong bay junk trip: twin beds or a queen-size bed, air-conditioner, wall fan, refrigerator, en-suite bathroom with shower. Each features a picture window, providing added light and great views.
Bhaya Royal Suites
The two sumptuous Royal Suites (16.5m2) are located in the forward section of the upper accommodation deck and offer panoramic 180° views. Each Bhaya's Royal Suite offers all the standard amenities of the Deluxe Cabins, plus a larger ensuite bathroom with bathtub, a plush sofa, expansive picture windows and an exclusive, private viewing area on the foredeck of the cruise.
When you are in Halong Bay tour two days, you can consider this cruise.
V'Spirit Cruise (3-star cruise)
The word "V'Spirit" actually means "Vietnamese Spirit," and our goal is to help you experience that feeling which is part of our daily lives. The entire length of our country is next to the sea which feeds us, and on which many of us live and work. Much of our delicious, traditional cuisine is derived from the riches of the sea, and our love of family, friends, and gathering around a good meal shines through in the many tastes of Vietnamese cooking. The unique limestone islands found in Halong Bay, along with the mysterious, and beautiful caves scattered throughout, mirror the beauty, grace, and mystery of our homeland.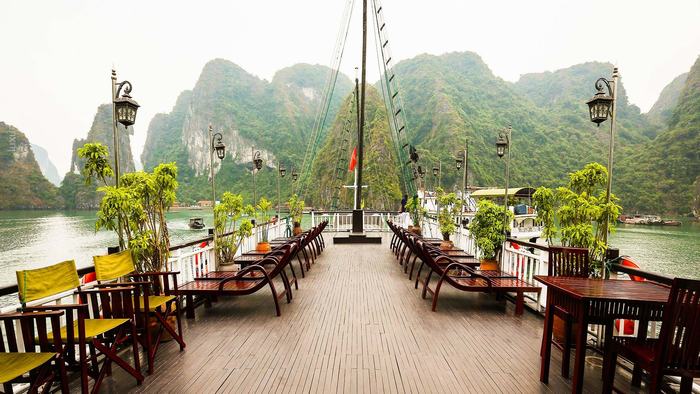 V'Spirit Cruise
With this in mind, our two, newly-built wooden junks are designed in the time-honored traditional style, but with contemporary, deluxe cabins and facilities, including sea-view windows in each cabin, private, modern bathrooms, and a comfortable sun-deck bar. Our cooks will serve you the tastiest traditional Vietnamese foods, and our staff will help you learn about our current lives as well as our ancient history.
Visiting the most famous Vietnamese World Heritage Site with V'Spirit Cruises is bound to be one of the highlights of your travels in Vietnam, thanks to the high quality of our facilities and accommodations, and the excellence of our customer service.
Specifications
Built: 2011 in Halong city
Design concept: Vietnamese and traditional wooden style
Length: 23m
Width: 6m
Height: 6m
Deck 1: Guest cabins and kitchen
Deck 2: Guest cabins + Bar and restaurant
Average cabin size: 16 sqm
Sundeck: Large with tanning chairs
Cabins Facilities: Comfort bedding, Air-con, Private Bath, Hair Dryer
Generator: 4.500KVA / Cruising speed: 6 nautical knots per hour
Crew: 7 (V'Spirit Classic 1) and 9 (V'Spirit Classic 2)
Total number of Deluxe Cabins: 7 (V'Spirit Classic 1) and 10 (V'Spirit Classic 2)
Passenger Capacity: 14 (V'Spirit Classic 1) and 20 (V'Spirit Classic 2)
Hopefully, you will enjoy your time abroad one of these cruises. Please return to our homepage for more articles and guidance. We hope to see you in Halong Bay one day!