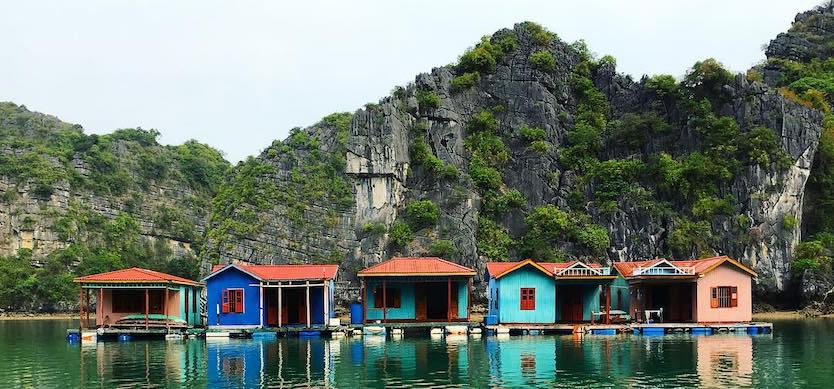 Together with many famous villages in Halong like Cua Van or Van Gia, the Ba Hang fishing village also attracts tourists by the peaceful scenery and abundant seafood.
Ba Hang fishing village is one of the tourist destinations that attracts many domestic and foreign tourists to explore each year. As an idyllic, simple, and famous fishing village near Thien Cung cave, Ba Hang fishing village is always on the list of cheap Halong Bay tours that travel companies organize.
The life in Ba Hang
Ba Hang fishing village has about 50 households mainly engaged in fishing to live. However, recently, due to the development of tourism in the fishing village, many households have gradually shifted to tourism. With a tour program of Halong and visiting the fishing village, visitors will surely be extremely surprised to see a simple life here.
The members of a family live together in houses of only 5-10 square meters with extremely simple equipment and tools. However, visitors can still catch the optimistic and friendly smiles of Ba Hang fishing village residents.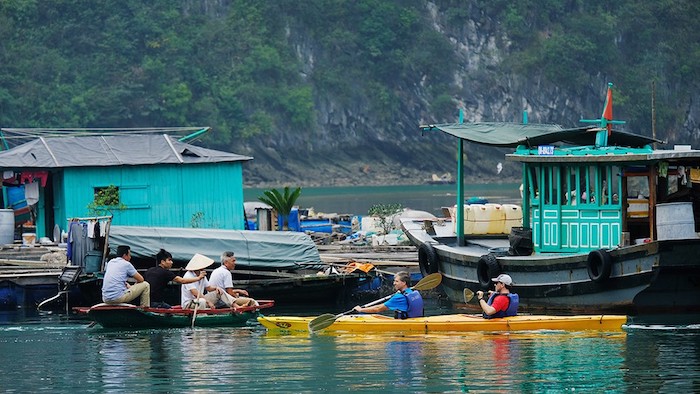 Kayaking in Ba Hang
In addition to the peaceful atmosphere, Ba Hang fishing village also possesses a beautiful and charming natural landscape. Sitting on the boat slowly passing the islands, the water caves near Ba Hang fishing village, visitors will see more beautiful and wild scenery inside Halong Bay.
Since tourists constantly visit the fishing village, the households here often use boats to bring tourists to explore the place and nearby islands. They also sell fresh and process seafood into rustic dishes for tourists to enjoy.
What you will enjoy
Ba Hang attracts tourists traveling to Halong because of not only its peaceful and simple atmosphere but also charming mountain scenery and the experience of the simple life on boats throughout the year.
Visitors will be able to live in a peaceful atmosphere among the poetic mountains. Sailing around the fishing village, visitors will have the opportunity to see the beauty of Dau Go island - one of the most famous Halong tourist destinations located near the fishing village and many nearby islands, caves.
When night falls, tourists can go fishing with local people. You will have interesting experiences when spreading the fishing net. Besides, you can participate in sailing activities to visit the surrounding bays and islands to understand more about the beauty of Halong.
It will be a wonderful experience when you spend a night in the fishing village to join the night squid fishing, enjoy the fresh seafood with great taste in the cooling night space.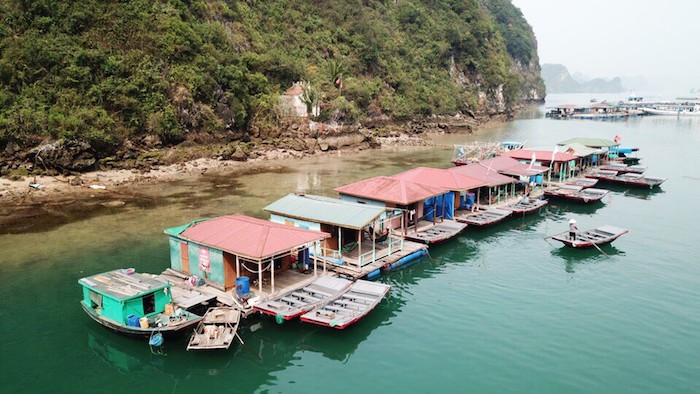 The peaceful scenery here
Other famous fishing villages in Halong
Vung Vieng fishing village
Vung Vieng fishing village located in Bai Tu Long bay is one of the first fishing villages to appear in Halong. It is located more than 25km from the city center. People in the village live mainly on fishing. Because it is far from the city, the landscape here is very beautiful and peaceful. From Vung Vieng, visitors can also visit Mat Quy island, Bay Gieng area, or Tra Ban island, etc.
Cua Van fishing village
Cua Van fishing village originates from two ancient fishing villages in Halong of Giang Vong and Truc Vong. People have been involved in aquaculture and fishing for generations. The whole village is surrounded by the mountains and islands of Halong bay. Many visitors coming to Cua Van are all charmed by the poetic natural landscape.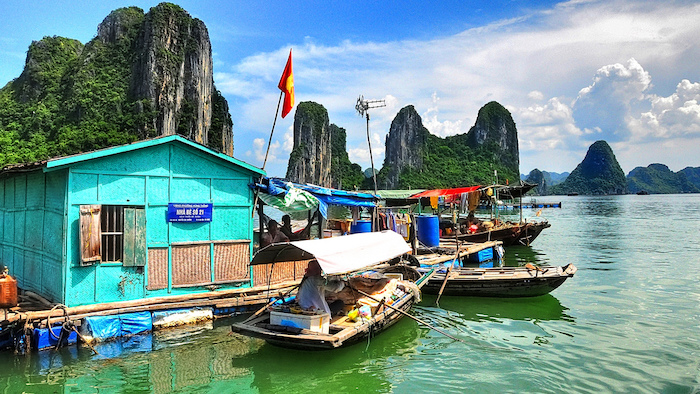 Cua Van fishing village
Cong Dam fishing village
Because it is quite far from the city, completely isolated from modern life, the landscape around the village is wild, rustic, and peaceful.
Arriving in Cong Dam, visitors should experience kayaking to visit the nearby islands. Besides, tourists can also enjoy attractive seafood dishes prepared by the people of the village.
A journey to discover Ba Hang fishing village will make your Halong Bay tour package more attractive than ever. With beautiful natural scenery and incredibly quiet atmosphere, Ba Hang fishing village promises to bring you the most unforgettable experience. If you need more information about transportation to Halong Bay, let's contact us or visit our website. Don't hesitate to like and share the article if it's useful for you. Thank you.