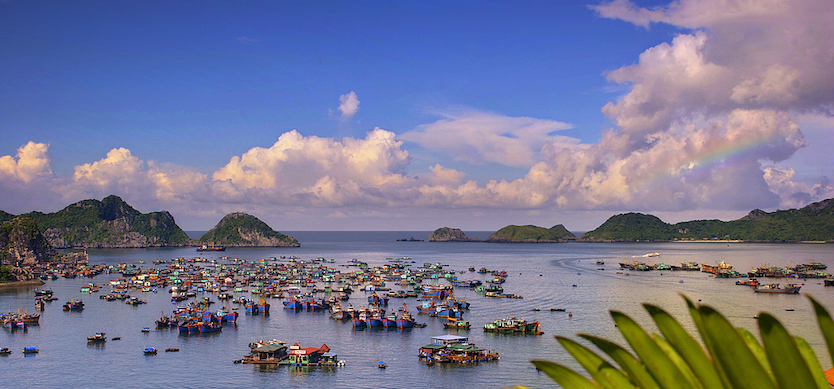 Besides the attraction of Halong Bay, tourists should not miss the rich flora and fauna world in Cat Ba island, which also has diverse types of tourism to enjoy.
Where is Cat Ba island?
Cat Ba island is located in Hai Phong city. It is about 10 km southeast of Halong Bay, consisting of 367 islands, off the coast of Hai Phong city and Quang Ninh province. It is far from the center of Hai Phong city about 30 km, from the city of Halong about 25 km. Administratively, it is the islands of Cat Hai district, Hai Phong city. It has been recognized as the World Biosphere Reserve. With charm bestowed by nature, biological diversity and the tremendous value of the nation's history, Cat Ba has been and will be an attractive destination for domestic and foreign tourists.
When to travel
Visitors can make the Cat Ba island adventure at any time of the year, but the most suitable is still around June and July. These are the ideal time for holidays with beautiful Cat Ba weather so that travelers can feel the fresh and cool sea breeze and avoid the heat of summer. For foreigners, they often visit Cat Ba from November to March, while domestic tourists love to visit Cat Ba from April to October.
Cat Ba National Park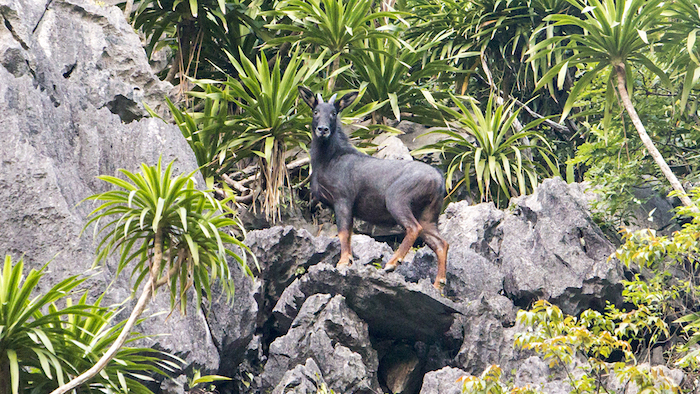 Cat Ba National Park
Half of Cat Ba island's area is covered by a National Park, which is home to the highly endangered Cat Ba Langur. The island has a wide variety of natural ecosystems, both marine and terrestrial, leading to incredibly high rates of biodiversity. Types of natural habitats found on Cat Ba Archipelago include limestone karsts, tropical limestone forests, coral reefs, mangrove and seagrass beds, lagoons, beaches, caves, and willow swamp forests.
Cat Ba island is one of the only populated islands in Halong Bay, with roughly 13,000 inhabitants living in six different communes, and 4,000 more inhabitants living on floating fishing villages off the coast.
The vast majority of the population can be found in Cat Ba town which is located at the southern tip of the Island (15 km south of the national park) and is the commercial center on the island. Since 1997, Cat Ba town has overgrown and has become a tourist hub for both the island and more magnificent Halong Bay.
Some other attractions in Cat Ba
Cat Co beaches
The most famous beaches in Cat Ba include Cat Co 1, 2, and 3, of which Cat Co 2 is the most beautiful one with clear green water like an emerald. From the center of Cat Ba town, travelers can catch motorbike taxi or electric car to reach the beach, costing only VND 10,000/person.
If tourists do not bring swimwear, they also can rent them right at the beach. According to the experience of local people and visitors who had ever been here, tourists should go to the shore before 6.30 p.m because the tide will be higher with big waves.
Monkey island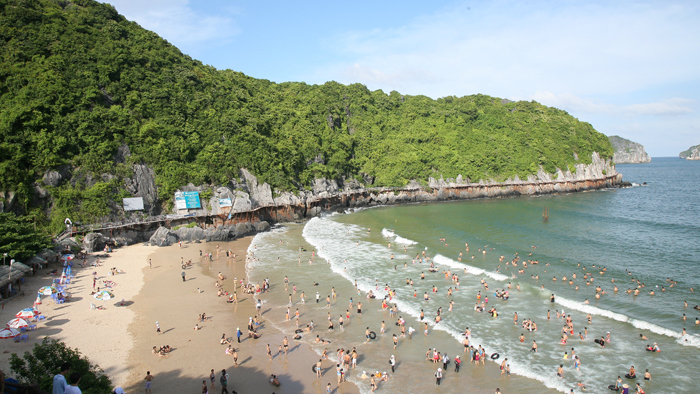 Monkey island
Monkey island is about 1 kilometer away from Cat Ba town. To get there, tourists usually take a boat from Beo pier about 10 minutes across Cai Beo fishing village and some small islands.
Previously, the island was called Pineapple island because there are many wild pineapple trees on the island. The reason for the name Monkey island is that more than 20 monkeys are living here. They often go down to the beach to play and eat the foods fed by the guests. The funny and naughty monkeys have impressed those who have come here, and gradually people call this Monkey island.
Lan Ha bay
Lan Ha is a beautiful bay located in the eastern Cat Ba, next to Halong Bay. Lan Ha has a pristine and charming natural beauty that has not been exploited. With 139 large and small sandy beaches as the "blue straits," Lan Ha invites tourists to explore.
Many beaches stretching between two rocky mountains are the ideal Lan Ha bay swimming spot with no big waves. Under the blue sea water is the colorful coral in beaches such as Van Boi and Van Ha.
Cai Beo fishing village
Cai Beo fishing village, also called Vung O fishing village, is located on Pearl island of Cat Ba, Cat Hai town. It is one of the largest ancient floating villages in Vietnam and a tourist spot of Haiphong city.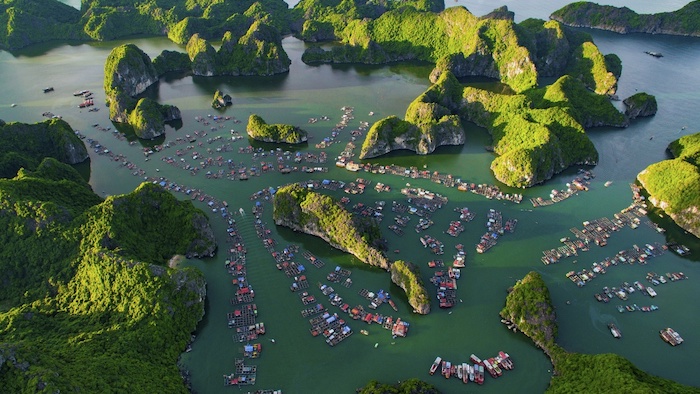 Cai Beo fishing village
Cai Beo is not as noisy as the pier to Lan Ha bay, but there are many ships, boats, and ferry willing to take tourists around to admire the peaceful and beautiful scenery in the village, listen to the exciting stories, or stop right at the houses to see the fresh seafood here.
Hope that with our guides, you will be able to have a wonderful time in Cat Ba island as well as best Halong Bay tours. If you need further information, don't hesitate to let us know. You can also visit our website to check Halong Bay cruise prices. If the article is useful for you, please like and share it with others. Thank you.