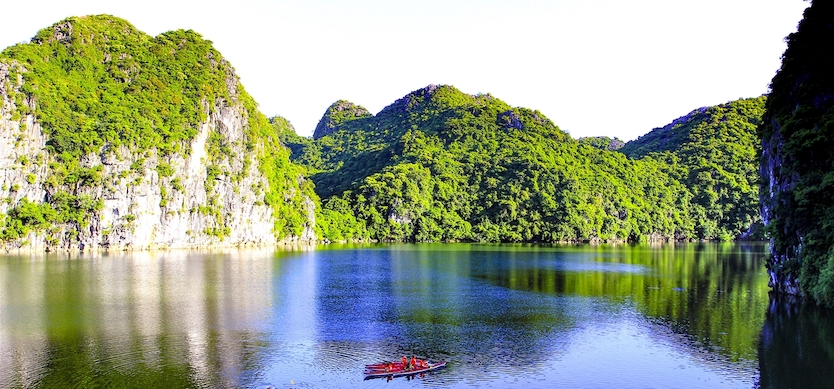 Besides the attraction of Halong Bay, tourists should not miss the rich flora and fauna world in Cat Ba island, which also has diverse types of tourism to enjoy.
Cat Ba island is located in Hai Phong city. It is about 10 km southeast of Halong Bay, consisting of 367 islands, off the coast of Hai Phong city and Quang Ninh province. It is far from the center of Hai Phong city about 30 km, from the city of Halong about 25 km.
A World Biosphere Reserve
Cat Ba National Park is situated in Cat Ba island and on several smaller islands nearby. The park currently comprises 98 square kilometers of total land, 54 square kilometers of inshore waters.
The National Park is Vietnam's first national park including both terrestrial and marine ecosystems. It is recognized nationally and internationally for its importance in biodiversity conservation, as it contains many different types of ecosystem and habitat. The park has a great variety of plant and animal species.
Cat Ba National Park differs from other national parks in Vietnam because of the great variety of landscapes and ecosystems, including tropical evergreen forests, mangrove, freshwater lakes and streams, isolated sandy beaches, coral reefs, caves, and caverns.
The Park is a tourist attraction to millions of domestic and overseas visitors. Coming to Cat Ba, travelers not only can admire the beauty of landscapes, seascapes, relax on isolated beaches in Lan Ha Bay or visit primeval forest but also have chances to discover many unique, precious species of fauna, flora and local culture.
The diversity of species in Cat Ba National Park
There are 745 species of plants recorded on Cat Ba, including 118 timber species and 160 plants with medicinal value. The national park is home to 32 types of mammals and more than 70 species of birds. There is a beautiful lake inside the national park called Frog Lake, with a water forest and amazing landscape.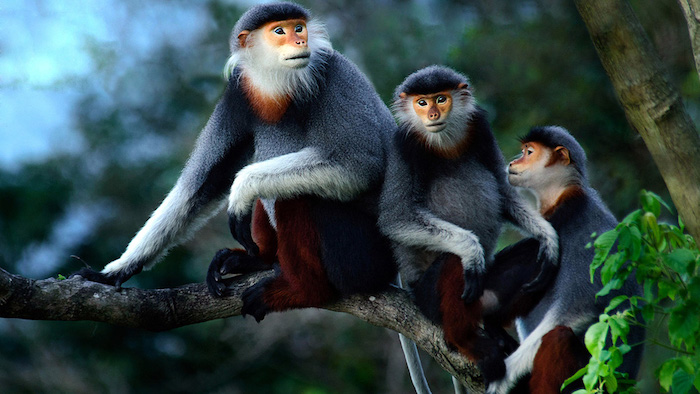 The precious species in Cat Ba National Park
Each year, Cat Ba Island receives large numbers of domestic and overseas tourists. A significant proportion of these tourists visit the national park, either on foot, along one of the hiking trails, or by boat, through the marine component. The national park can, therefore, be considered to be making an essential contribution to the island's economy.
Some other attractions in Cat Ba
Cat Co beaches
The most famous beaches in Cat Ba include Cat Co 1, 2, and 3, of which Cat Co 2 is the most beautiful one with clear green water like an emerald. From the center of Cat Ba town, travelers can catch motorbike taxi or electric car to reach the beach, costing only VND 10,000/person.
If tourists do not bring swimwear, they also can rent them right at the beach. According to the experience of local people and visitors who had ever been here, tourists should go to the shore before 6.30 p.m because the tide will be higher with big waves.
Monkey island
Monkey island is about 1 kilometer away from Cat Ba town. To get there, tourists usually take a boat from Beo pier about 10 minutes across Cai Beo fishing village and some small islands.
Previously, the island was called Pineapple island because there are many wild pineapple trees on the island. The reason for the name Monkey island is that more than 20 monkeys are living here. They often go down to the beach to play and eat the foods fed by the guests. The funny and naughty monkeys have impressed those who have come here, and gradually people call this Monkey island.
Lan Ha bay
Lan Ha is a beautiful bay located in the eastern Cat Ba, next to Halong Bay. Lan Ha has a pristine and charming natural beauty that has not been exploited. With 139 large and small sandy beaches as the "blue straits," Lan Ha invites tourists to explore.
Lan Ha Bay
Many beaches stretching between two rocky mountains are the ideal Lan Ha bay swimming spot with no big waves. Under the blue sea water is the colorful coral in beaches such as Van Boi and Van Ha.
Cai Beo fishing village
Cai Beo fishing village, also called Vung O fishing village, is located on Pearl island of Cat Ba, Cat Hai town. It is one of the largest ancient floating villages in Vietnam and a tourist spot of Haiphong city.
Cai Beo is not as noisy as the pier to Lan Ha bay, but there are many ships, boats, and ferry willing to take tourists around to admire the peaceful and beautiful scenery in the village, listen to the exciting stories, or stop right at the houses to see the fresh seafood here.
Hope that with our guides, you will be able to have a wonderful time with Cat Ba National Park and Halong Bay day tour. If you need further information, don't hesitate to let us know. You can also visit our website to check Halong cruises deals. If the article is useful for you, please like and share it with others. Thank you.