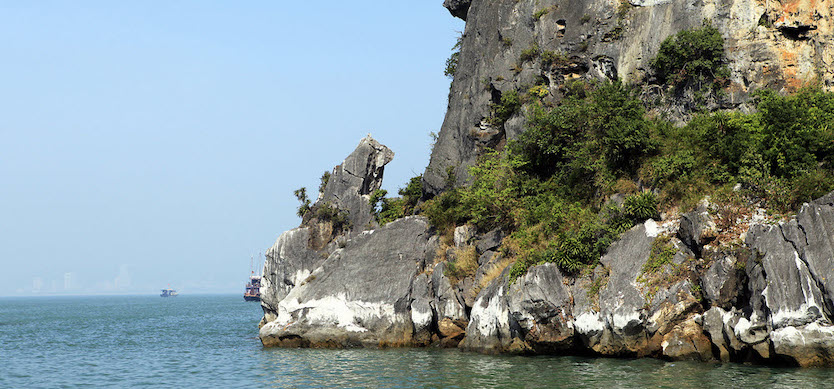 Cho Da (Stone Dog) islet has been regarded as a peaceful symbol of tourists' voyages for millions of years. Let's explore the outstanding spot of Cho Da with us.
Cho Da islet is one of the beautiful images and profound significance in Halong Bay. Simultaneously, it is an impressive attraction alluring numerous tourists.
Why it is called Cho Da islet
If having been joined Halong Bay tour from Ninh Binh, tourists certainly cannot forget the stunning beauty of thousand islands and islets on the bay. Cho Da islet, also known as Stone Dog islet, is near Dau Go cave on the west. It belongs to the population of 1969 multi-shaped islands and islets surrounding the majestic Halong Bay - twice ranked the world natural heritage by UNESCO. The reason why it is called "Cho Da islet" comes from its appearance which looks like a dog with the head turning to the sea.
Cho Da islet is about 8m high and looks like a giant dog-shaped rock. The image of the stone dog staying outside the door at the position of the doorman is a relatively familiar image in Vietnam. On both sides of the gate of almost traditional temples and ancient houses, there is always a pair of stone dogs.
They greet the guests or keep the houses, prevent anything wicked or evil getting inside the house. The image of Cho Da islet standing on the sea is a symbol to protect and retain the safety for tourists on their trips to Halong.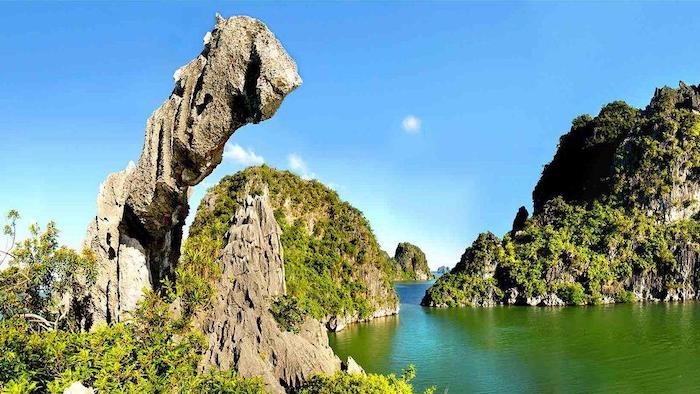 Scenery in Halong Bay
The image also brings profound significance, contributing to promoting the values of the natural landscape here. The harmonious combination between the rocky islet and Halong waters creates the poetic picture of nature. This symbol has gone into tourists' minds for millions of years.
The beauty of Cho Da islet
Among the majestic Halong Bay, Cho Da islet is worth a must-see spot in the journey of discovering and conquering the magnificent bay. Tourists coming here are to immerse themselves in the peaceful and romantic natural scenery, mingle with the immense heaven and earth, and hear the whisper of the sea.
Furthermore, Cho Da Islet - a symbol for the safety of tourists visiting here will make the trip much more meaningful and memorable. Halong tourism is thus more and more popular over the world and increasingly attracts much more international tourists.
Best time to visit
Cho Da islet belongs to the complex of the World Natural Heritage of Halong Bay in which has two distinct seasons of the hot, humid summer (April to October) and the cold, dry winter (November to March next year). The annual average temperature is from 15-25 degrees Celsius.
Summer and fall time from March to May and August to October attract domestic tourists the most, why winter time is ideal for foreign visitors. You should not travel to Halong from June to July because this season is often stormy.
Best ways to visit
There are many means of transportation that can take you to Halong easily such as motorbike, car, passenger car, plane, and train.
By passenger bus
Traveling by bus from Hanoi to Halong is 160km far. You can reach here with two directions.
The first one is going from Sai Dong along National Highway 1A to Bac Ninh and then from Bac Ninh, following the Highway 18 towards Chi Linh, through Dong Trieu, Uong Bi to Halong.
The other route starts from Hanoi along National Highway 18A passing Pha Lai, Sao Do, Dong Trieu and Uong Bi towns to Ha Long.
There are many reputable passenger cars with high-quality beds for travelers. The cars are spacious and fast moving. You can buy tickets of car lines like Hoang Long, Duc Phuc and many other ones that have schedules to come to Quang Ninh.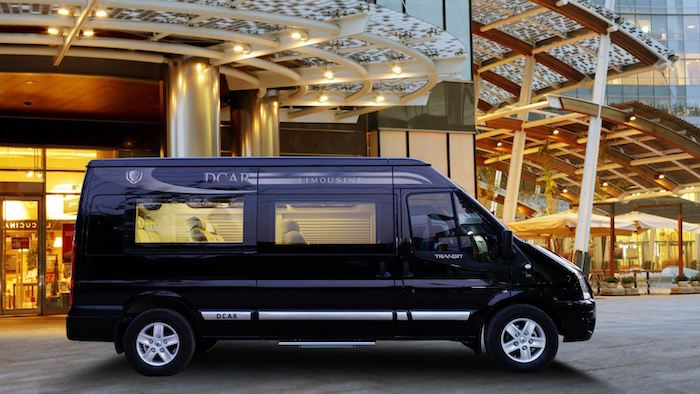 Travel to Halong by bus
By motorbike/car
Moving by motorbike is often the main way for those who love adventure or want to travel to Halong at an affordable price. If traveling by motorbike, you need to prepare a map or google map, items such as raincoat, sunscreen, face masks, water, and other necessary items to avoid fatigue on way.
By plane
For Halong Bay travel from Saigon, you can travel by plane, but the stop will be Cat Bi Airport, so you need to catch a bus or taxi to Quang Ninh. This way is only suitable for those who combine the Hai Phong and Halong tourism.
By train
Travel by train will cost $5 for Vietnamese and $15 for foreign passengers. At Gia Lam station, Halong Express departures from 7:00 am to Yen Vien station. You should consult and preview the schedule to actively arrange your departure time.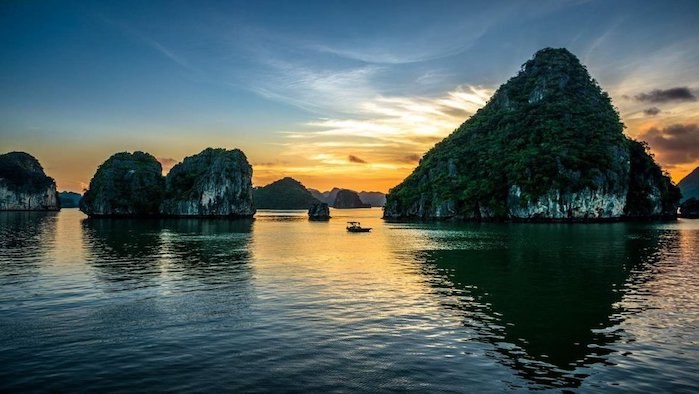 Halong rocky mountains
Bringing a special meaning and peaceful scenery, Cho Da islet promises to make your trip in Halong more fanciful than ever. For further information about Halong tours company, feel free to contact us or visit our website. If you find our guides are useful for you, please like and share with others. Thank you.