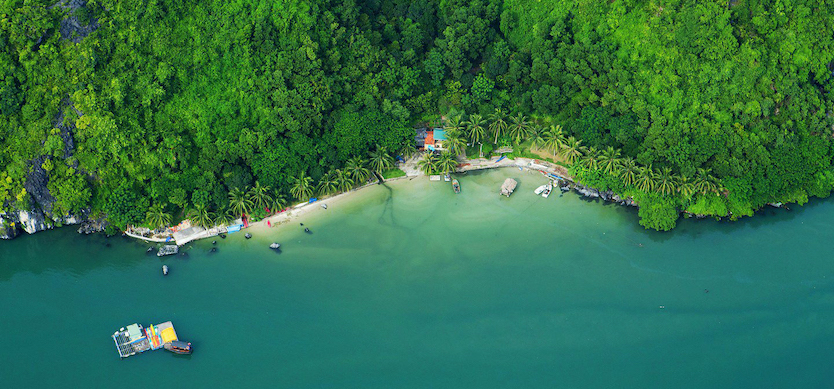 Located in the southeastern Halong Bay, Cong Do island is one of the most pristine islands on Bai Tu Long Bay with many winding hollows. Let's explore with us.
Cong Do island of Bai Tu Long Bay is about 25 kilometers from Bai Chay wharf, included in the core area of Halong Bay, which is recognized as the World Natural Heritage Site.
How to travel
Many means of transportation can take you to Halong easily such as motorbike, car, passenger car, plane, and train.
By passenger bus
Traveling by bus from Hanoi to Halong is 160km far. You can reach here in two directions.
The first one is going from Sai Dong along National Highway 1A to Bac Ninh and then from Bac Ninh, following the Highway 18 towards Chi Linh, through Dong Trieu, Uong Bi to Halong.
The other route starts from Hanoi along National Highway 18A passing Pha Lai, Sao Do, Dong Trieu and Uong Bi towns to Ha Long.
There are many popular passenger cars with high-quality beds for travelers. The vehicles are spacious and fast moving. You can buy tickets of car lines like Hoang Long, Duc Phuc and many other ones that have schedules to come to Quang Ninh.
Bai Tu Long Bay
By motorbike/car
Moving by motorbike is often the primary way for those who love adventure or want to travel to Halong at an affordable price. If traveling by motorcycle, you need to prepare a map or google map, items such as raincoat, sunscreen, face masks, water, and other necessary items to avoid fatigue on the way.
By plane
For Halong Bay travel from Saigon, you can travel by plane, but the stop will be Cat Bi Airport, so you need to catch a bus or taxi to Quang Ninh. This way is only suitable for those who combine the Hai Phong and Halong tourism.
By train
Travel by train will cost $5 for Vietnamese and $15 for foreign passengers. At Gia Lam station, Halong Express departures from 7:00 am to Yen Vien station. You should consult and preview the schedule to actively arrange your departure time.
Best time to visit
Cong Dam island belongs to the complex of the World Natural Heritage of Halong Bay in which has two distinct seasons of the hot, humid summer (April to October) and the cold, dry winter (November to March next year). The annual average temperature is from 15-25 degrees Celsius.
Summer and fall time from March to May and August to October attract domestic tourists the most, why winter time is ideal for foreign visitors. You should not travel to Halong from June to July because this season is often stormy.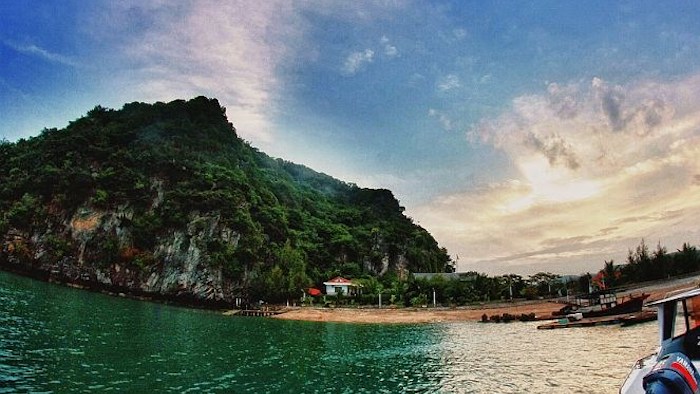 Arrive on the island
The attractions of Cong Do island
Cong Do island covers an area of 23.36 square kilometers. The island features with a 172-meter hill which is covered by an evergreen tropical forest. Moreover, the lagoons around Cong Do island are also home to various species such as shrimp, crab, fish, squid, and aquatic plants.
Notably, at the southwestern coast of the island, there is a pristine coral reef with a size of 700 meters long and 300 meters wide. The coral reef involves many rare species of coral (like red coral). That is also the habitation of seahorses and many kinds of fish. The coral reef is preserved in good condition.
Cong Do island is the paradise for your holiday. On the island, tourists can have a trekking tour up to the hill and enjoy a panoramic view at the hilltop to charming scenery on Halong Bay.
It's also an ideal place for kayaking to discover the hidden lagoons on the island and its bio-diversity. Scuba diving service is very potential to develop on the island.
In the southeast of Cong Do island, archaeologists found many trails of the ancient commercial port of Van Don. This evidence proves that Cong Do in the past was a transit point of goods in the system of Van Don Commercial Port. Let's join Halong bay cruise from Sapa to get a chance to explore this beautiful island.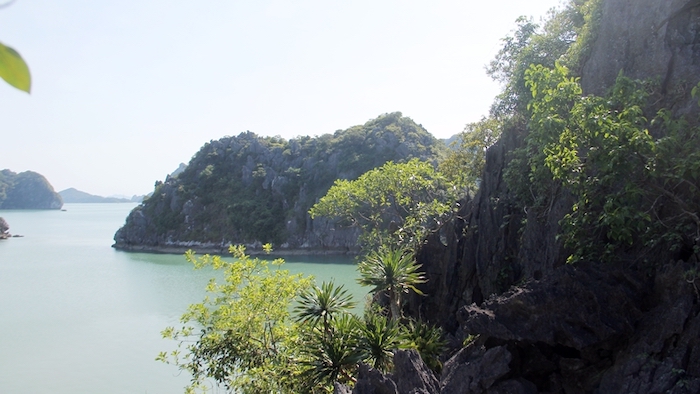 Nature on Cong Do island
With unique natural landscape and biodiversity features, Cong Do island promises to bring fascinating experiences to tourists when visiting Halong Bay. For further information about Halong bay cruise agency, feel free to contact us or visit our website. If you find our guides are useful for you, please like and share with others. Thank you.