Travel & Leisure Magazine has recently published a list of 16 most beautiful coastal destinations in the world. Cua Van Fishing Village (Quang Ninh Province, Vietnam) ranked the ninth position in the list.
According to the description of Travel & Leisure Magazine, these destinations have the perfect beauty in every picture frame from the Caribbean Sea to fascinating fishing village in Europe or Asia. Referring to the sea, people often think about carefree moments with the feeling of being lost in the world of blue and crystal ocean seemingly endless stretching. And maybe this is a reason for the sharply increasing number of tourists choosing coastline for your vacation.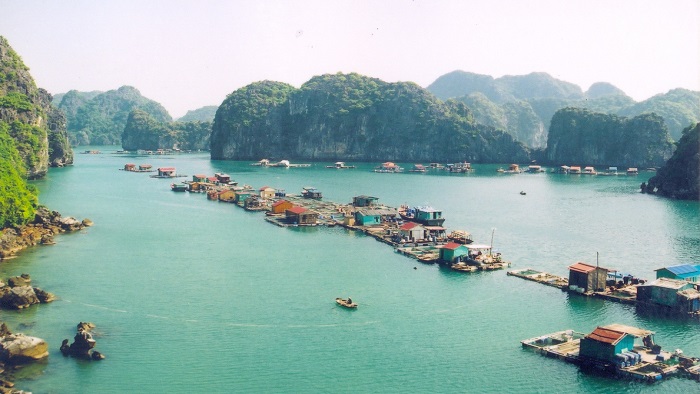 Cua Van Fishing Village in top 16 beautiful coastlines
The magazine described Cua Van Floating Fishing Village located in the heart of the world natural heritage – Halong Bay. About 25 km from the mainland, Cua Van Fishing Village belongs to Hung Thang Ward, Halong City, Quang Ninh Province. This is a residence of 176 families with more than 700 citizens, most of them engaged in fishing and aquaculture. These people often live in raft houses made from wooden planks.
Morning is an ideal time to visit Cua Van Fishing Village. Like other fishing villages, inhabitants here often wake up in the early morning when the Bay is still dim and shrouded in mist. At that time, night fishing boats return with full of fishes, then locals are rushing to collect fishes and bring to local markets for selling. The atmosphere is pretty bustling and crowded. When the sun rises, seascapes on the Bay appear so beautiful and breathtaking with images of bustling fishing villages where many local boats are moving to transfer students to schools and tourists to visit and explore the village and Halong Bay. One of the favorite stops of tourists visiting Cua Van is a cultural center where exhibit images, films, books, and documentaries about the daily life of locals.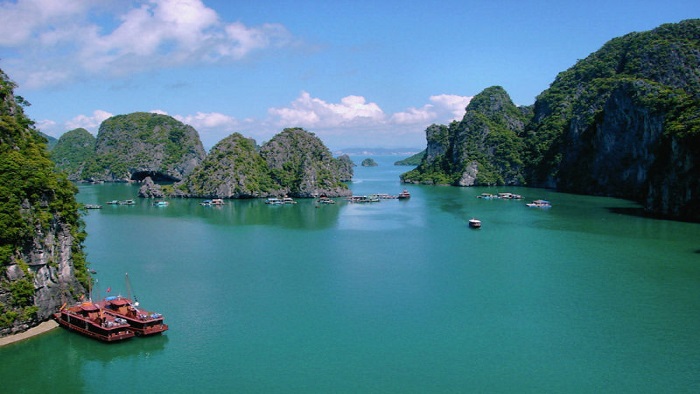 Cua Van Fishing Village in top 16 beautiful coastlines
When the night falls down, tourists will comfortably kayak around the village, trawl with fishermen, go squid fishing off the coast, and soak up in activities of the fishermen. Following the footsteps of guiding girls in the fishing village, tourists can delightfully play with waters, or contemplate funny shapes moving on the rocks. The most interesting feeling is the moments when tourists manually catch the fish and shrimps in nets, then process by their own hands and enjoy the seafood dished.
As the largest fishing village in Ha Long Bay, Cua Van has a population of 733 in 176 households. They live on floating houses and call fishing their bread and butter. Cua Van can be considered the "wealthiest" village in Ha Long Bay. Their floating houses look spacious and clean. The well-off families even have tiled roof houses with radios, television sets, tables, and chairs, etc.