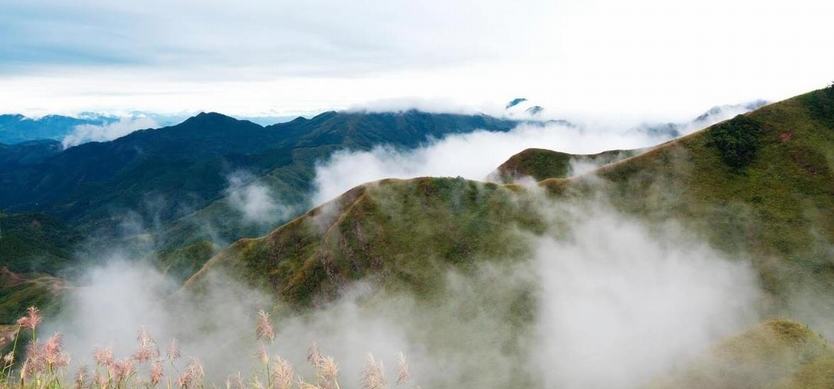 Explore Binh Lieu, Quang Ninh-One Of The Most Beautiful Trekking Routes In Vietnam
Besides Halong Bay, there are many attractive destinations in Quang Ninh province that you should come and explore. And Binh Lieu is an exciting discovery that is as beautiful as Ha Giang or Mu Cang Chai expecting you to explore once.
Where is Binh Lieu?
Binh Lieu is a mountainous district located in the northwest of Quang Ninh province. It is about 120 km from Halong attractions with an area of nearly 500 square kilometers. With the diverse terrain of the high mountains of the Dong Trieu - Mong Cai archipelago, Binh Lieu is blessed with many beautiful landscapes.
Binh Lieu is full of features of an attractive tourist destination with the wild beauty of the mountains in the north, terraced fields as beautiful as Mu Cang Chai, and the majestic terrain of Ha Giang. Not only nature but also culture, Binh Lieu also has a variety of indigenous cultures waiting for us to explore.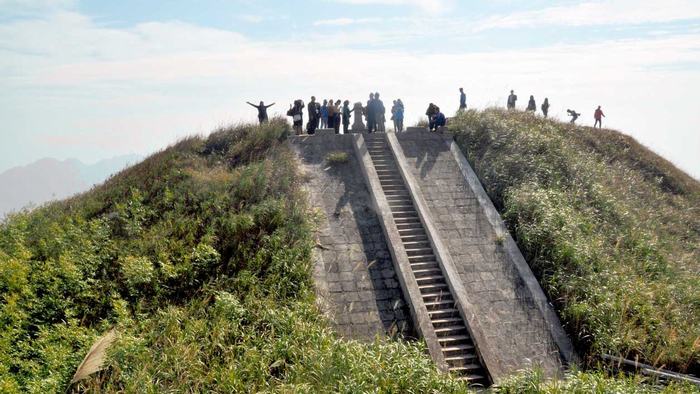 Binh Lieu
How to get to Binh Lieu?
You can drive a motorbike or take a bus from Hanoi. There are two bus routes per day from Hanoi running straight to Binh Lieu, departing from Luong Yen bus station at 7 a.m and 11 a.m.
If you choose to move by a motorbike, you drive from Hanoi to Quang Ninh on the national way 5. After a distance of about 90 km along the 18th road, you will reach the Tien Yen fork, then turn left 30 km; it is the town of Binh Lieu. The way from Ha Long to the beautiful town of Binh Lieu is quite rough, so remember to drive with medium speed.
When you come to Binh Lieu, you have to drive a motorbike to explore this place. So if you travel by car to get here, you should still rent a motorcycle for your journey.
When is the best time to go trekking to Binh Lieu?
Binh Lieu owns the cool and temperate weather all year round so that you can go here any time.
In the spring, there are festivals such as the festival of Luc Na communal house, Soong Co love song festival, love market festival, etc. Summer and autumn are the seasons of full of water of Khe Van, Khe Tien waterfalls, lush rice terraces and the season of many kinds of blooming forest flowers. In the winter, if you are lucky, you can experience snowfall in Binh Lieu with many other exciting things.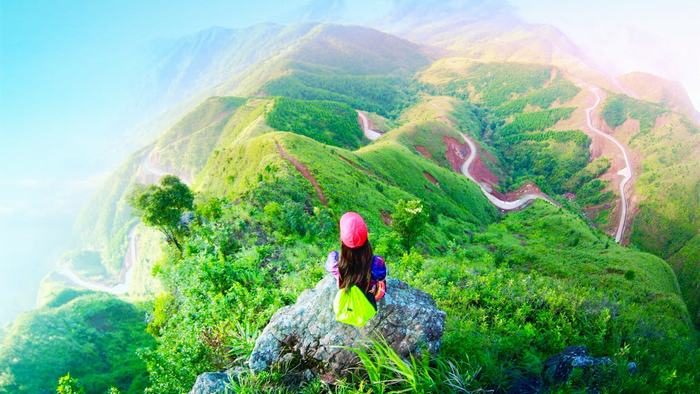 The gorgeous beauty of Binh Lieu
What to do and see in Binh Lieu?
Biking
Surely when you come to Binh Lieu, you have to drive on the beautiful roads.
Border patrol road: The western and northern patrol route runs along the border between Vietnam and China which is surrounded by the immense, majestic and beautiful mountains. When driving on this route, you should pay attention to strictly observe the State regulations on border management and the land border agreements between Vietnam and China.
Visit the border poles 1300 and 1302: From Binh Lieu town running toward Hoanh Mo on the national highway 18C about 3-4 km, turn right on the Ngan village. From the cave, you turn left at the mile 61 about 7-8 km is the border poles 1300, 1302.
Trekking
Binh Lieu is one of the most beautiful trekking routes in the north of Vietnam.
Dinosaur spine trail and the border pole 1305: The border pole 1305 is located on the border patrol route of Binh Lieu, Hoanh Mo, Quang Ninh. It is one of the two border poles located at the highest point in the province, which is not easy to touch. Looking at Vietnam map, you will see there are many ways to get to 1305. The first route you can start from the turning point 61 and 68 in Chuong village, then you turn right toward 68, you run along the road to Hoanh Bo about 5-6 km. There are no steps to climb, and you have to go trekking across the dinosaur spine trail with the fastest time about 2 hours in the nice weather condition.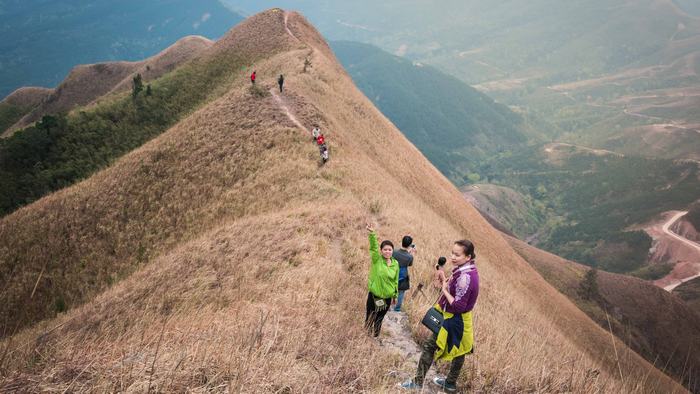 Trekking in Binh Lieu
Mount Cao Xiem - The roof of Quang Ninh: Cao Xiem mountain is 1,429 meters high above the sea level. It is considered the rooftop of Quang Ninh province. To conquer the mountain, many tourists have to go trekking about 15 kilometers, when admiring the forest, mountains, and the magical cloud sea, it is a present for your efforts.
Camping
It is a favorite activity which is often associated with hiking and trekking. Especially in the beautiful scenery in Binh Lieu, what better than the feeling of waking up early in the mountains and witnessing the dawn.
Binh Lieu is known as one of the most beautiful trekking routes in Vietnam thanks to the uniqueness of the trails on the top of the mountain, connecting the national border poles to form a chain of appealings destinations for tourists to explore. We hope that with this information above, you will have enough to take a trekking tour to this site via Halong Bay tour.
If you find this article helpful. you can share with others. Thank you!