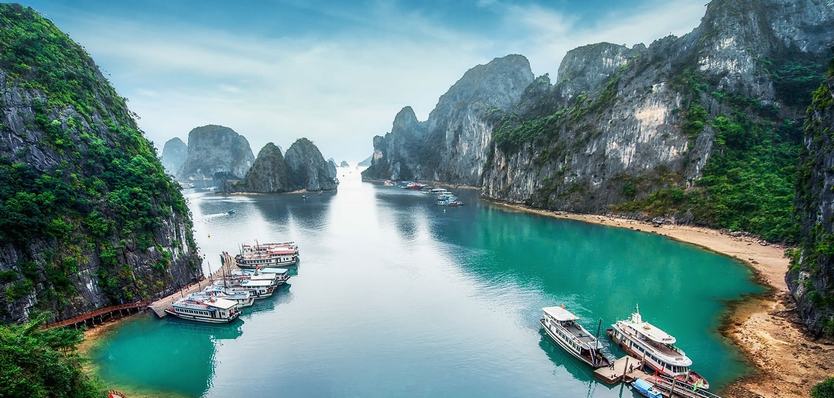 Halong Bay is blessed with natural beauty and majestic water like a mysterious and romantic landscape painting. The land is recognized by UNESCO as a natural wonder of the world and has become one of the tourist destinations attracting millions of both domestic and overseas visitors each year. However, not many people know about the poetic and pure beauty of Lan Ha Bay, which is located in the east of Cat Ba island (Haiphong city), overlooking the Van gate, and close to Halong Bay. With its unique feature, Lan Ha has a huge potential to be an attractive destination for tourists shortly.
What Lan Ha Bay looks like
It is a very quietly arch-shaped bay with about 400 islands with all sizes creating a huge picture depicting the gorgeous scene. Distinct from Halong Bay, all 400 different islands in Lan Ha Bay are covered with trees and vegetation, even small islands like a peninsula.
The density of limestone mountains here is quite thick and still very primitive, dividing sea surface into smaller bays and gulfs. Some bays and caves have not been discovered and exploited yet. There are hundreds of mountains with various shapes depending on the imagination of tourists such as Guoc island (like a clog), Doi island (like bats), etc. Visiting Lan Ha, people can see the similar stalactite caves, the featured characteristics of Halong also presented here with Ham Rong cave, Do Cung, and Ca cave.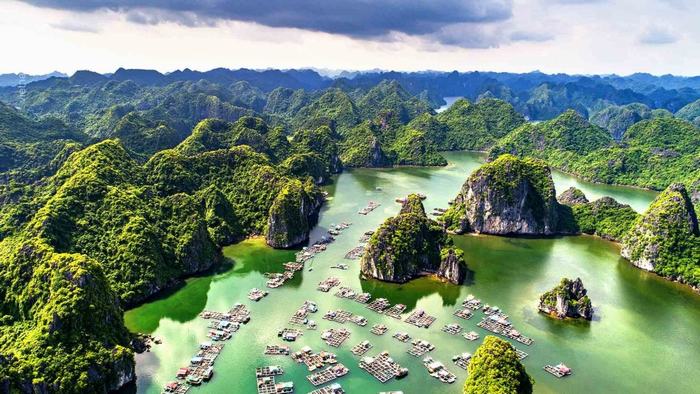 An overview of Lan Ha
Different from Halong Bay, Lan Ha Bay has a total number of 139 small, lovely and desolate sandy beaches as the "blue straits" inviting visitors to explore. Those quiet sandy beaches stretching between two rocky mountains with no big waves are the ideal beaches for tourists. In the blue water, there are thousands of coral reefs and corals with all colors such as Van Boi and Van Ha beach. To have an opportunity to dive and admire these corals, tourists can look to the quiet beaches. The common ones are Sen island, Cu island, and Monkey Island.
Ways to get to Lan Ha Bay from Halong
With the huge potential in Lan Ha bay and Cat Ba island, various travel companies are considering to make package tours in which visitors will visit Halong Bay, stay overnight on the cruise, then visit Lan Ha bay and stay at hotels in Cat Ba or sleep in bungalow houses in Monkey Island. If you want to go to Lan Ha bay from Halong, here are some useful guides for you.
To reach Lan Ha Bay, the ideal departure point is from Tuan Chau ferry terminal on Tuan Chau island (Halong city). During the journey, visitors will have an hour to admire Halong Bay in the area without any fishing or tourist boats. Ferry to the west coast of Cat Ba island costs VND 80,000/person; then tourists will continue the journey through the fresh primary forest of Cat Ba National Park to the northeast of the island, and go on in a boat to Lan Ha Bay.
TIP: If you want to have a comprehensive view of the sea in the Gulf of Tonkin, you can choose the departure from North East Vietnam - Sa Vi cape (Mong Cai city) going to Van Don island district, then take the ship crossing Bai Tu Long bay, go to Co To island, arrive in Halong Bay, go on ferry to Cat Ba Island, and visit Lan Ha Bay.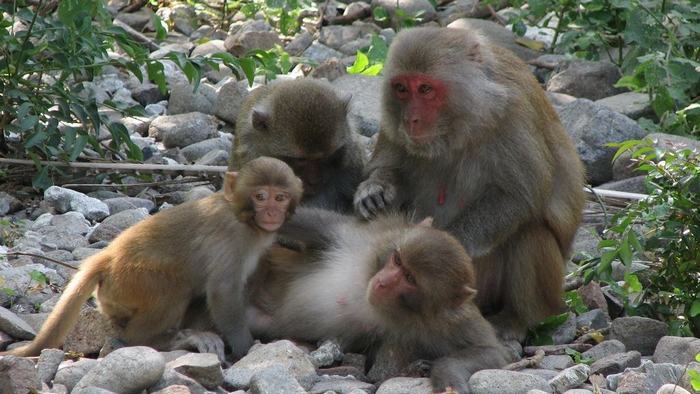 Monkey Island
Tourists planning to Lan Ha should go through the Cat Ba National Park, where many species of precious animals live, including rare white-headed langur and Nageia fleuryi. Furthermore, over the top of Ngu Lam mountain, at the end of the journey is Viet Hai fishing village, the most pristine fishing village of Cat Ba island, where visitors can discover many interesting things in a fishing village in the North.
How tourists can make a Lan Ha tour
By small boat, tourists can go through the ravines for excursions in the small bays and gulfs to visit the caves, resting on the beaches in the middle of the sea as Vam bay, Tung Gau cave, and Cat Dua beach. Cat Dua beach (in Monkey Island) now has developed services for tourists like raising monkeys or having overnight lodges. Especially, visitors can visit the growing pearl farms here.
A peaceful area with small fishing villages lives together as separation from the rest of the world. Under the peaceful island clusters, there are many villages raising local specialties such as blue mussel, crab, abalone, abalone, grouper, etc. To meet the daily demands of tourists visiting here, several raft houses raise fresh fish and shrimp in the bay.
The journey going to Lan Ha Bay from Halong not only opens up the magnificent scenery of the sea islands of Vietnam but also reminds us of the great battlefield on the sea of the Tran Dynasty. If this guide is helpful for your holiday in Halong, please like and share with the others. Thank you, and I hope you have a nice trip.