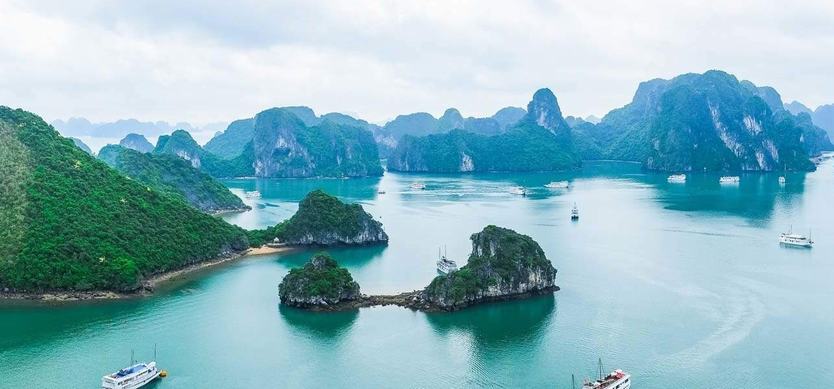 Halong Bay is one of the most famous tourist destinations for both domestic and international visitors around the world. The article below will show you what experiences are needed when coming to Halong Bay.
The best time to travel Halong
Halong Bay is a part of the Gulf of Tonkin - where the weather has four distinct seasons, most notably: Winter (from November to March of next year) when the weather is very cold and summer (From April – October) when the weather is very hot.
Summer is the peak season of Halong; then you'd better travel to this land in the following periods: From March to May and from August to October and should not go to June to July for the following reasons:
In the weekends in June and July, Halong is so crowded with tourists, so that you may find it uncomfortable and the price of services is usually higher than that in weekday.
According to the rules of the weather, June - July is when there are a lot of typhoons and tropical rains in the Gulf of Tonkin, so be careful when traveling in Halong Bay in June.
It is best to go to Halong now (from March to May) or go a little later (from August to October).
If for some reasons you have to travel to Halong Bay in peak season, you should deal with tour operators to organize and they will help you minimize the consequence of the unexpected situation.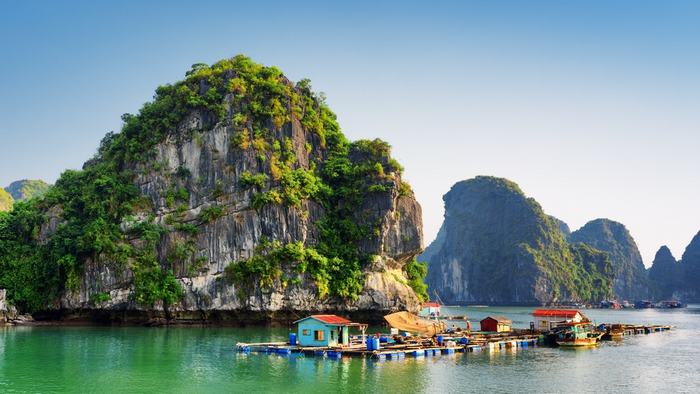 The beautiful Halong Bay
Packing
Like other famous beaches when the summer comes, Halong Bay and its beaches suffer from the heat and intense sunshine, which will cause your skin to be damaged so that sunscreen is indispensable (usually the cream has SPF index of 30 and above is proper use).
If you are a stylish and very attentive to skincare and haircare, then you should bring shower gel, shampoo, toothbrush and toothpaste of your own. If you are a nature lover and enjoy the slime scenery, a large sunglass and a boater or a sunhat with the crown will help you a lot.
Beach bathing will go along with visiting some famous caves so that a pair of soft sandals or flip-flops will make you feel comfortable when walking.
For swimming, the swimsuit is considered the most important thing. That's why you need to prepare from home. If you are traveling with children, life-jacket is a must.
If you are passionate about photography, the camera and lens are indispensable, do not let yourself regret cannot record one of the most spectacular landscapes in the world.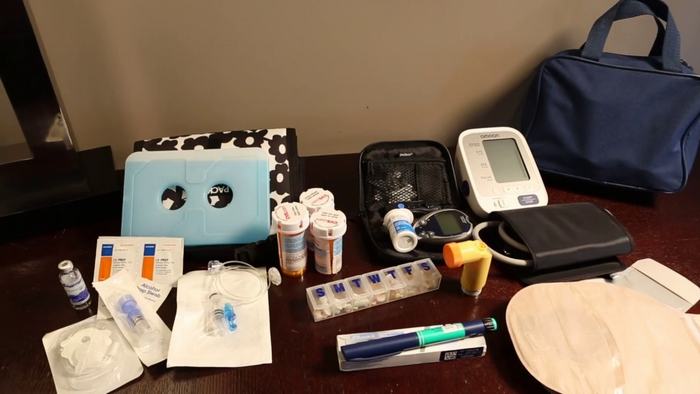 Things to prepare when traveling
Roadmap and means of transport
You can get to Halong by various means of transportation such as cars, buses, motorcycles, and even trains. Halong Bay is about 170 km from Hanoi; if you get there by coach, My Dinh station, Yen Nghia station will be your depart destination. The first departure is usually at 6 am, and the last one is at 5 pm, it repeats every 5-15 minutes, besides, the fare is from 100,000 - 200,000d / person.
Eat & Drink
About cuisine, there are many restaurants from budget to luxury for your choice when coming to Halong. Typical such as Mithrin Restaurant (Hung Thang, Bai Chay); Panorama Restaurant (168 Halong, Bai Chay); Son Ca Restaurant (98 Wharves); Bien Xanh Restaurant (08 Le Thanh Tong); Hai Ninh restaurant (zone 3, Vuon Dao); Thien Ly Restaurant (Ly Thuong Kiet, Cua Ong).
If you want to enjoy the specialties of Halong Bay, you can go to Sea Food Restaurant (Halong Road); Thu Huong restaurant (Halong street); Noi Nho restaurant (Tran Hung Dao street).
Cruise
Spending nightlife on the bay is a lot of tourists' choices; we highly recommend you to spend one night on the boat doing many activities such as viewing sunset or sunrise over the Bay, kayaking, sunbathing, swimming, squid fishing when the night comes ...
Night tours on the bay may last for two days one night or 3 days two nights depending on the journey schedule of each cruise. The three-star yacht cruises such as V' spirit, Majestic, Calypso, Halong Sails, Oriental Sails, Lapinta, Glory ... You can contact the travel agency for the best price, especially in the summer, there is a great deal of promotion for you.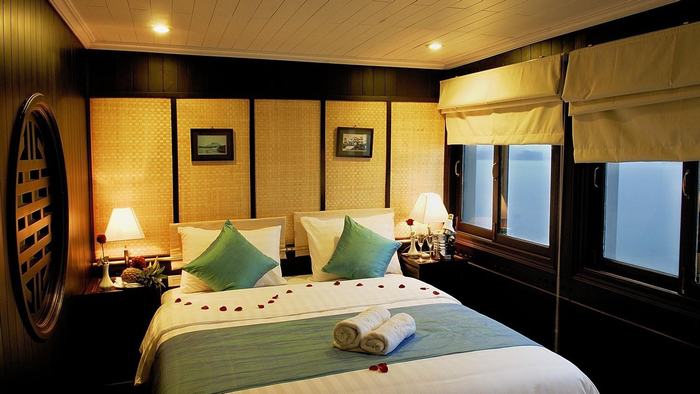 Cabin on the cruise ship
What to do in Halong Bay
Sleeping On Board
Despite a lot of new hotels offering attractive promotions on the mainland, experienced tourists recommend new ones to spend at least one night on a cruise. By this way, you could admire the bay much closer up in an unusual manner. There are various types of Halong tour cruise, from high standard cruisers to diesel-powered junks, travel agencies are always willing to help you searching, booking, taking care of you after services.
Sunbathing in Halong Bay
One of the most laid-back things to do in Halong Bay is sunbathing and swimming. Featuring by thousands of caves and limestone, Halong Bay offers countless places for tourists to enjoy sunbathing, swimming, snorkeling, night fishing, squid fishing or kayaking.
Do Tai Chi on cruise
Tai Chi is an ancient martial art originating from China and has been performed for a thousand years to improve the physical and mental health through its soft movements. If you practice Tai Chi in the peaceful atmosphere regularly, you could achieve a lot of benefits via this art form. Hence, is it a great idea of practicing Tai Chi when being on a cruise and being surrounded by the spectacular natural beauty of Halong Bay?
Ride on Cat Ba Island
Cat Ba is the largest island in Halong Bay; it owns an impressive natural beauty in the area. Let's explore limestone hills, discovered the hidden waterfalls, grottoes, and lakes, admire wildlife hidden in coastal forests go snorkeling to uncover the underwater life.
Having dinner in a cave
You should never miss such an exciting activity like dining in a large, shimmering and warm cave. A few cruises offer this service meanwhile some cruises add this activity as one of their included activities while others make it optional activity.
Other notes when traveling Halong:
When you sleep on a cruise, you will not be allowed to bring drinks or food along.
When traveling, please note that don't litter. It is a strict rule, and you may be fined severely for littering in public places or preserved sight areas.
If you want to know more about Halong Bay, please visit Halong Bay tour for more information. Share this article if it is helpful for you!