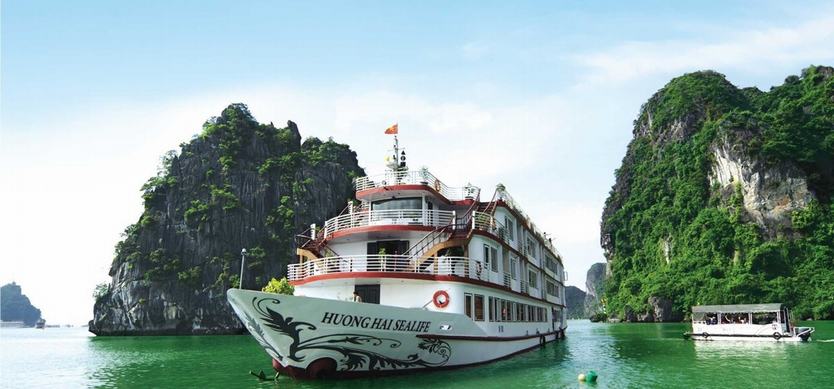 Owning a wide range of cruises and junk boats, each of them is carefully planned with a specific route, and interesting itineraries, Halong Bay Tours surely meet the demand of all holidaymakers. You are a tight budget traveler and want to find some reasonable but reliable cruises or reliable Halong cruise booking? Here the place we make your wishes come true.
Glory Cruises
The Glory Cruises Experience is an immersion in culture, heritage and natural beauty of one of the most enchanting destinations in the world. Follow us on a journey rich in local color, luxurious surroundings, gracious services and discover the art of Glory Cruises Halong Bay. Natural wonders and unique cultural experiences lie every turn during this – your most memorable – Vietnam vacation.
Glory Cruises offer 2 type of junk boat – Glory Cruise at a superior level and Glory Premium Cruise at deluxe level, 17 cabins each ship.
Glory Cruises are modern and tastefully designed boats; the boats feature spacious, well-appointed cabins and suites with large en-suite bathrooms, large sundecks with comfortable lounging furniture and elegant dining rooms and bars. We have designed and fitted our boats to international standards while maintaining the traditional style, creating the perfect balance of modern comforts and nostalgic ambiance.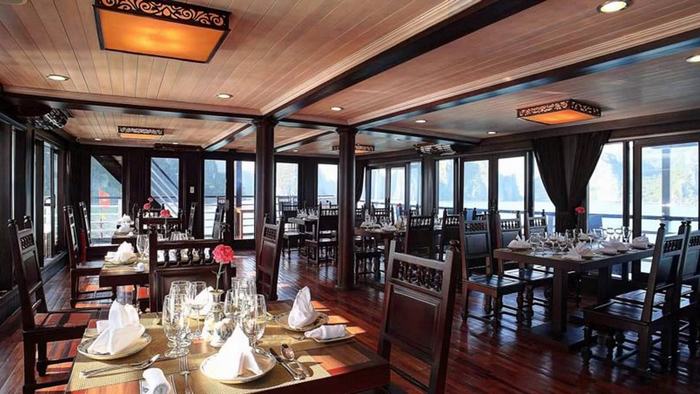 Glory Cruise
Glory Cruises offer an elegant, relaxing and fulfilling ways to explore endless style in Halong bay. The cruise brings us into contact with local people in different floating villages of the Halong Bay. With Glory Cruises, you will have ample opportunity to see Vietnam in its authenticity and sample local culture and food, in a one unpacking, unforgettable vacation where your "floating hotel" get you insight into Halong bay Vietnam.
V'Spirit Cruise
The word "V'Spirit" actually means "Vietnamese Spirit," and our goal is to help you experience that feeling which is part of our daily lives. The entire length of our country is next to the sea which feeds us, and on which many of us live and work. Much of our delicious, traditional cuisine is derived from the riches of the sea, and our love of family, friends, and gathering around a good meal shines through in the many tastes of Vietnamese cooking. The unique limestone islands found in Halong Bay, along with the mysterious, and beautiful caves scattered throughout, mirror the beauty, grace, and mystery of our homeland.
With this in mind, our two, newly-built wooden junks are designed in the time-honored traditional style, but with contemporary, deluxe cabins and facilities, including sea-view windows in each cabin, private, modern bathrooms, and a comfortable sun-deck bar. Our cooks will serve you the tastiest traditional Vietnamese foods, and our staff will help you learn about our current lives as well as our ancient history.
Visiting the most famous Vietnamese World Heritage Site with V'Spirit Cruises is bound to be one of the highlights of your travels in Vietnam, thanks to the high quality of our facilities and accommodations, and the excellence of our customer service.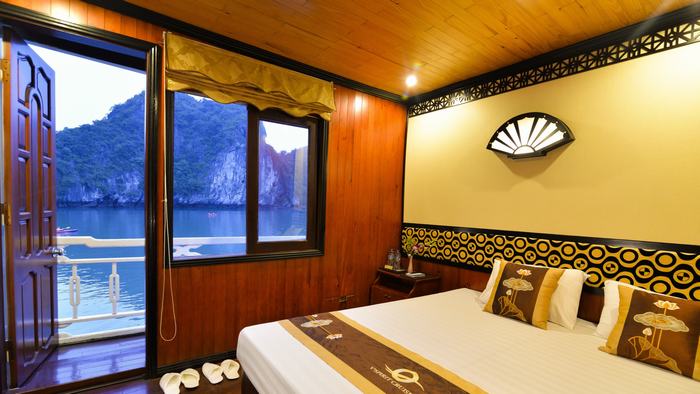 V'spirit cruise
Specifications
Built: 2011 in Halong city
Design concept: Vietnamese and traditional wooden style
Length: 23m
Width: 6m
Height: 6m
Deck 1: Guest cabins and kitchen
Deck 2: Guest cabins + Bar and restaurant
Average cabin size: 16 sqm
Sundeck: Large with tanning chairs
Cabins Facilities: Comfort bedding, Air-con, Private Bath, Hair Dryer
Generator: 4.500KVA / Cruising speed: 6 nautical knots per hour
Crew: 7 (V'Spirit Classic 1) and 9 (V'Spirit Classic 2)
Total number of Deluxe Cabins: 7 (V'Spirit Classic 1) and 10 (V'Spirit Classic 2)
Passenger Capacity: 14 (V'Spirit Classic 1) and 20 (V'Spirit Classic 2)
Halong Phoenix Cruiser
Based on an exotic oriental junk, the Halong Phoenix CruiserGroup has two cruises in total offers the best of both worlds: luxurious, traditional styling paired with sophisticated modern facilities and comfort! The boat boasts romantic wooden fixtures, a multitude of windows to make the most of the amazing views, and a spectacular upper deck for your total relaxation.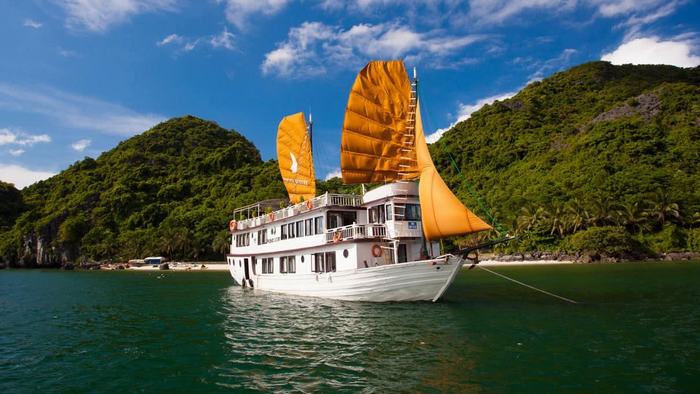 Halong Phoenix Cruiser
Halong Phoenix Cruiser at 3* service
Launched Halong Phoenix Cruiser 03 (November 2011) with 14 cabins is designed with sophistication and meticulous attention to detail has been made for your enjoyment. Our 40-meter wooden junk cabins with full service of restaurant, sun deck with comfortable lounge chairs and an attentive staff to cater to your every need. Halong Phoenix Cruiser features 14 spacious cabins with private bath, air conditioning, linen sheets with all the amenities which were deliberated on a combination of traditional and elegance. All cabins are uniquely designed with big windows and a balcony on the sea so that you can view the whole admirable scene of Halong Bay, even from your bedrooms.
Halong Phoenix Luxury at 4* service
Launched the May of 2013, Halong Phoenix Luxury, sister of Halong Phoenix Cruiser, is offering a pioneering new generation of the vessel with both up-comprising quality and luxurious standard. The vessel brings travelers 4-star cruise services to experience Halong Bay, with reasonable price, in a very comfortable way.
The entire boat is fitted international standards while maintaining traditional Vietnamese Junk styling, creating the perfect balance of modern comforts and nostalgic ambiance. It is a large vessel, spacious and very stable; you will find yourself particularly cozy on it. Featuring ten cabins, lavishly furnished with comfortable bedding, private western standards bathroom, safe box, qualified accessories, and all offer a panoramic view through large windows.
Imperial Legend Cruise
Imperial Legend Cruise Halong Bay, traditional junk boat built of wood with modern facilities and first class service, is perfect for exploring Halong Bay. Relaxing, enjoying the amazing Halong Bay on the comfortable sundeck. The main food in Luxury Imperial Cruise is Vietnam traditional dishes made of local seafood.
Besides, experienced cooks of Luxury Imperial Cruise will bring you other delicious dishes from beef, chicken with fresh herbs and spices in the set menu. Launched in August 2010, the Imperial Legend Cruise features 12 deluxe cabins. Each cabin on the Luxury Imperial Cruise is furnished in a comfortable colonial style. The Luxury Imperial Cruise can accommodate up to 27 passengers.
Boat material: Aromas wooden
Total number of cabins: 12 deluxe cabins
Triple cabin: 03 triple cabins with 01 big bed and 01 single bed located on the first deck without balcony.
Deluxe cabin: 09 cabins (02 double and 02 twins located on the second deck with balcony; 02 double and 03 twin located on the first deck without balcony)
Restaurant: 01 – 50m2 (maximum 30 guests).
Bai Tho Junk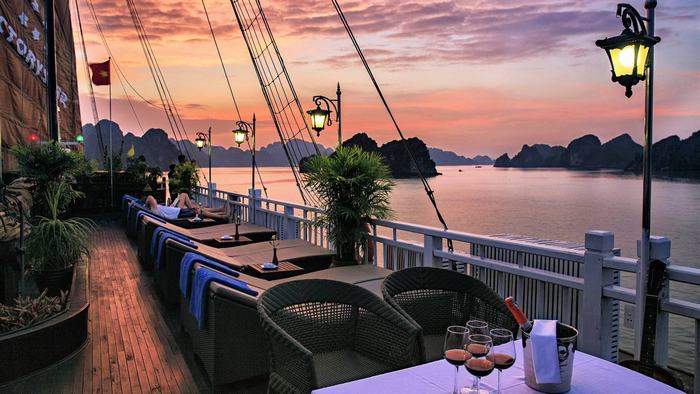 Bai Tho Junk
Bai Tho Junk Company is one of the pioneers in operating tourist transport on Halong bay from 1991 with 11 overnight boats and some day trip boats offer tour programs to visit Halong Bay. After 20 years, Bai Tho Junk has become the first company to provide all-day cruise and night cruise with any special events for visitors to Halong. It's so beautiful to spend a night stay Bai Tho Junk in Halong Bay.
Bai Tho Junk features six overnight junk boats with 07, 10, 11, 13, 15 and 18 cabins each ship. Just imagine how you will feel when following the Stars sparkling, lying on the sundeck, or discovering a spectacular sunrise, closed to nature, in the calm of the sea, just amused by bird's morning songs and the waves' rustle.
All Overnight Bai Tho Deluxe Junks offer you a comfortable and warm atmosphere and the close care of our crew.
Launch: 2008
Length: 35 m
Width : 08 m
Capacity: 30 guests
Structure : 03 floors – 1 full cabins' area, 1 cabin & dining room / bar area, 1 sundeck for sunbath and relaxation.
Services
Reception
Restaurant & bar
Karaoke
Souvenir shop
Tender
Vietnamese, English or French Tour guide
Kayak (optional service / complimentary for 2nd of 3 day-2 night's tours)
Fishing (complimentary)
If you concern about Halong Bay Cruise, please visit Halong Bay Tour for more information. Share this article if it is helpful for you!