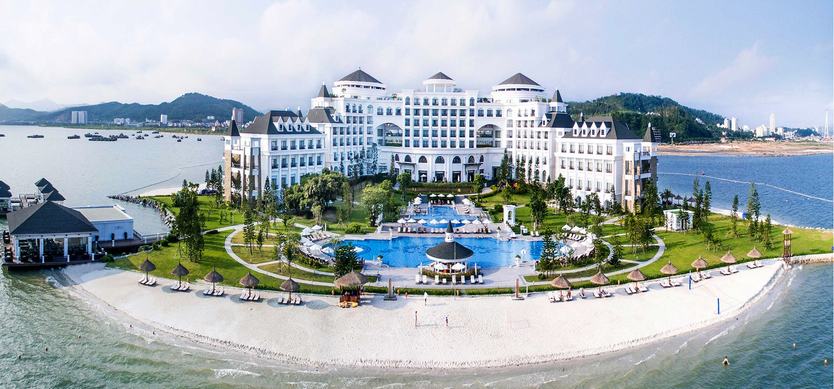 Vinpearl Halong is the first and largest international five-star beach resort in the north of Vietnam. Once you visit Halong Bay, coming to this luxury resort to experience a great holiday with the best quality services.
Overview of Vinpearl Halong Bay
Vinpearl Halong Bay resort is located on Reu island which is an unspoiled and beautiful island in Halong Bay, where you can see a panoramic view of the entire Halong Bay. The resort complex has a total construction area of 47,000 square meters, including 384 hotel rooms, with various types of rooms ranging from deluxe garden view, deluxe pool view, to family suite, especially executive suite and presidential suite.
It is an ideal place to relax for the couples, family, friends as well as business guests. The room rate at Vinpearl Halong is from 2,700,000 VND per person, depending on the services of the guests and the room type. Besides that, there are also rooms with catering services up to 30,000,0000 VND per night.
Designed in the neoclassical classic style, the interior is elegant and luxurious, exuding the royal style of a five-star international resort.
From the balcony of all rooms in the resort, you can enjoy the beautiful sea breeze, hear the sound of waves fluttering or immerse in the quiet moments between the pristine island.
Owning the outdoor swimming pool system and especially the indoor four-season swimming pool, Vinpearl Halong Bay Resort offers guests a complete holiday experience in any season.
Moreover, Vinpearl Halong is very close to Dragon Park of Sun World Halong Park which is the new outdoor entertainment park with many new and exciting games and restaurants serving unique dishes.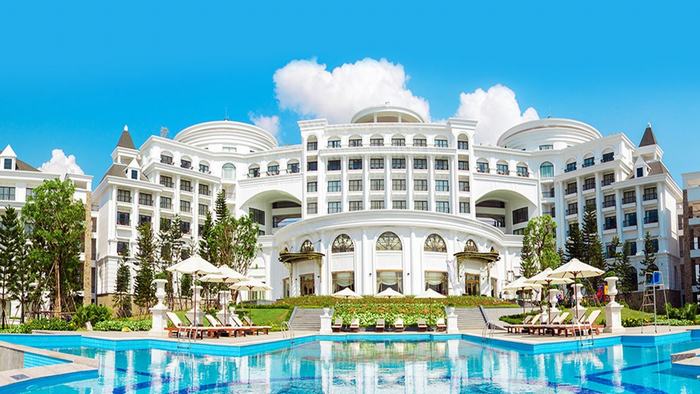 Vinpearl Resort
Going to Halong Bay, you not only have a chance to enjoy the luxury experience in the luxury resort but also experience the world-class entertainment services at Dragon Park, that is a great combination to help you have a perfect trip.
How to get to Vinpearl Halong Bay
Vinpearl Halong Bay resort is located on Reu island, Bai Chay, Halong city. It is around 150 km from Hanoi with over 3 hours driving, whereas, it is only 2 km from Halong city. The nearest international airport is Cat Bi international airport which is 70 km from the resort.
To get to this resort, there are numerous types of transportations for tourists to choose from. But it's better to book a private car from Hanoi; the price is around $96 from Hanoi to Halong. Upon arrival, the hotel will help to arrange the transfer from the shore to the island which is included in the room price.
Besides that, you also can get in the passenger car from My Dinh bus station which drops you at Halong city; then, you can catch a taxi to get to Vinpearl Halong Bay.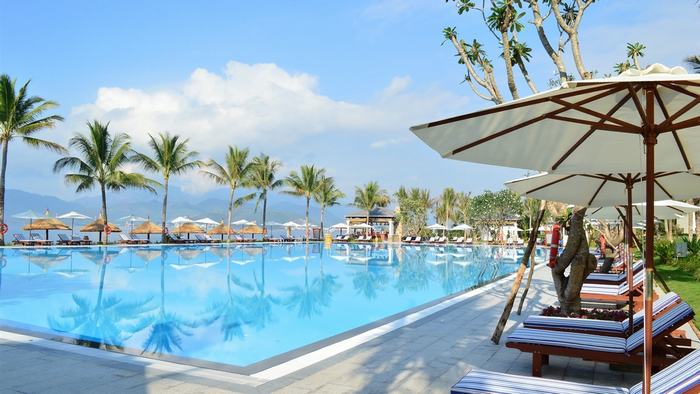 Vinpearl Resort
The tourist destinations near Vinpearl Halong Bay
Dau Go Cave
Located on Dau Go island, about 300 meters from Thien Cung cave, Dau Go cave impresses tourists by the mossy antique beauty, so when the French came here in the last century, they called this place as "cave of the wonders." The cave has a diverse fauna and flora with the development of a variety of flora, especially moss, ferns and wood trees which make up a distinctive feature compared to many other caves in Halong Bay.
Me Cung Cave
Located at the height of 25 meters above the sea level on Lo Bo island, about 2 kilometers from the southwest of Ti Top island. Me Cung cave looking at the distance is like a deep-rooted island. Me Cung cave has a complex structure with many levels, many divisions and niches spreading over the rocks with corridors longer than 100 meters, rising to the west and looking down to a small lake called Me Cung lake.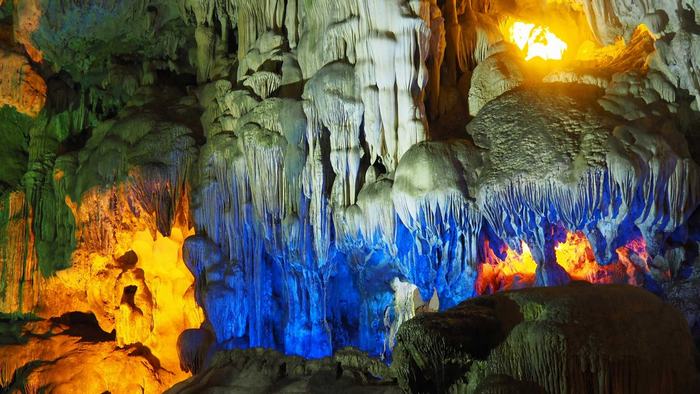 Me Cung Cave
Ti Top Island
Ti Top island is a beautiful island with a side is steep, and the other side is a shallow white sandy beach. It is a stopover of cruise ships for visitors to bathe or climb to the top of the mountain to view the whole island. From above, Ti Top beach is curved like a moon embracing the island. Unlike many other tourist destinations in Halong Bay, apart from the beautiful natural scenery, Ti Top island also owns a beautiful beach, which is not large but quiet, airy and very clean.
Cua Van fishing village
Cua Van fishing village is one of the boldest Vietnamese destinations in Halong Bay. Coming to Cua Van fishing village, visitors not only immerse in a calm and peaceful space but also learn the cultural life of fishers, learn how to rowboat, spread net, and drop fishing sentence shrimp.
Visiting Vinpearl Halong Bay Resort via Halong Bay tours, you will immerse in the resting paradise with the luxury services and experience the famous destinations in Halong Bay. If you have any questions, feel free to contact us. Thank you!