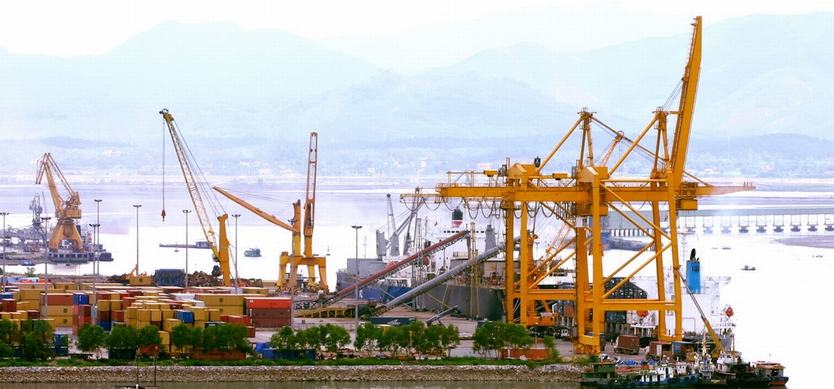 Traveling to Vietnam by ship will be more exciting for tourists, especially when you take a cruise at Cai Lan port - one of the most famous ports in Vietnam.
If you intend to travel to Vietnam with your dear friends and family, remember to take Halong bay tour to know more about how to get to Cai Lan port and have a great trip in Vietnam.
General information about Cai Lan port
Cai Lan port is located in Bai Chay district, Halong city, Quang Ninh province. It was built in 1999 thanks to the ODA of the Government of Japan. The port-the number one International Container Terminal in the North of Vietnam with a water depth of 13 meters can accommodate 3,000 to 4,000 TEU sized ships. It is a significant advantage for shipping companies to reduce the cost when their boats enter the port.
The first stage of Cai Lan port construction and expansion project consists of 3 piers. They are pier 5, pier 6, and pier 7 with a total length of 680m and a pier depth of 12m, which helps to accommodate 40,000 DWT ships. Moreover, berth seven is used for containers. In the port systems development strategy of the Government, the period 2010-2020 plan and the 2030 vision in Cai Lan port will be expanded to add pier 8 and pier 9.
Today, Cai Lan port is upgrading more and more to meet customers' demand as well as compete with other international ports in Vietnam.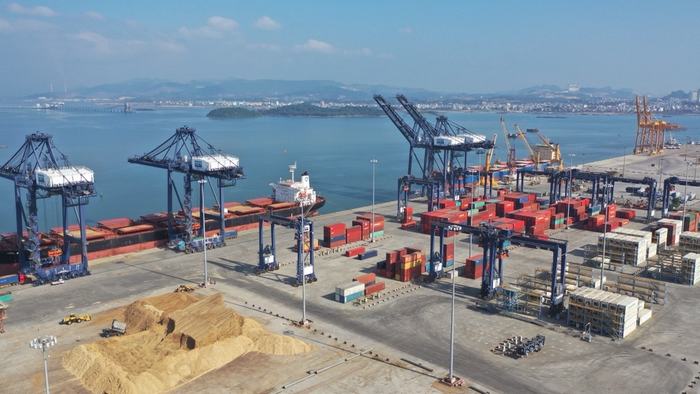 Cai Lan Port
How to get to Cai Lan port
For those who are considering how to get to Cai Lan port, the following information of the journey will be useful.
Yen Vien - Cai Lan Railway is a railway connecting Hanoi (the capital of Vietnam) to the world natural wonder Halong Bay.
The entire route length: 131km
Yen Vien - Cai Lan route has the starting point Yen Vien station and the last point Halong station with the following lines:
Provinces and cities: Hanoi - Bac Ninh - Hai Duong - Quang Ninh
Stations: Yen Vien - Lim - Pha Lai - Chi Linh - Mao Khe - Uong Bi - Halong - Cai Lan
If you want to get to Cai Lan port, you can start from Yen Vien station in Hanoi. And this route is very suitable for the tourists who want to visit Hanoi and Halong Bay.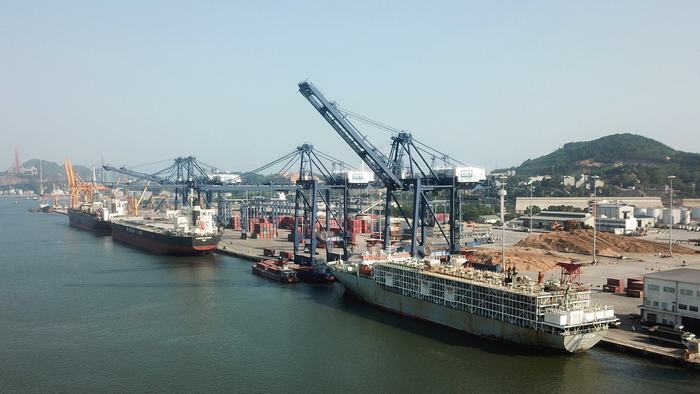 Cai Lan Port
What tourists can do at Cai Lan Port
Standing from Cai Lan port, tourists can see Halong Bay showing up clearly. If you do not hurry up coming to Halong Bay, please go around and explore many interesting things at Cai Lan port. You can take a taxi to visit Halong city – one of the most lively places in Quang Ninh, Tuan Chau Island, or Surprise cave. All of them are amazing with a romantic and gentle beauty, which helps you relax after the long trip to Vietnam. However, wearing comfortable and non-slippery shoes is a good thing you should do.
Besides, together visit Halong Bay by Cable Car, you will have a chance to have an excellent experience when admiring Halong Bay from above. The cabin of the cable car system is located in Bai Chay district, Halong city, Quang Ninh province. For the tourists who like the height, this experience is the most interesting.
Other services at Cai Lan port
Cai Lan port has seven harbors consisting of many warehouses, cargo yards and logistics facilities with an area of about 129 hectares. These warehouses and cargo yards are operating in the field of logistics in industrial parks and border gate economic zones in the province such as transport and container leasing, construction and lease of workshops and warehouses; packaging, labeling, collection and distribution services; import and export support consultancy services; delivery services and customs declaration; loading and unloading of goods.
There are also small warehouses which are rented of small and medium businesses in the country and foreign countries to serve wood chips, building materials and other services such as transport, loading and unloading goods, and cargo division.
In the coming time, Quang Ninh province will focus on developing more professional warehousing systems and services to serve the activities of gathering, storing, transshipping, transporting, and loading and unloading in the process of circulation of goods in the domestic market as well as import and export.
Taking part in many exciting activities at Cai Lan port will give you many memorable moments when coming to our dear Vietnam. Do not hesitate to contact us on the website Halong bay tours to get more information about the Cai Lan port. Share the post if you find it useful. Have a great trip!