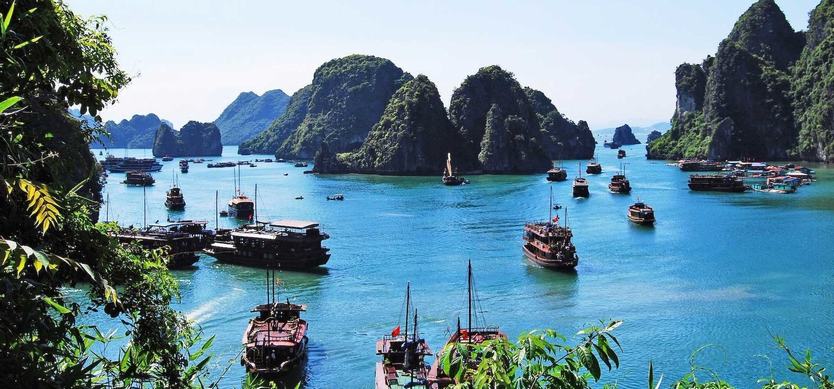 If you are attending to travel to Vietnam with your dear family and friends, remember to take a Halong bay tour to know more about how to get to Halong Bay from Mai Chau.
What to do in Mai Chau
Located in the northwest of Hoa Binh province, 130km from Hanoi, 60km from Hoa Binh town, and surrounded by mountains, Mai Chau is a land of aggregating and exchanging cultures of many ethnic groups in Vietnam. Each ethnic group has its own identity, customs, and habits that contribute to the rich diversity of Vietnamese culture.
The local people in Mai Chau have been promoting and preserving cultural identity and promoting the potential of tourism to introduce to friends all over the world. Mai Chau today is the destination of hundreds of thousands of domestic and foreign tourists each year to immerse themselves in nature and discover the life of the ethnic minority here.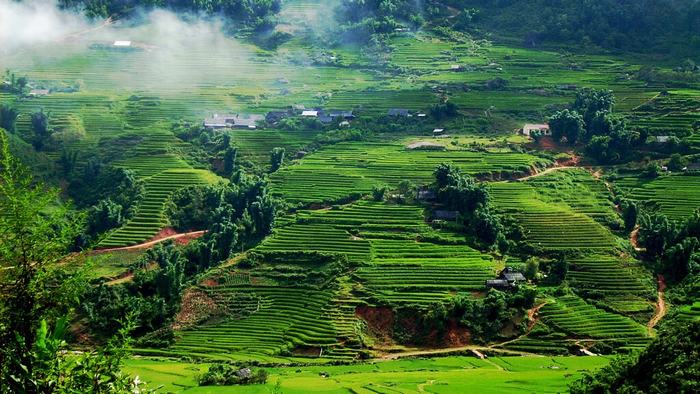 The pristine beauty of Mai Chau
Homestay
When having a chance to take homestay experience, tourists will be immersed with the people to learn about the cultural characteristics and help ethnic minorities to work in agriculture. Especially with the sympathy and deep understanding for the people here, many delegations supported some poor households to reduce the difficulties in life.
Enjoying the specialties in Mai Chau
One of the most interesting experiences when being in Mai Chau is trying the specialties here. There is a top 5 must-try food you should not miss. They are Com Lam, bitter bamboo shoots, grilled Muong pork, Mai Ha wine, and boiled Man pork.
Wearing H'Mong dress
Wearing H'Mong dress will be your new experience in Mai Chau especially for girls. Meo dresses are very colorful and beautiful. Tourists can wear them and take photos with the significant scenery here. It will bring you a new experience – become H'Mong girls in traditional dresses.
Travel to Halong from Mai Chau
To get to Halong from Mai Chau, tourists have two options with the detailed information below.
Mai Chau – Hanoi - Halong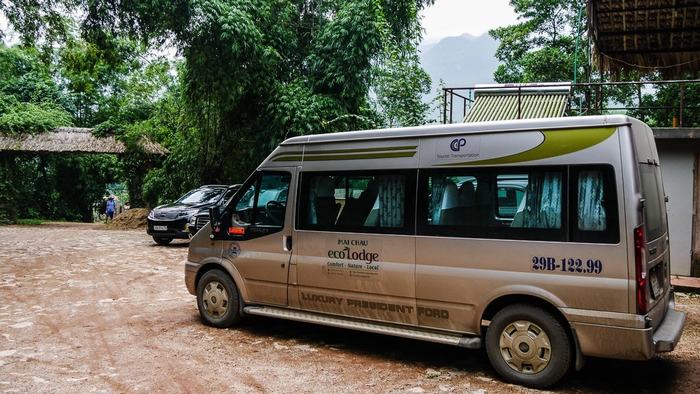 Shuttle bus from Mai Chau to Hanoi
It is about 150km from Mai Chau to Hanoi. Firstly, tourists take a taxi to move to Hoa Binh town in about 15-20 minutes. From Hoa Binh, there are two steps for you to get to Hanoi.
- Hoa Binh – Hanoi bus: the bus starts at 6:30, 7:00, 8:00, and 9:00 am. The journey will take about 3.5 hours. Because the journey will be continuous, tourists should go toilet before getting on the bus.
It is about 155km from Hanoi to Halong. Tourists can start at Giap Bat or My Dinh station.
- Hanoi – Halong bus: The bus starts at 6:00 am and ends at 5:00 pm. There are a lot of buses you can catch. They are Hoang Long express, Kumho, Phuc Xuyen, Duc Phuc, Ka Long, Tuyen Nam, Sinh Thanh, and Quy Ngoc. The journey will stop at Bai Chay station which is about 5 km far from Halong Bay. Therefore, tourists can take a taxi to get Halong.
Mai Chau – Halong
If tourists want to get to Halong from Mai Chau directly, our suggestion is taking a private car. Tourists can contact with homestay owner or travel agencies from Hanoi to book this service. Tourists will have a trip of 300km in length. It is considered the safest way when traveling.
What to do in Halong Bay
Halong Bay is the world natural heritage which is famous for its majestic beauty of wonderful caves and limestone-mountains. Moreover, there are a lot of exciting experiences for tourists to enjoy as follows.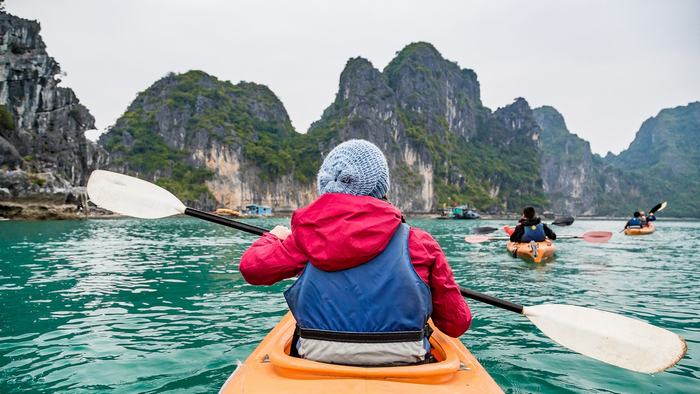 The beauty of Halong
Visiting caves
It is an exciting activity tourist look forward to. The caves here are created naturally with the exotic beauty which can be expressed in words. Some beautiful caves are Surprise cave, Thien Cung cave, Dau Go cave, and Trinh Nu cave.
Practicing Tai Chi exercises on cruises
There are many ways to welcome the morning; however, practicing Tai Chi exercises is one of the most excellent experiences in Halong. Tai-chi is a way to nourish the minds of people and ease the stress in life. Visitors can enjoy both fresh air and the view of the limestone cliffs on the beautiful green water. There will be teachers instructing tourists on how to practice Tai-chi correctly.
Diving in Halong Bay
Together with diving in Halong Bay, tourists have a chance to experience diving in Halong. Watching the coral in Ha Long, visitors will encounter a vivid picture under the immense sea. The picture is impressed by the subtle colors of coral reefs sparkling in the blue sea. You will see the small fish with different colors and shapes swimming up, playing fun, and hiding around the coral reefs, which makes the sea as a mysterious paradise - the place of the rich life of marine species.
Taking part in many exciting activities on the trip Mai Chau - Halong will give you many memorable moments when coming to our dear Vietnam. Do not hesitate to contact us on the website Halong bay tours to get more information about Mai Chau and Halong Bay. Share the post if you find it useful. Have a great trip!