Going to Halong Bay, it'll be a shortcoming if you don't visit the beautiful beaches, of which Minh Chau is one of the most popular beaches with several attractions.
Where is Minh Chau beach?
Minh Chau beach is a private beach located on Quan Lan island, Quang Ninh province, which is only 15 kilometers away from Quan Lan beach. For those who want a long journey, a trip to Minh Chau beach would be a wise choice. The unique feature is the pristine white non-sticky sand that gives a comfortable sensation walking on. The beauty of the beach resembles the famous Snow White.
Minh Chau, Quan Lan, and Ngoc Vung are 3 out of 5 communes belonging to Van Hai island route to the offshore, embracing the eastern edge of Bai Tu Long Bay. Minh Chau beach is located in a deep water bay, so the waves are very quiet, rippling along with the wind and beating on the white, smoothy sandy. The depths of the beaches here are moderate and only to the level of the chest, very suitable for swimming.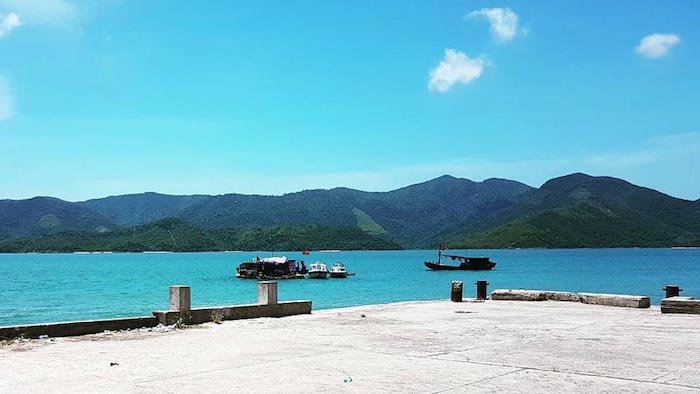 The port in Quan Lan
What to do
On Minh Chau Beach, tourists would love to enjoy a variety of beach activities such as camping, exploring the island, looking for rare sea animals of the island, or releasing your body and mind into a quiet and relaxing ambiance on the beach under the moonlight.
Tourists who are interested in visiting Minh Chau beach can join Halong bay tours departing from Cam Pha district (Halong) and get a ferry for 9 kilometers to Cai Rong town. Then, canoes would be the last transportation to Quan Lan island, where Minh Chau beach is located, for around three hours. With three hours, tourists can also visit fishing villages and tropical green islands to enjoy the stunning landscape of the bay.
What to eat
Besides the opportunity to enjoy the magnificent landscape and beach activities, tourists will be pleased with a lavish menu of delicacies from Halong Bay from high-end hotels and restaurants on the island.
Grilled clam with onion fat
When you travel to any beach areas, you can always find a rustic dish of seafood appearing in the restaurants here, which are grilled clam with fat onions. A fresh, delicious, and fatty onion clams with a glass of beer is what most tourists like.
Sea cucumber soup
In Quan Lan, sea cucumbers appear in the waters of Minh Chau and are exploited by local people for trade. They are also known as "delicacies," which are high-quality, popular food. Dishes made from sea cucumbers are delicious and aromatic.
Steamed squids
You can buy fresh squids in the market of local fishermen and steam them, then dot in chili sauce, you'll find it very delicious. Crunchy squid pieces, how sweet it is to bite.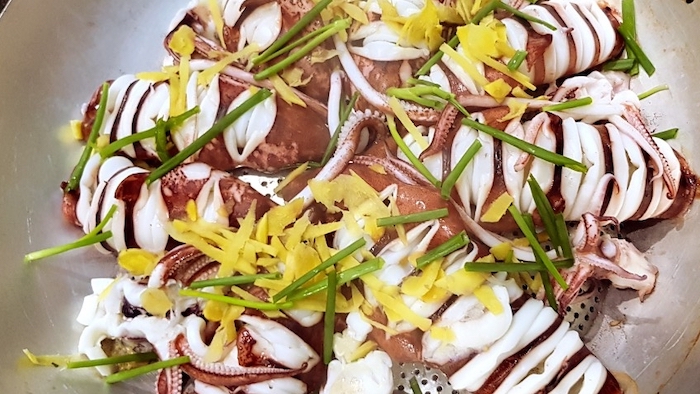 Steamed squids
When to visit
It is summer - the perfect time for us to enjoy the clear blue water and the golden sunlight. However, you should still pay attention to the weather forecast before heading to Quan Lan since there is rainfall in the summer. On the raining days, you will also see that Quan Lan in the rain is romantic and beautiful.
What should prepare
Like other beach trips that you usually go on, remember to bring your swimwear, clothes, and slippers. Don't forget your sunscreen, insect repellent, and anti-allergy medicine if you are allergic to seafood.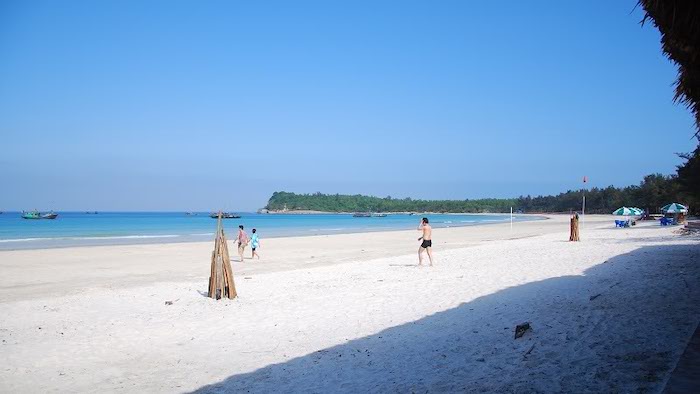 Minh Chau beach
With fresh water and lots of things to enjoy, Minh Chau beach of Paloma tours Halong Bay will make your summer vacation more fanciful than ever. For further information about Paloma cruise Halong Bay, don't hesitate to let us know or visit our website. If you find the article useful for you, please like and share it with others. Thank you and have a fun trip here!