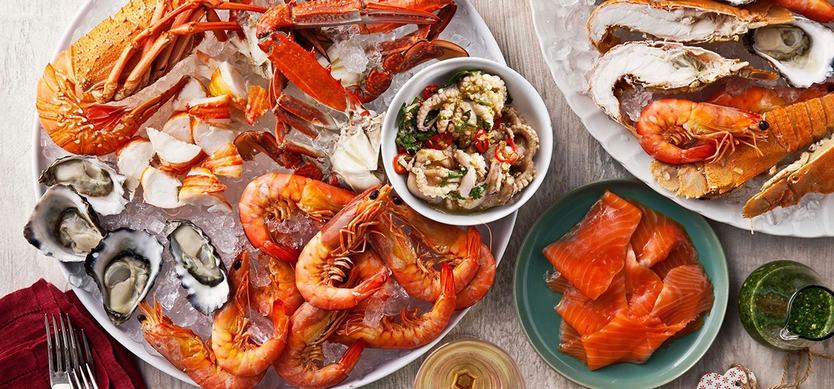 Whenever visiting a new land, most travelers spend a considerable amount of time exploring and enjoying the wild wonders of cuisines there. Visitors to Ha Long are not exceptions, in addition to Halong Bay tours or Halong Bay cruises they would be surprised by the incredible gastronomy in this charming Bay.
Cha Muc (Grilled chopped squid)
When it comes to a new country, people first think about famous attractions, and then, they think about if the nation has something special to eat. Who once came to Halong Bay, Quang Ninh, in addition to fresh seafood dishes, make sure you don't miss grilled chopped squid - Quang Ninh specialties.
Cha Muc is the most famous food of Quang Ninh and also in the top 50 specialties of Vietnam. To make this dish, the chief would choose the cuttlefish which has just caught from the sea and as fresh as it gets.
The sausage is a fusion of grounded squid and various spices that only the chefs know, molded into round pieces and then fried in boiling oil. This unique dish can be found anywhere along the shore from the north to the South of Vietnam, but nowhere has the same deliciousness as in Ha Long.
Now that the cuttlefish must be caught in the Halong Bay area to produce a sweet smell and savory flavor of this place. Squids in the Central and southern seas Vietnam will have more salty taste than the squid that is caught in Halong Bay. Perhaps this is what makes this an exceptional food.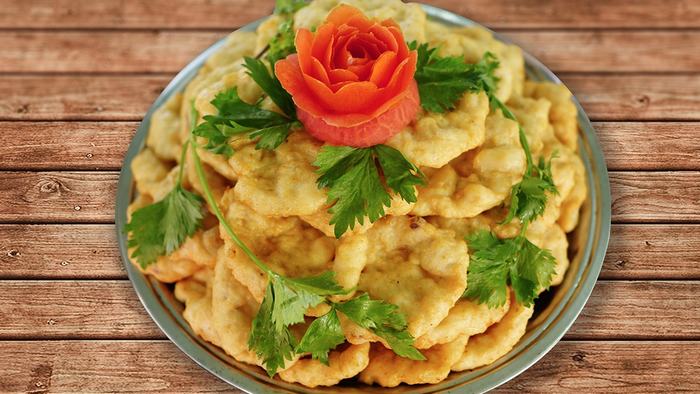 Grilled chopped squid
This beautiful piece of culinary mastery is served with sticky rice and is sold at many stores and stalls around the city and especially at Halong Market.
Sam (Horseshoe crab)
From horseshoe crab, the chief can process into various dishes such as pudding crab, crab salad, sweet and sour crab legs, crab sauté with peppers and lemongrass, fried eggs and crab, steamed crabs, fried crab, fried crab's cartilage, stir-fried crab and glass noodle.
The process of catching and cooking horseshoe crab is very complicated so that not many restaurants serve this savory dish. The combination of crab flesh with ingredients, such as chili, lemongrass, and talents of the chefs would bring you different horseshoe crab dishes with their unique tastes, and a mouth-watering memory.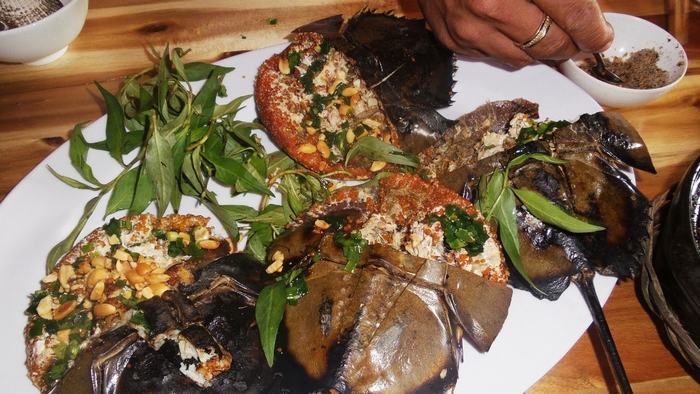 Horseshoe crab
Prawn, lobster, and oyster
Halong Bay has many kinds of prawn, lobster, white pearl shrimp. Delicious dishes can be made from lobster
* Lobster soup
* Lobster roasted with salt
* Steamed lobster
* Lobster salad
* Lobster porridge
Grilled oysters
If you once tried a grilled oyster dish in Phu Quoc island, you should not miss the taste of this delicious in Halong. The savory, soft, fragrant, and crunchy with greasy onion to will make you mouth-watering whenever recall. Grilled oyster is popular in coastal pubs as well as mainland restaurants and is served with fresh herbs. A dish would cost about 25,000 - 30,000 VND.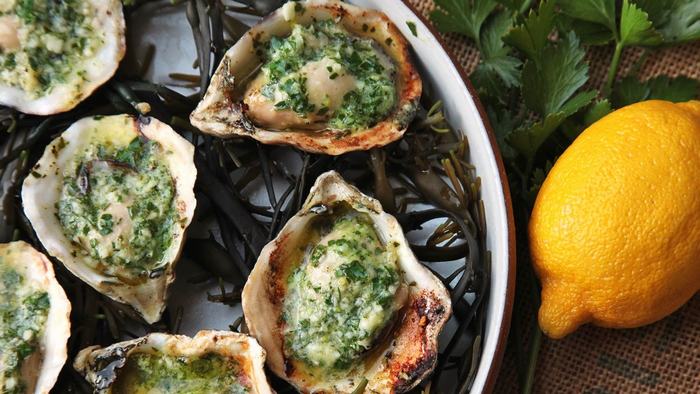 Grilled oysters
Steamed blue-crab
Crab is delicious seafood and is ranked in the top value in Halong City. Blue Crab is rich in protein and almost fat-free, its flesh is savory, crunchy, soft, and a little bit salty from the sea. Boiled, grilled, steamed, or cooked hot pot are some of the various dishes made from Blue-crab you can try in Halong But the best is steamed blue-crab served with pepper or lemon pepper and a cub of beer.
Seafood hotpot
After enjoying delicious seafood dishes, a hot pot of seafood with prawns, squid, crabs, or shrimp will be a wonderful choice to finish Halong dinner with the theme of "Halong seafood." Being the coastal area, fresh seafood is available and so fresh in Ha Long that's why it is so delicious, so flavorful. The seafood hot pot is the combination of sour, aromatic pineapple, just delicious, nutritious, sweet shrimp, prawn, crab. The price is from 150,000 - 500,000 for 2-3 people eat.
Ngan (Austriella corrugata)
Ngan (Austriella corrugata) is a kind of krills living in mangrove estuaries. Ngan can be processed into such dishes as grilled, steamed, cooked porridge, stir-fried with vegetables or noodles. Notably, male visitors are very interested in Ngan wine with a unique flavor. Ngan is not popular, so the price is quite high; however, you also can buy it in Cai Ram or Vuon Dao markets.
Gat Gu cake
Visiting Halong Bay Vietnam; you should not miss enjoying the cake having the strange name "gat gu." Gat Gu cake – the special cake, is similar to steamed rolled rice pancake. The main ingredient is rice flour, adding a bit of cold rice then being well coated. It is often served with sauce, meat storage vessel. You will feel the softness of bread, greasy aroma of meat pie when tasting this cake. You can enjoy this cake in parts of Quang Ninh; However the most famous in Tien Yen.
If you concern about Halong Bay, please visit Halong Bay Tours for more information. Share this article if it is helpful for you!