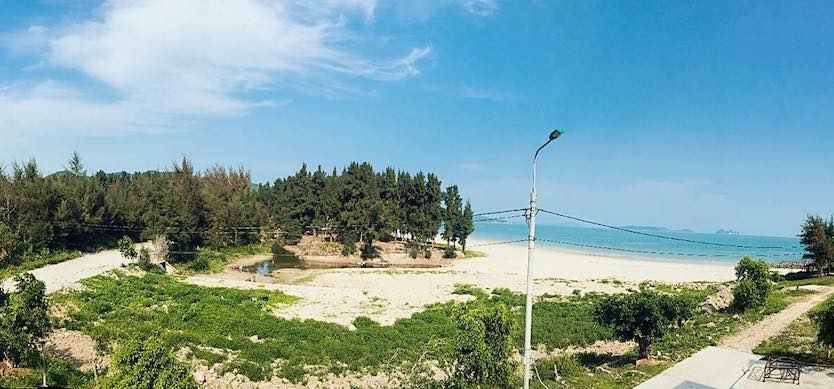 Talking about Quang Ninh, people immediately think of Halong, Bai Chay, or Co To. However, Quang Ninh also has an island that few people know - Ngoc Vung island.
Where is Ngoc Vung island?
Ngoc Vung island is located in Van Don district, Quang Ninh province. It's about 34 kilometers far from Bai Chay tourist wharf.
According to an old story told by the locals, Ngoc Vung island used to be the residence of a rare species of pearl oyster. The number of pearl oyster is too much that the coast was brightened by the light of pearls. Therefore, the inhabitants named it as "Ngoc Vung" island (Luminescent Pearl island).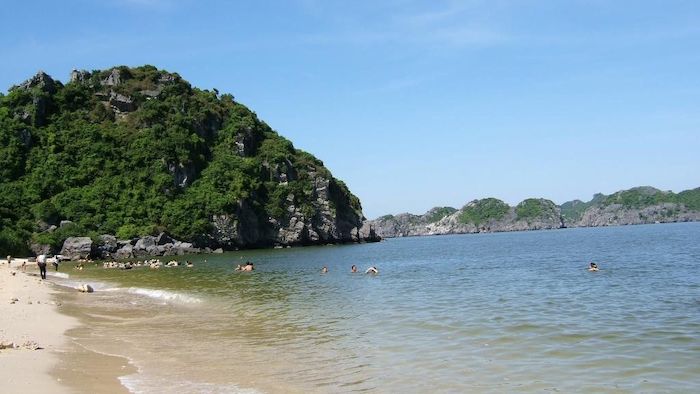 Ngoc Vung beach
Ngoc Vung island is in the shape of a crescent and has an area of around 40 square kilometers. On the island is Van Xuan mountain with a height of 182 meters and a 2-kilometer beach with pure white sand. Ngoc Vung beach is one of the most beautiful beaches on Halong Bay. The residents on Ngoc Vung island live by fishing and pearl farming. Therefore, there are many fishing boats and floating pearl farms near the island.
The ideal time to travel to Ngoc Vung island
Tourists can go to Ngoc Vung island all year round. However, it is necessary to avoid months of heavy storms such as September, October and cold winter days. The best time to visit the island is during the summer months because, during this time, the sea is tranquil, you will be able to to enjoy the scenery of the blue and white sandy beach.
What to do in Ngoc Vung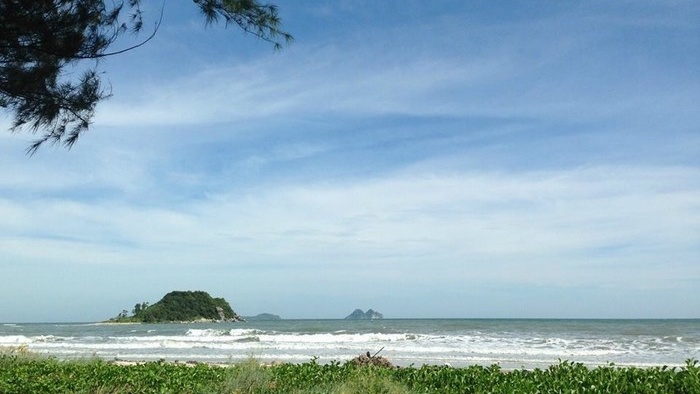 The scenery on Ngoc Vung island
Ngoc Vung island is a romantic place which possesses primitively beautiful landscapes with freshest and most delicious seafood of the bay at the lowest price. On Ngoc Vung island, tourists will have a chance to enter the enchanted world of mountain and beach; enjoy the quiet and peaceful atmosphere there. Moreover, tourists can relish delicious dishes made from fresh sea products provided by local fishermen.
The beautiful island lies between two small rock islands of Hon Net and Phuong Hoang in Van Don district. From above, Ngoc Vung island is as beautiful as a velvet shawl, featuring many bright white contours like floating on the water. To the east of the island, there are a long sandy beach and pure white sand stretching to the wharf. From the Mat Rong mountain on the island, you can see all of Co To island scenery.
From Halong Harbor, it takes 5 hours to get to Ngoc Vung island. After setting foot on the island, there are a group of mountain bikes are ready for tourists because people on this island do not use a car or motorbike. Moreover, the best way to explore Ngoc Vung is by cycling on small roads around the island.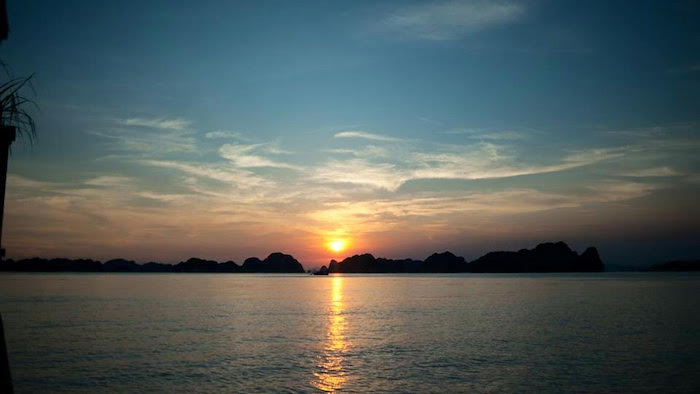 Sunset on Ngoc Vung beach
Besides the value of tourism, it also has a wealthy historical value. Archaeologists found many relics of Halong Culture (dating around 3.000 – 2.000 BC) on the island. Also, they also found the trails of ancient Cong Yen Port, one in the system of Van Don Commercial Port (in the 12th century).
While neighboring islands such as Co To and Quan Lan have developed tourism for a long time, the name Ngoc Vung is still unknown. Residents on the island are sparse, and there is a limitation of small towns and guesthouses, so the island is more suitable for young people who like to explore, prefer to camp than households on vacation.
Hope that with our guides, you will have an excellent and memorable time with Paradise cruise Halong Bay. Having a chance to come to Halong, don't forget to visit the joyful Ngoc Vung island. For further information about travel to Halong Bay from Hoi An, feel free to contact us. If you find the article useful for you, please like and share it with others. Thank you.