Co to island
A great destination in Halong Bay Tours. To admire Co To island with beautiful coral reefs, tourists can take a boat to the island and bathe here. Cô Tô Island still holds the wildness rarely seen in the busy atmosphere of Ha Long tourism.
Tuan Chau Island
The most beautiful island among 1,969 islands in Halong Bay, is also the only island inhabited. This is the largest artificial coast in Vietnam. Cozy sand beach with white sand is an ideal place to have fun and participate in exciting water sports.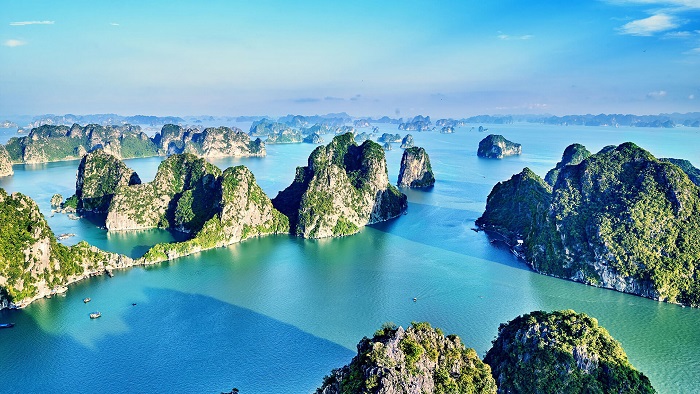 Some beautiful destinations of Halong Bay
Luon cave
Ha Long is proud of the cave system is huge, each cave has its own beauty and the story attached to it. One of the typical caves is Luon cave located on the island of Bo Hon, 14 km from Bai Chay. Here you can see the stalactites are built for millions of years in various shapes and sizes. In front of the cave is the island of Tortoise, on the right is the Heaven Gate.
Yen Tu relic area
Halong tourism is not only the sea. If you want to go to worship the temple, visitors to visit Yen Tu. This is a system of temples, am, towers and forests of ancient trees mixed with nature, scattered from red slope to Yen Tu mountain gradually.
Cua Van fishing village
One of the most amazing Vietnamese destinations of Halong Tour. At Cua Van fishing village, visitors not only enjoy a peaceful and tranquil environment but also learn about the cultural life of fishermen, learn how to row boats, spread the net, drop fishing shrimp ...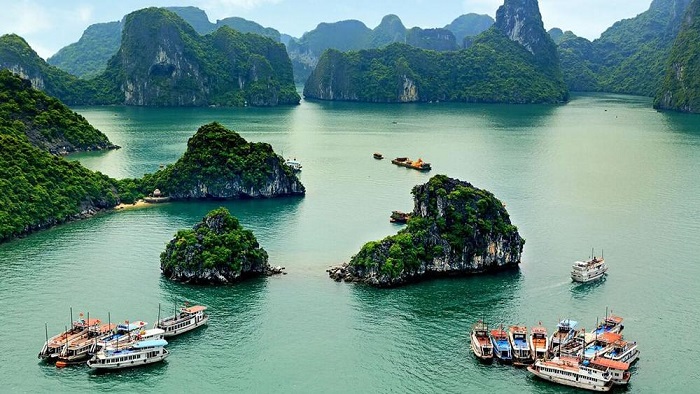 Some beautiful destinations of Halong Bay
Thien Canh Son Cave
Thien Canh Son cave is a rather wild cave located on Bai Tu Long Bay and Halong Bay belonging to Cong Dam Red Reserve. An interesting destination for both Vietnamese and foreign visitors thanks to its natural beauty, pristine limestone stalactites, and beautiful landscapes.
Bai Tu Long National Park
Bai Tu Long National Park is located in Bai Tu Long Bay, Van Don District, Quang Ninh Province, about 200 km east of Hanoi.
Bai Tu Long National Park consists of marine ecosystems with marine areas occupying two-thirds of the national park area and is home to many rare plant and animal species recorded in the Red Book.
Ngoc Vung Beach
Island and Ngoc Vung Beach: 34km from the tourist port, Van Don district, Quang Ninh province. Around the island there are many beautiful beaches, Van Xuan Mountain is 182m high, archaeological sites in Ha Long culture 45,000 m2. An island of land, 12 km2 wide, Ngoc Vung Island has a resident, the old port of Cong Yen under the ancient trading port system Van Don from the 11th century, ancient monuments of the Mac and the Nguyen. The beautiful island is located between two small islands, Hon Net and Phuong Hoang Island of Van Don District.
High overlooking the island Ngoc beautiful as a velvet scarf, there are many white brightly as floating on the water. To the east of the island, there are sandy beaches stretching to kilometers, pure white sand stretching out to the wharf. From dragon eye can cover most of Co To island. Ngoc island center has a luxuriant tree, under this is tree in 1962, President Ho visited the island and stood here talking with the people.
Ba Trai Dao (Three Peaches) Beach
Ba Trai Dao Beach is one of the most famous beaches in Halong Bay, Ba Trai Dao beach is about 22 km to Bai Chay Tourist Port in the Southeast, near Cat Ba island. This is a beautiful beach, natural scenery, wild nature painting. The reason why the beach is called Three Dogs is that there are three sandy beaches shaped smooth white bow, embracing the mountains with peach shape ...
Hopefully, you will have a great time visiting Halong Bay! Choose the right time to visit Halong Bay according to these tips and you will have a better time at Halong Bay, Vietnam. Hopefully, we will see you again on a Halong Bay Tour soon!