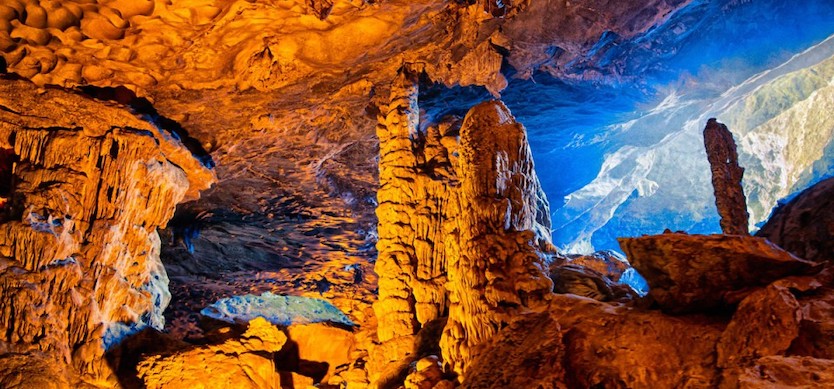 Located in Bo Hon island, Sung Sot cave is a place where many rocky islands concentrated having distinct and strange shapes, which cannot find in other ones.
Halong Bay is one of the wonders in Vietnam which is recognized by UNESCO as the natural world heritage. A long time ago, the geological formation of limestone in this beautiful bay took place approximately 500 million years.
The combination of environment, weather, geology, and geomorphology has brought the place high biodiversity with a variety of stunning landscapes including green forests, beautiful islands, and majestic caves. Primarily, undergoing over 20 million years of Karst revolution, many picturesque caves were formed in Halong Bay.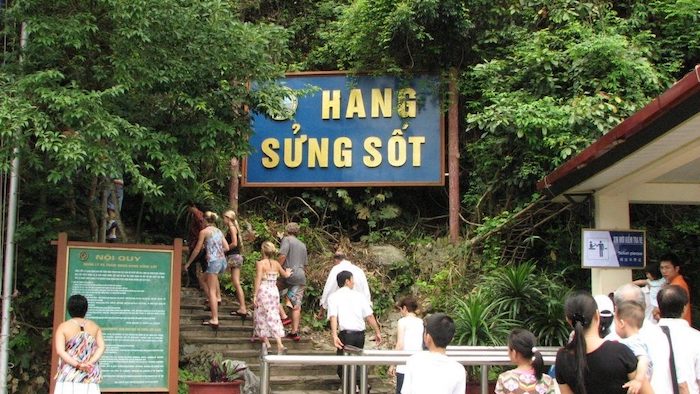 The tourist site of Sung Sot cave
Nowadays, these caves become ideal attractions in Halong welcoming both domestic and international tourists visiting. Along with Thien Cung cave and Dau Go cave, Sung Sot cave is one of the largest and most beautiful caves in Halong.
Where is Sung Sot cave?
Sung Sot cave is the most famous cave in Halong Bay which is in the center of the UNESCO World Heritage area. Sung Sot cave means Surprised Cave or Amazing Cave is on Bo Hon island and is one of the most spectacular and largest grottoes of Halong Bay. The mouth of the cave is reached by ascending about a hundred stone steps.
Setting foot in Sung Sot cave at the first moment, tourists may realize that the cave has a minimal area. However, when they pass through a rocky slot and enter inside, they will be surprised by the massive expansion of the space inside.
In the past, when French tourists visited Sung Sot cave, they were so amazed by the majestic beauty and the massive expansion of the area (about 10,000 m2 in width) that somebody exclaimed "Grotto des Surprises," which means a cave of the surprising things. From that time, the cave has been called as Sung Sot cave (Surprising Cave).
Exploring Sung Sot cave
The road visiting Sung Sot Cave is under a canopy of leaves. Walking through steep stone steps, tourists may have the feeling of climbing on mountains and experience the excitement as if they are stepping to the sky.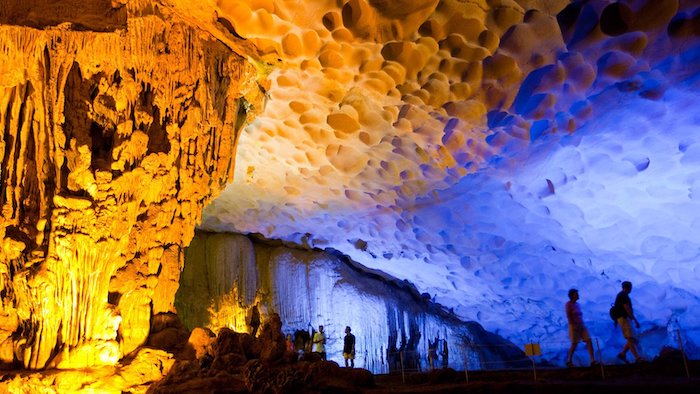 Exploring the cave
There are two partitions in Sung Sot cave. The first one is similar to a theatre hall with many stalactites hanging from the high ceiling. The ceiling of this area is covered by stalactites and stalagmites, which looks like a silky "velvet carpet" with beautiful motifs or a myriad of glistering and aglow chandeliers. It has been said that you are like in an imaginary world when sightseeing in this area.
A narrow passage leads to the second chamber, where a flow of natural light bathes the surfaces. The sunlight is filtering in from above, through a large opening creating a natural skylight. This opening also serves as the exit from the cave. The deepest point of this chamber is a "royal garden" appearing with a clear pond and a fascinating landscape of small mountains. Many birds and plants are here also.
Sung Sot cave covers some 10,000 m2. There are thousands of stalactites and stalagmites along the 500-meter paved passage. Light posts line the passage and illuminate the amazing scenery. Spotlights of varied colors are placed in such a way to be unobtrusive and add to the enchantment of the grotto.
Sung Sot cave is about 30 meters high. The walls and many cracks and crevices are evidence of millions of years of spectacular natural creation. Close to the exit is a large formation stretching from the floor to the ceiling, tapering at the center to form a concave pillar that appears to keep the roof in place.
With a walk through the cave, your imagination can run wild conjuring up all kinds of fantastic creatures and fanciful creations. Halong Bay offers many Halong cruise luxury and Halong bay day tours from Hanoi including visiting Sung Sot cave in the itinerary.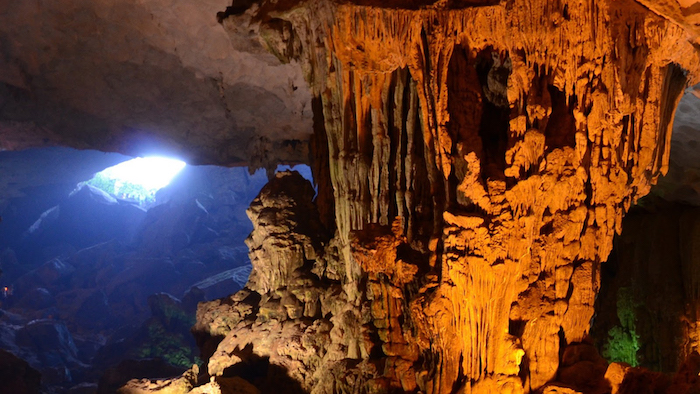 Natural light inside the cave
Sung Sot cave has been bringing tourists many surprising and exciting things as its name implies. Having a chance to travel to Halong Bay, don't forget to visit the cave. Let's visit our website and choose the best Halong Bay tour package from Ninh Binh. Please like and share the article with others if it is useful for you. Thank you.