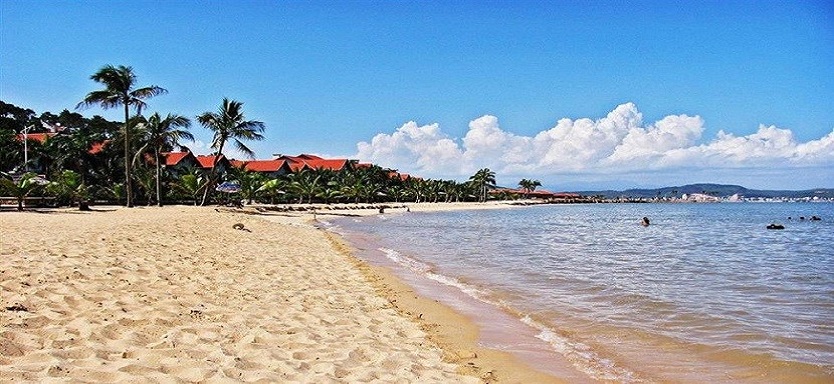 Besides sightseeing in Halong Bay, there are a lot of interesting activities to join here. Being one of the seven natural world wonders, Halong Bay also offers tourists some beautiful beaches. Here are the 5 famous beaches in Halong Bay that you should not miss when traveling here.
Bai Chay Beach
Bai Chay Beach is one of the most famous beaches in Halong. Bai Chay is a beautiful, large and artificial beach and near the coast of Halong Bay. This beach has a 100m-wide sandy beach stretching 100m, which is extremely suitable for recreational activities. In the early morning or the late afternoon, thousands of people go swimming here.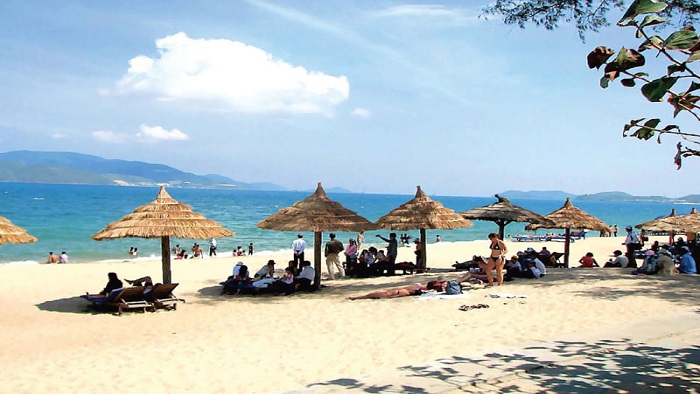 Bai Chay Beach
There are a lot of legends which are associated with the name of Bai Chay. According to the legend, this is where the ships of Mongolian invaders was attacked and burnt by Vietnamese local people and troops of Tran Khanh Du in the 13th century. Some ships were burnt and drifted into the island, set the forest near the beach on fire. Therefore, the beach was named Bai Chay.
Bai Chay beach is the most crowded vibrant one. It has many restaurants with delicious seafood dishes, a traditional music theater, a water puppet theater, an amusement park… There is also motorboats and surfing for those who love water sports.
Ti Top Beach
Ti Top Beach is located on Ti Top island, near the east of Bai Chay about 7 to 8 kilometers. This beach has the shape of a crescent enclosing the island. Although the beach is small, it has a quiet, airy atmosphere, crystal blue waters as well as the charming landscape.
The beach is proud of silky white sand, clear water, and small waves. This is an ideal place for recreational activities such as swimming, parachuting, volleyball and other water sports. After swimming in Ti Top beach, tourists can enjoy the fresh seafood dishes in the ideal space with the sunshine and cool wind.
In order to better serve the entertainment needs of tourists, Ti Top Beach has built many hotels and guest houses with services such as bar, bathrobe, life jacket, and umbrella, etc. There are also souvenir stalls for tourists to buy as gifts for the trip.
Ba Trai Dao Beach (Three Peaches Islet)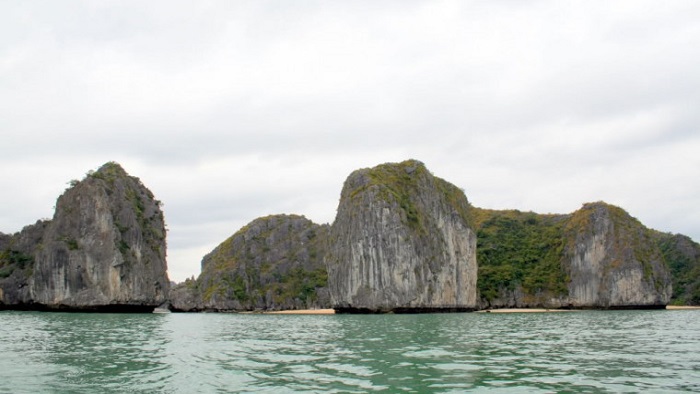 Ba Trai Dao Beach (Three Peaches Islet)
Ba Trai Dao beach is a group of 3 small mountains which look like three peaches from the distance. Ba Trai Dap is one of the most beautiful beaches in Halong Bay. This beach has not only the natural scenes of beaches but also the pristine white sand and blue sea water. On sunny days, tourist can see the bottom of the sea. It is considered as one of the most famous beaches in Halong Bay.
Ba Trai Dao beach with white sand and pristine waters is the perfect place to sunbake, snorkel, kayak or swim. Moreover, you will never find a better destination to have a special BBQ or picnic.
Ngoc Vung Beach
Ngoc Vung Beach is a 3 km sandy beach sparkling in the sunshine. This is a romantic place which has beautiful landscapes, fresh air, delicious seafood dishes with the best price in Halong Bay.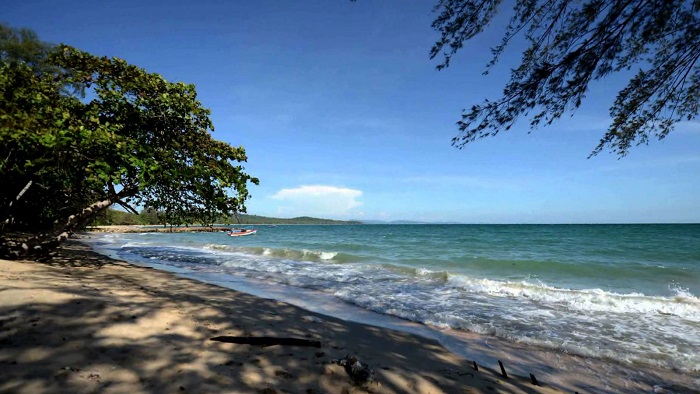 Ngoc Vung Beach
Ngoc Vung Beach has a crescent moon shape about 3 kilometers along the casuarina forest which attracts tourists by the clean water and the fresh air. In addition, seafood caught by the fishermen is cheap, fresh, and delicious. If you have a Halong tour and visit Ngoc Vung Beach, you should try to enjoy lobster, geoduck, and siphunculus nudus.
Tuan Chau Beach
Located on the peaceful Tuan Chau Island, Tuan Chau beach is 8 kilometers far away from the tourist harbor. This popular beach always attracts domestic and foreign tourists for the weekend. Although this is a man-made beach with the 2- kilometer silky white sand, Tuan Chau beach is the ideal location for swimming or lay back and relax under the sunshine. Moreover, if you stay at Tuan Chau Island, you can take part in some other outdoor activities such as camping, canoeing around Tuan Chau Island or hiking in the national park which has full of pine trees.
Tuan Chau beach is considered as the most beautiful beach in Halong City. The best time to swim in Tuan Chau is in the afternoon. The sunlight in this time will not affect your health and you will have the opportunity to watch the breathtaking sunset on the beautiful Halong Bay. The entrance fee of Tuan Chau beach is 40.000 VND/person.
Summer is coming and traveling to the beautiful beaches in Halong Bay is the best choice of a lot of visitors. We hope that you will have a memorable vacation with one of the 5 famous beaches of Halong Bay. f you want to get more information about Halong Bay tours, feel free to contact us via our website. Share it if it is useful to you. Have a great trip!