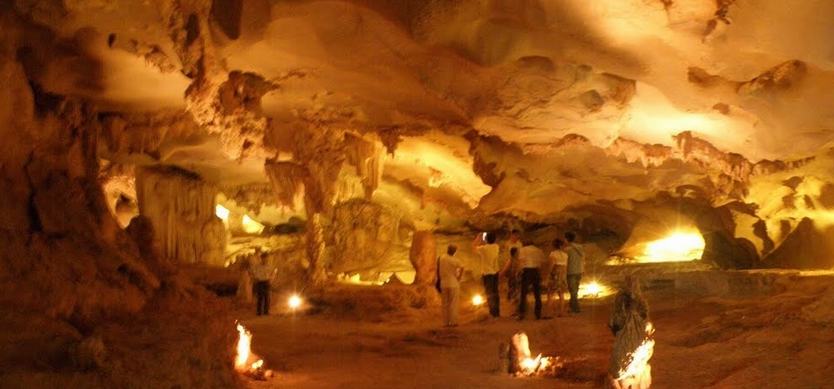 Halong Bay is home to hundreds of caves, in which each one has a unique beauty. Recently, besides famous caves such as Sung Sot Cave, Thien Cung Cave or Dau Go Cave, Thien Canh Son is an emerging destination that tourists should not miss in Halong Bay tours.
Thien Canh Son location
Thien Canh Son Cave belongs to the Cong Do Island Conservation Area in Bai Tu Long Bay. Cong Do Island is about 25 kilometers from Bai Chay Port with a total area of 23,363 square kilometers. It is one of the most unspoiled islands of Halong Bay.
Local people often call Thien Canh Son Cave as Co Cave (The Grass Cave). The entire area consists of about 1600 islands, among them are ones with small caves inside like beautiful pearls of the ocean.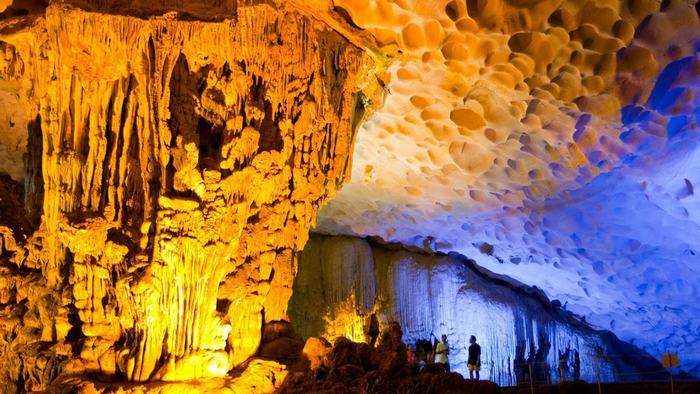 Thien Canh Son Cave
The beauty of Thien Canh Son Cave
The path to Thien Canh Son Cave is under the forest foliage and made from stone, including 400 steps.
The entrance to the cave is quite small, but when entering the cave, visitors will be overwhelmed by the mysterious and magnificent beauty of it.
Inside the cave, there are thousands of glittering stalactites. The cave ceiling is decorated with a lot of sparkling stalactites, making us think of the dome of medieval theaters.
These stalactites have undergone a very long formation, up to thousands of years. And over time, through the beautiful hands of nature, stalactites form beautiful images such as lotus flowers, monkeys, flowers, seals, hanging lights ... The imagination of visitors will fly up to the beautiful scenery like these fairy tales.
Many Halong Bay tours choose Thien Canh Son Cave as a stop because it seems to be an overslept place for thousands of years. There is a light system in the cave to help tourists visit more easily and complement the magical beauty of the cave.
After exploring in the cave, you can continue to walk outside and will be amazed at the scene ahead. It is the sight of Bai Tu Long seen from above and the lush vegetation covering the island. The dense greenery and blooming flowers show the great vitality of this island.
At the foot of the cave are fine white sand and jade blue water. Visitors can relax at the beach, participate in kayaking or sunbathe and enjoy the fresh air and cool breezes.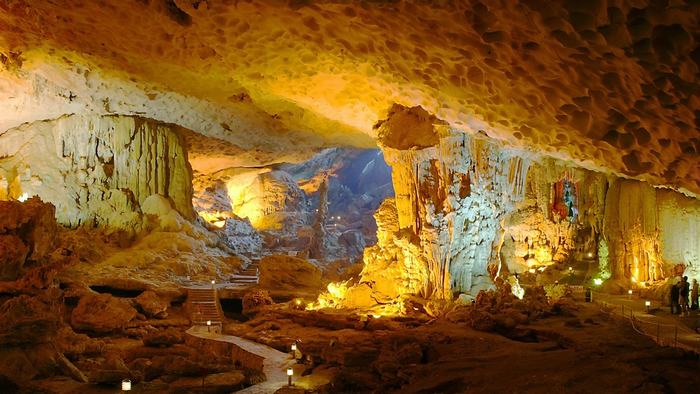 Thien Canh Son Cave
How to get to Thien Canh Son Cave
There are three ways to visit Thien Canh Son Cave.
Choose the route number 4.
Take an overnight Halong Bay cruise: Currently, a lot of cruises offer overnight service on the bay. You can choose this type to have the chance to enjoy Halong at night and see many attractive tourist destinations.
Take a tour from travel agencies: Most travel companies will prepare tickets and procedures for visitors. They often have familiar fleets, so guests will be able to join them quickly and easily. They also have a tour guide and always offer lunch, kayak services for tourists.
We hope that after this post, you will know more about Thien Canh Son Cave in particular and other stunning caves in Halong in general. You can visit our website to get further information about Halong Bay. Do not hesitate to contact us if you have any questions. Share this article with others if you find it helpful. Thank you!