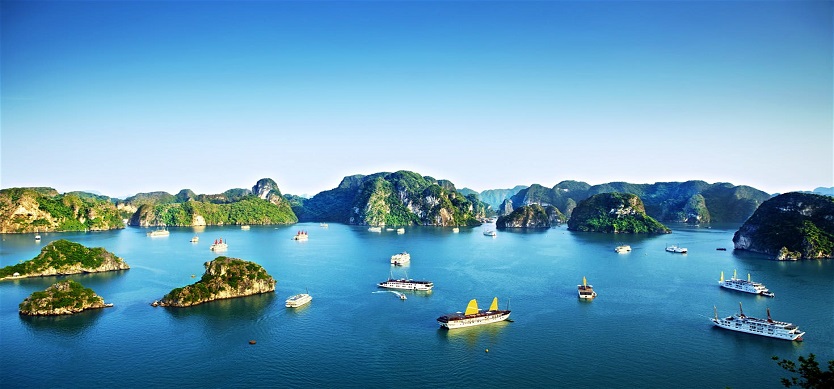 Halong Bay - where the dragon landed on - is a national scenic spot ranked from 1962. Ha Long has 1,969 islands, heaving on the sea surface, the most famous are Lu Huong, Ga Choi, Canh Buom, Mam Xoi, Ngoc Vung and Ti Top islands. Ha Long as a huge and beautiful picture deserves to be a symbol of Vietnam tourism. Let's come to Halong and do amazing things in this gorgeous bay.
Discover Halong Bay Caves
Halong was honored twice with the title "World Natural Heritage Site" by the UNESCO as its value of geology, geomorphology. Therefore, visitors once coming to Halong Bay shouldn't miss the chance to explore grotto system there (including Sung Sot Cave - Surprise Cave, Dau Go Cave - Wooden Stakes Cave, Thien Cung Cave, etc).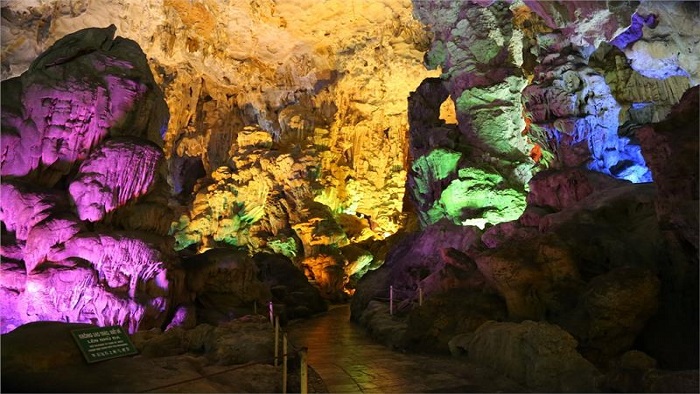 Thien Cung cave
Cycling in Halong Bay
In order to deeply enjoy quiet atmosphere and scenic setting on the beach, cycling and trekking will be a good suggestion for the trip on Halong Bay. When trekking on the beach, tourists will be free to enjoy cozy white sandy ground and gaze stunning seascape of Halong.
Halong Bay Kayak
Halong Bay is considered as one of the most ideal place for kayaking in the world. Kayaking service is available with many imported Halong Bay kayaks. Joining guided kayaking on Halong Bay; tourists will reach pristine islands and discover untouched lagoons when the tide rises in the late afternoon.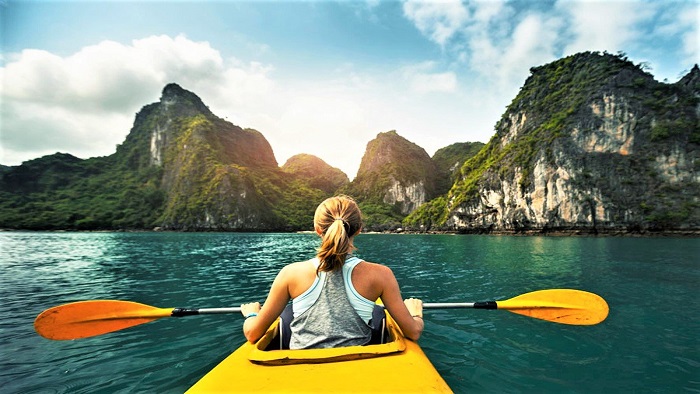 Kayaking in Halong Bay
Halong Bay Mountain Climbing
Mountain climbing is most favored by tourists who like energetic activities. Seaside limestone mountains are interesting challenges for tourists to reach the top. All professional climbers coming to Halong agree that Halong Bay is the paradise of adventurous mountain climbing as it has thousands of islands with high limestone mountains.
Parasailing in Halong Bay
Parasailing is an adventurous activity that recently has provided on Tuan Chau Island, Halong Bay as well as many beaches of Vietnam (like Nha Trang, Phan Thiet, Vung Tau). With parasailing, tourists will have chance to enjoy beautiful seascape and especially experience an excited feeling in the middle of open airspace.
Halong Bay Scuba Diving
For tourists who love discovery, scuba-diving will be a favorite activity on Halong Bay. By scuba-diving, tourists will have chance to see the wonderful underwater world of Halong by their all eyes. It must be an amazing experience when you can explore various kinds of fish as well as pristine coral reefs at the bottom of Halong Bay; and even touch them.
Scuba diving
Halong Bay Squid Fishing
Squid fishing on Halong Bay at night is an interesting activity at which tourists can experience the feeling of being a fisherman. Tourists will have the instruction from local fishermen about how to fish a squid in the sea. The squids caught will be used to make dishes for tourists. This is also an ideal time to gaze Halong Bay by night.
Swimming in Halong Bay
Halong, the World Natural Heritage Site, was blessed with calm and clear sea water. Therefore, there is no better way to experience wild nature of Halong Bay than swimming. Dipping in cool jade-green water of Halong Bay, tourists will feel free and relaxing. This is also a good chance to enjoy the charming beauty of beaches on Halong Bay.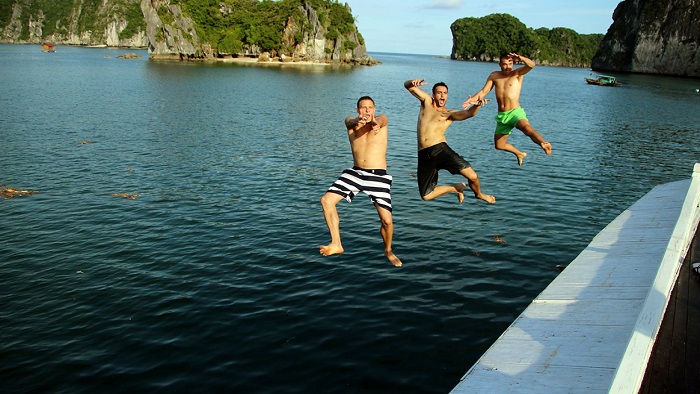 Swimming in Halong Bay
Halong Bay Visiting Floating Villages
Floating villages are unique feature about culture and seascape on Halong Bay that draw the attraction of visitors. Visiting floating villages, tourists will have time interacting with friendly fishermen and visiting floating pearl farms. The local villagers are the original inhabitants of Halong Bay who have lived on the sea for several generations.
Halong Bay is such a great option for you to enjoy the most memorable vacation. With the list of activities we suggested above, we hope that you will have a great trip in Halong Bay. If you need any information about Halong Bay tours, feel free to contact us. Thank you!