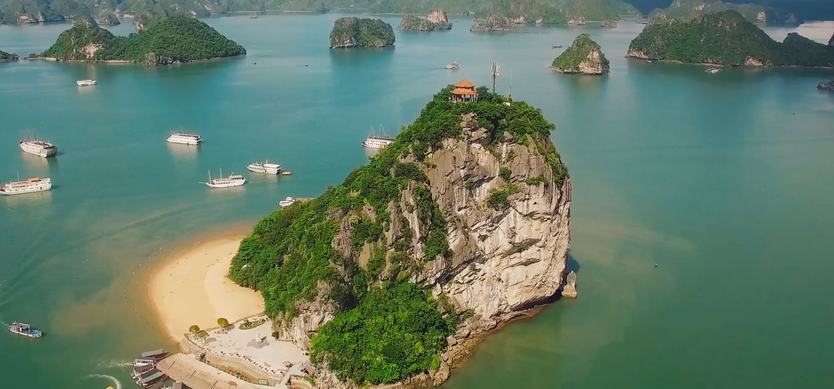 Located in the Southeast of Halong Bay, Ti Top is one of the most beautiful islands here. If you're planning your upcoming trip here, do not miss this destination to get unforgettable experiences with your family and friends.
An interesting story of Ti Top Island
In 1962, this tiny island had the honor of receiving a visit from astronaut Ghermann Titov, a hero of the former Soviet Union, accompanied by President Ho Chi Minh. To perpetuate the remembrance of their visit, Uncle Ho named the place Ti Top Island. It has now become an attractive beach for tourists and has various tourist services.
Thirty-five years afterward, in 1997, Ti Top returned to the island having his name. Deeply moved, he wrote in the souvenir book of the Management Board of Halong Bay: "My deepest thanks to destiny, which has allowed me to come back to this tiny island." It has become a beach attracting many visitors.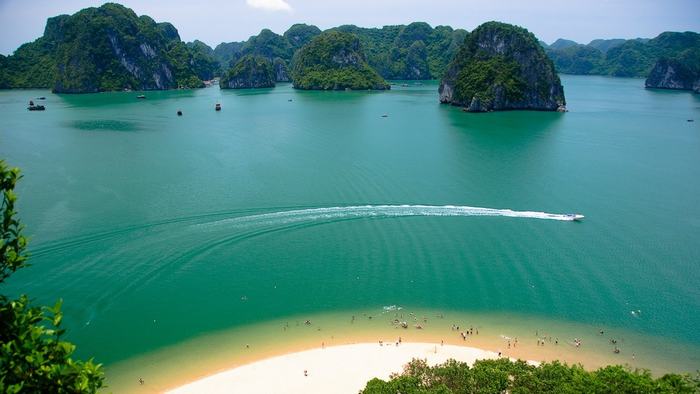 The pristine beauty of Ti Top Island
The best time to visit Ti Top Island
You can visit Ti Top Island at any time of the year. The first peak season is from June – July for domestic and Asian tourists. The second one of from December to February for European, American and other temperate countries.
The low season lasts from April- May and from August to October.
If you're planning your trip here in the second peak season, keep in mind that prices are generally higher and vacant rooms may be not available. You should book early to get good prices.
What to do in Ti Top Island
Located about 14 km east from Bai Chay Wharf, Ti Top Beach takes the shape of a crescent encompassing the island. Small though it might be, it wins kudos for its quiet and airy atmosphere, as well as its alluring landscape.
Swimming
Compared to Soi Sim Island, Ti Top has a smaller beach but it's quiet and very clean. The beach boasts pristine white sand, clear and blue water and small waves, which make it ideal for recreational activities like swimming and other sea sports. At present, there has a bar on the island which also provides swimming costumes, floats, and lukewarm shower. Freshwater was carried to the island from inland. Swimming at Ti Top Beach is really enjoyable. After swimming, you can enjoy fresh seafood specialties in an ideal environment of immense sky and sunshine.
This beach is very beautiful and is well worth a visit to cool off when the heats start to get to you. If you spend a day at the beach and elect to take a deckchair, you will be asked to buy either a baguette, some lovely pineapple or a drink. Otherwise, you will have to pay for the seat. During the full moon, you can wander around until late at night.
The island has become a popular tourist destination. On summer holidays, the famous beach of Ti Top Island cools off visitors heading to Quang Ninh Province, and you will surely have a chance to join in an exciting journey to the natural wonder.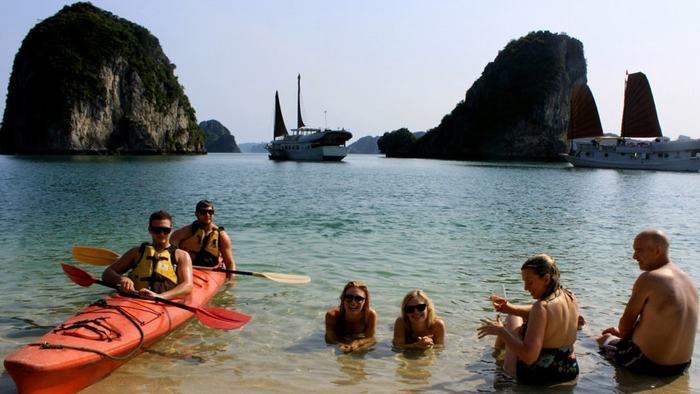 Swimming in Ti Top Island
Admire the panoramic view of Halong Bay from the Ti Top Mountain
Do not be afraid to cross about 400 steps to reach the top of Ti Top mountain. Surely nature here will not disappoint you. It is the gorgeous picture of immense waves, imposing mountains and boats drifting lightly on the water.
Take a tour to Ti Top Island
Most of the tours in Halong bay these days, whether day tours or longer duration ones, usually include Ti Top Island in their itineraries with a few hours free time so that tourists can enjoy swimming or play around on the beach. There are a lot of travel agencies that provide Halong bay tours from Hanoi for tourists with tour duration ranging from one day tour to two or even three-day tours. For those with flexible time on their trips, staying on a cruise overnight to enjoy the sunset on the sea at Halong bay might be a beautiful experience. However, if you don't have a lot of time for leisure, there are a lot of Halong bay day tours to choose from.
You can visit our website to get more information about Halong Bay cruise tours and other exciting things to do there. Do not hesitate to contact us if you have any questions. Share this article with others if you find it helpful. Thank you!