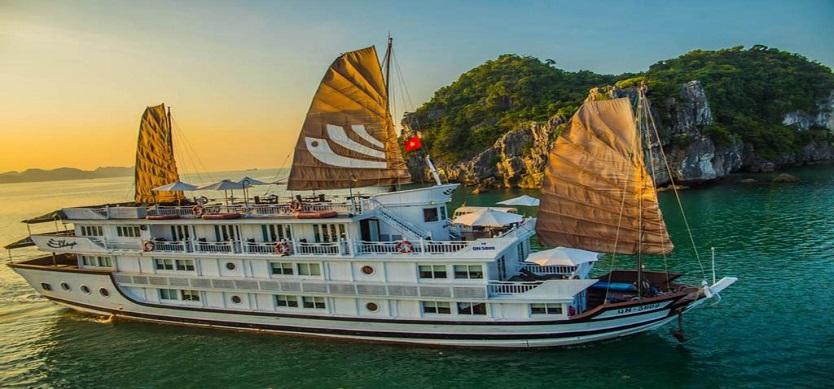 The best way to contemplate all the beauty of the new natural wonder of the world- Halong Bay is by a cruise. But, there are many cruises operating in the bay, what is the good quality cruises that you should take among over four hundred cruises in the bay. So, let's follow us to know top 5 best cruises in Halong Bay, read till the end to choose the most suitable one for yourself.
La Pinta Cruise
La Pinta cruise is one of the best mid-size cruise ships that attracts a lot of guests in Halong Bay and Lan Ha Bay. It includes 16 spacious cabins with the full windows, ample deck, and well-equipped interior, that is why it is named on the top customer services of cruise ships in Halong Bay.
When boarding on this ship, you will have a chance to use the sharing services with Lux-Van and private Limo, 24-hour security and room service, bar, restaurant, and massage. Besides that, this ship is also an ideal place for couples, organizations choosing to operate the important events such as wedding anniversary, birthday party, company gathering party and family reunion.
Coming with La Pinta cruise, you will have the chances to participate in many fascinating outdoor activities such as swimming, sunbathing, kayaking, biking, sunset party, cooking class, night squid fishing and exploring the caves by bamboo boat.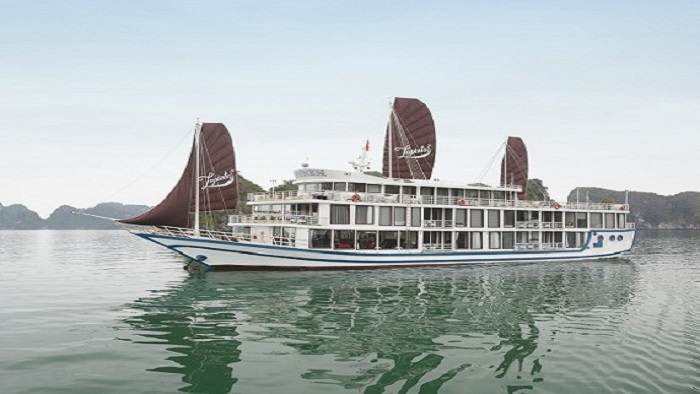 La Pinta Cruise
Paradise Cruise
Paradise cruise is one of the best choices for you if you want to find a luxury trip to witness and enjoy the beauty of Halong Bay. Paradise cruise offers the spacious and clean rooms with modern amenities. Besides that, there is also a balcony where you can enjoy sea views while sipping a cup of tea on the cruise. The staffs are super attentive and welcoming, you can ask them for help whenever you get into trouble. Moreover, you can be served the superb fresh seafood platters on board, there are full of Vietnamese dishes from regions in the country and a cooking show that is ready for you to experience.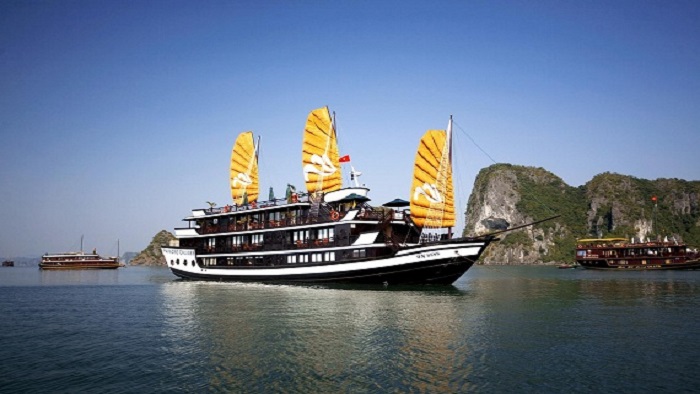 Paradise cruise
Dragon Pearl Junk
Halong Bay is full of various types of cruises but sometimes you still have to wait for your turn to go on your board to visit the sites in Halong Bay. However, Dragon Pearl Junk is a good solution to have a have a Halong Bay cruise trip on time, it promises to pick you up in time and so you won't waste any precious time for waiting. Coming to this cruise ship, you will have a wonderful experience to visit many attractions at the bay. The boat anchors in an airy area with an immense vision so that you can freely gaze at the sky and landscape without being blocked by other junks. You can also enjoy a relaxing time to swim in the small coves and a fabulous dinner on the islands.
The staffs are polite and friendly, so you can freely ask for the help whenever you get troubles. All meals are served with excellent standard while drinks are appropriately priced. Vegetarian food is available to serve the dieters.
Au Co cruise
Unlike other cruises in Halong Bay, Au Co cruise is mostly made of wood. There is some larger vessel made of steel with the luxury decoration, but the rustic beauty of this cruise is the advantage of this cruise ship. The cruise is spacious with modern facilities, and cabins which provide the stability while sailing. Au Co is defined as one of the biggest cruises in the bay, which is well equipped with a full range of modern amenities including a spa and jacuzzi area.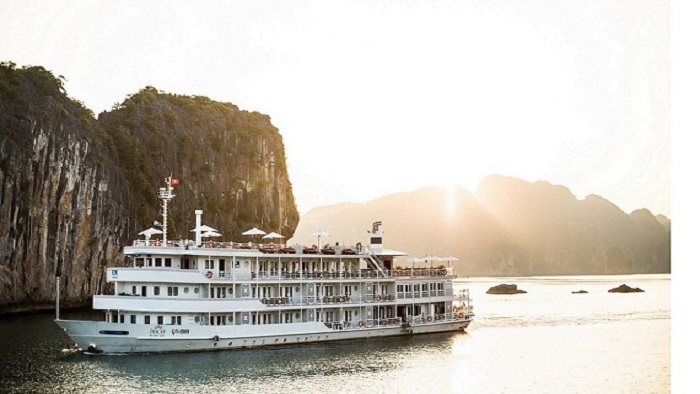 Au Co cruise
Huong Hai Sealife Cruise
Huong Hai Sealife Cruise was officially launched in February 2013, this is a 5-star luxury cruise with 26 luxury cabins which is the best choice for you to witness the beauty of Halong Bay with the expectation of high-end facilities, professional services. Moreover, the cruise will give you a wonderful chance to discover the true natural beauty of the natural world wonder and visit the unique living form of local people in Cua Van fishing village in the bay. To guarantee to bring you the most memorable moments and best services, all of the services from the dining room, guest room, bars, sundeck, massage rooms and many other recreational facilities are at the highest level of luxury and offered by all friendly, well-trained crew. So, there is no reason to reject this cruise in Halong Bay trip.
If you're traveling on a cruise, you should choose one that is able to provide you a wonderful experience, as away as possible from crowds and scams. This is the best way for you to witness the real Halong beauty where you can feel in touch with nature with the worthwhile price tag. If you have any questions, feel free to contact us via Halong Bay tour. Thank you!