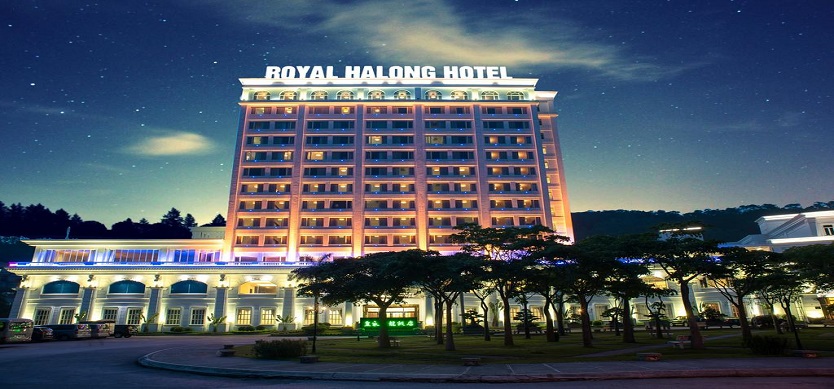 Halong Bay is one of the seven natural wonders of the world that are recognized by UNESCO. Halong Bay always attracts a large number of Vietnamese and foreign tourists by not only the magnificent caves but also the beautiful beaches. When booking Halong Bay tours Vietnam, do you know where to stay to have the best service? If you do not know, the following is the list of the top 5 best hotels in Halong for you.
Paradise Suites Hotel
Address: Tuan Chau Island, Halong City, Quang Ninh Province.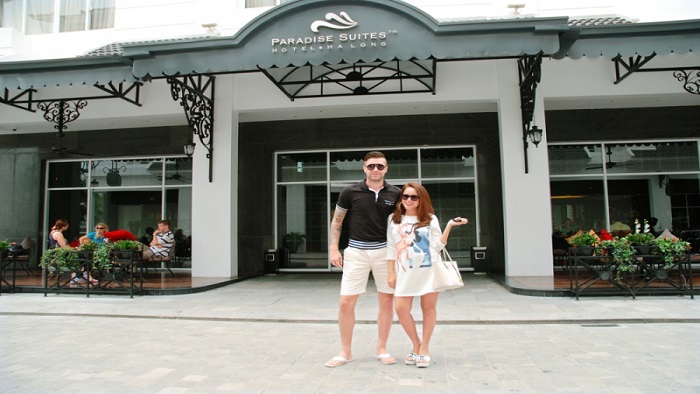 Paradise Suites Hotel
Paradise Suites Hotel is located on the beautiful Tuan Chau Island. To go to Paradise Suites, it takes you 3 minutes to walk from the beach. This hotel is connected to Halong Bay by 2 km of the main road. The luxurious restaurants and bars here serve the international cuisine. Paradise Suites Hotel has a geographically convenient location, about 2 hours drive from Cat Bi International Airport (Hai Phong), which is convenient for foreign travelers. The 4-star hotel with enthusiastic staff and quality service is considered the "most valuable" hotel in Halong.
Wyndham Legend Halong Hotel
Address: No. 12, Halong Road, Bai Chay, Halong City, Quang Ninh Province.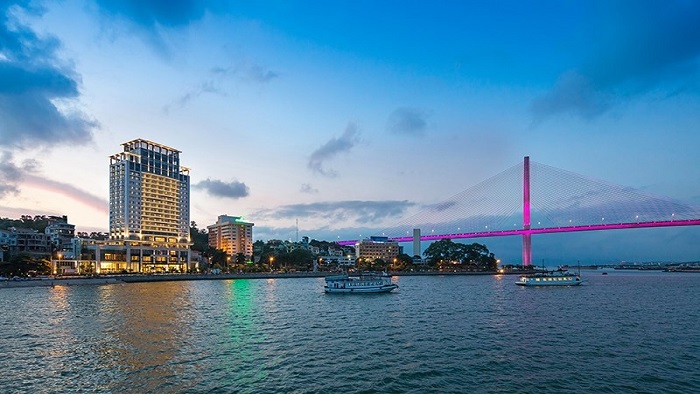 See Wyndham Legend Halong from Bai Chay bridge
Featured in the chain of Halong Hotels, Wyndham Legend Halong Hotel is located on the beach in Bai Chay, overlooking the entire Halong Bay and Bai Chay Bridge. It is convenient for travelers to move to the tourist Halong attractions, amusement park, and city center. With the 217 well-appointed, spacious, modernly designed rooms and high-end services, Wyndham Legend Halong Hotel meets all the demands about the accommodation of travelers.
Just a few minutes walk, tourist can walk to Sun World Halong Park and Queen's cable car station. Here you have the opportunity to experience the best roller coaster in Vietnam and one of the best the world's highest spin.
Halong DC Hotel
Address: 25/4 Street, Group 8, Zone 3, Hong Gai, Halong City, Quang Ninh Province.
Halong Dc Hotel
Halong Dc Hotel is located about 1 km from the city center. This is a 4-star hotel with 22 floors and 80 rooms of modern architecture. The 2nd floor is restaurant, big meeting room and the 3rd floor is VIP dining room. The 4th floor is swimming pool, gym and the 21st floor is bar and coffee. All the rooms are equipped with modern and luxury equipment and facilities. Halong DC Hotel has the experienced and professional staffs, the 24/7 service. Therefore, your trip will be complete and meaningful.
Muong Thanh Quang Ninh Hotel
Address: Halong Road, Halong City, Quang Ninh Province.
Muong Thanh Quang Ninh Hotel
Started the construction in 2011, Muong Thanh Quang Ninh is the first five-star hotel in Quang Ninh province with 34 floors, 508 high-grade rooms, which account for nearly 15% of the rooms for the whole province.
Located in the Muong Thanh hotel system with a total investment of up to 500 billion, Muong Thanh Quang Ninh is one of the most outstanding buildings in Quang Ninh province in 2013. Besides the comfortable 5-star rooms, Muong Thanh Quang Ninh hotel is expected to be the ideal destination for the type of tourism combined conference.
Royal Lotus Halong Hotel
Address: No A13, Lot 1, Dong Hung Thang 2 Urban Area, Halong Road, Bai Chay, Halong City, Quang Ninh Province.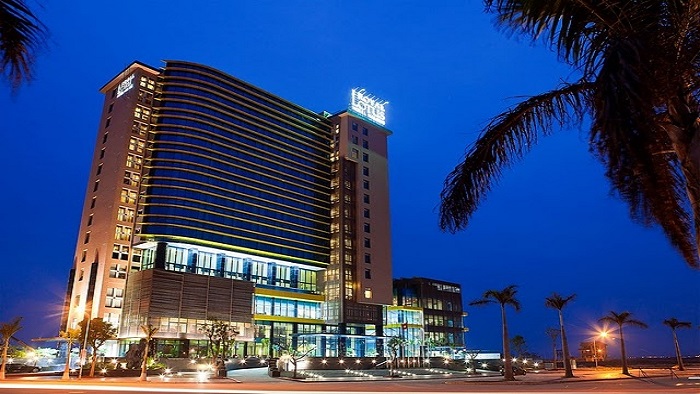 Royal Lotus Halong Hotel
As the top 4-star hotel in Halong Bay, Royal Lotus Halong Hotel's rooms are a blend of Asian and European architecture. Royal Lotus Halong Hotel offers travelers the pleasant experience with a relaxing spa, a rooftop bar, and an indoor pool overlooking beautiful Halong Bay. In addition, Royal Lotus Halong Hotel has a fitness center equipped with full of facilities and equipment.
Located a 5-minute walk from Halong pier, a 10-minute walk from the commercial center, Royal Lotus Halong Hotel has the free car park, various Vietnamese and international cuisine and 147 spacious rooms with the beautiful views of Halong Bay. This hotel is the ideal place for a lot of tourists when traveling to Halong.
Useful experience
Before traveling to Halong Bay, you should book a hotel room early, preferably before a month. Early booking not only helps you to hunt the cheap, good quality rooms but also brings the opportunity to enjoy the incentive packages. You should avoid booking hotel rooms on holidays or weekends because the prices are usually very high and the rooms are not quality.
You should choose hotels near the bay in Halong City. It is best to choose hotels near the sea with the best prices in Halong.
When booking online, you should choose the prestige websites and refer to the pages with the highest number of visitors' access and the useful comments.
It is undeniable that accommodation plays an important role on your vacation. We hope that the top 5 best Hotel in Halong Bay will be helpful for you. If you want to get more information about tours Halong Bay, feel free to contact us via our website. Share it if it is useful to you. Have a great trip!