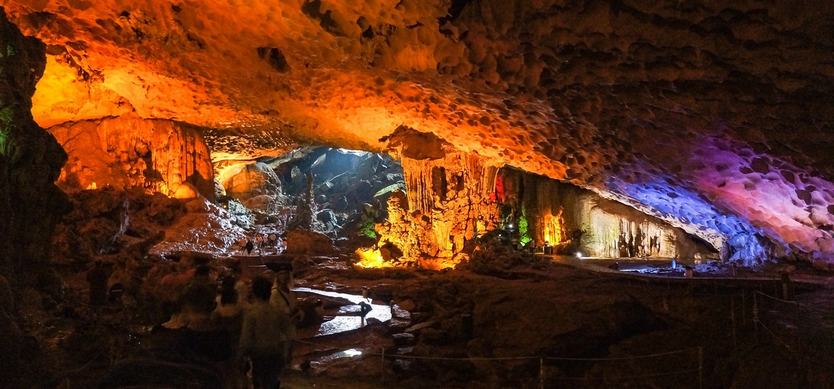 Trinh Nu Cave is one of the most popular tourist destinations that you should not miss when taking Halong Bay tours. Coming here, you will have the chance to know about an interesting legend of this place and other fascinating things.
The Trinh Nu Cave or Virgin Cave is situated on the island range of Bo Hon in the system comprising the Sung Sot Cave, Dong Tien Lake, and Luon Cave. It is 15 km south of Bai Chay Beach. For fishers, the Virgin Cave is their house, but for young lovers, it is considered as the symbol of true love and is the romantic place for taking the oath of love.
The legend of Trinh Nu Cave
Entering Trinh Nu cave, one finds in the middle of the cave a stone statue of a lying-girl with her long hair hanging down who is looking to the sea in a vain hope. Situated opposite to Trinh Nu cave, Trong Cave has a stone statue of a boy who turns his face to Trinh Nu cave. One still hears his vain scream in tune with the wind blowing into the cliff somewhere.
Legend has it, there once was a beautiful fisherman's daughter, whose family was so poor that it was in the service of the rich administrator of the fishing zone. He forced the family to give him the girl as a concubine. She already had a lover who at that time was on the high seas catching fish to prepare for their wedding.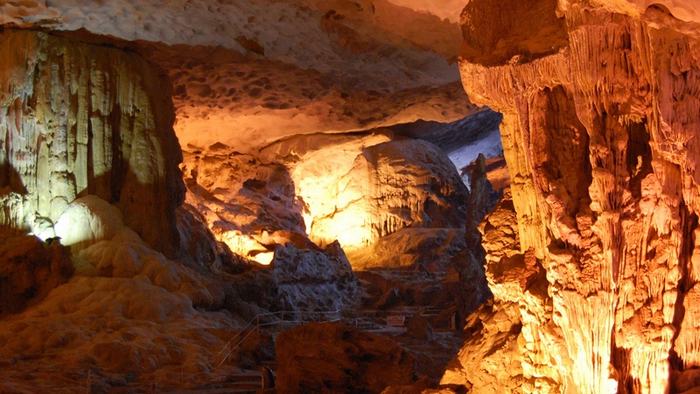 Trinh Nu Cave
The administrator, angered by her refusal, exiled her to a wild island where she suffered from hunger and exhaustion. On one frightening night, amidst terrible rain and winds, she turned to stone. It was also the night that her lover knew of her danger, and he rowed his boat in search of her. On a terrible night, the tempest destroyed his boat, and he floated to one of the islands. In a lightning flash, he saw his mate in the distance, but his calls were driven away by the wind. He used a stone block to hammer down on the mountain cliffs to announce to her he was nearby. He struck until blood flowed from his hands, and in his final exhaustion, turned to stone (today's Trong Cave).
Explore Trinh Nu cave
Tourists also find Trinh Nu cave attractive partly because of its association with a fanciful love legend: "Once upon a time, there lived a boy and a girl who deeply loved each other. However, they were so poor that they could not be able to get married. The boy decided to go offshore fishing with the hope that he could get enough money for his marriage. And the girl painfully waited in vain for her fiancé. She finally took a small boat and rowed to the sea to look for him. So immense is the sea, and so many are the islands, the boy, therefore could not hear her doleful call, though he was just several canals away. Exhausted, the girl lied in a cave, looking to the sea and got petrified after the last call. The boy got lost in a cave nearby, shouting to call the girl in vain. The echo of their call through the cliff was so moving. At last, the boy became exhausted and petrified in the cave – present-day Trong cave."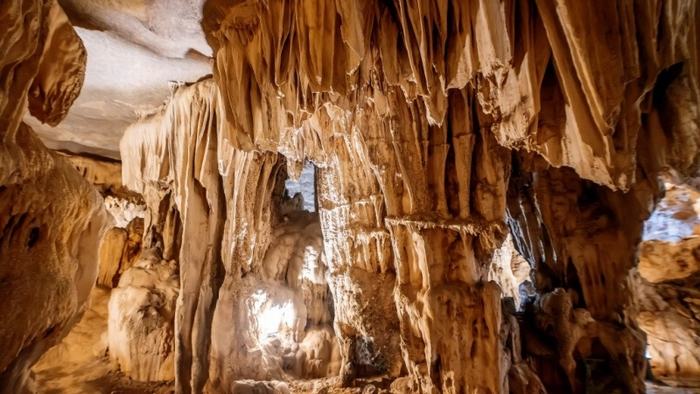 Trinh Nu Cave
An archaeological relic
Trinh Nu Cave is also one of the archaeological relics on Halong Bay.
In 2000, archaeologists discovered in the cave the prehistoric inhabitants of Halong Culture (about 4,000 years ago) with vestiges such as coal ash, animal bones, ceramic pieces, and stone objects.
In 2010, archaeologists also explored remnants of the ancient ceramic wharf in the area in front of Trinh Nu cave with many pieces of pottery and chinaware (mainly clay-cans), jars of various kinds with many parallel pattern or water wave pattern.
Fragments of bowls and plates were identified in the Tran dynasty (XIII-XIV century), pottery pieces with glaze in the Le Dynasty (XVI-XVIII century), and many ceramic pieces of Chinese feudal dynasties. Based on the survey results, archaeologists believe that Trinh Nu Cave was an ancient pottery vestige site in the old Van Don trading system, although it was a small and irregular wharf.
Let's join Halong bay tours including Halong bay cruise tours and Halong bay day tours to enjoy the beauty and listen to the legend of Trinh Nu Cave.