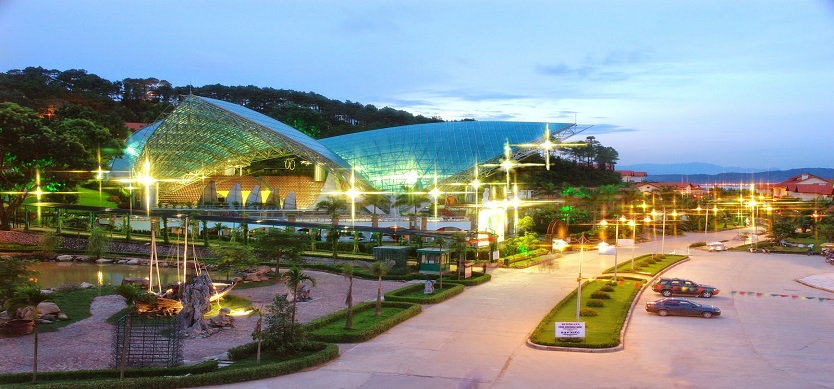 Tuan Chau island covers an area of ​​up to 400ha, 2km from the center of Halong city. Thanks to favorable geographical position on both waterways and roads, moving to Tuan Chau is quite easy, it is about 1 hour from Hai Phong and 2 hours from Mong Cai.
What makes Tuan Chau island attractive
Today, Tuan Chau is really the most attractive site of Halong with numerous constructions for the sake of pleasing tourist. From the entrance of this tourism complex, tourists can see a chain of international standard villas. Inside the area, the Food Street has five restaurants and round houses designed in style of beautiful royal architecture, which can serve over 1000 customers at the same time. Both Asian and Western dishes are well-prepared by famous Vietnamese and French chefs. The waiters and waitress also wear Vietnam traditional costumes. Getting in the center of the site, tourists will be dazzled by the club providing dolphins, seals and sea lions performance, which is decorated in a modern and unique way.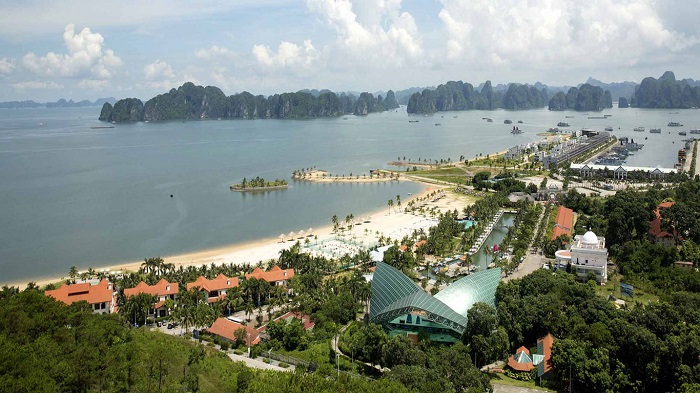 Tuan Chau island
Tuan Chau Beach is artificial, stretching over 2 kilometers long with white smooth sand and yellow sunshine the whole summer. Visiting Tuan Chau, you would never have to worry about your accommodation with more than 400 rooms of international standard at your service: private villa, luxury resort, or high-end hotel.
In Tuan Chau, tourists might also enjoy a variety of exciting activities like Jet Ski, canoes parachute, sea fishing, kayaking, mountain climbing, camping, or lavish services and entertainment such as dolphin show, seal show, circus, and martial art show 6 days a week (except Monday). Come to Tuan Chau Island, come to the heaven on Earth.
Tuan Chau Resort is currently finished. Many other projects are awaiting investors to change this beautiful island into a precious jewelry of Halong to welcome visitors from all over the world.
Coming to Tuan Chau, visitors cannot miss the impressive circus show of dolphins, sea lions and seals, this activity is crowded with tourists, especially children. The program lasts for 20 minutes, and has the following time frames for visitors to choose:
9:00 - 9:20
11:00 - 11:20
14:30 - 14:50
16:40 - 16:50
19:30 - 19:50
20:15 - 20:35 (The program applies only on holidays)
The program of laser water music with fanciful light with the support of the lively sound system promises to bring you a full-scale performance. The program takes about 40 minutes with the following time frames:
19:00 - 19:40 (Only for Fridays and Saturdays)
20:15 - 20:55
21:55 - 22:15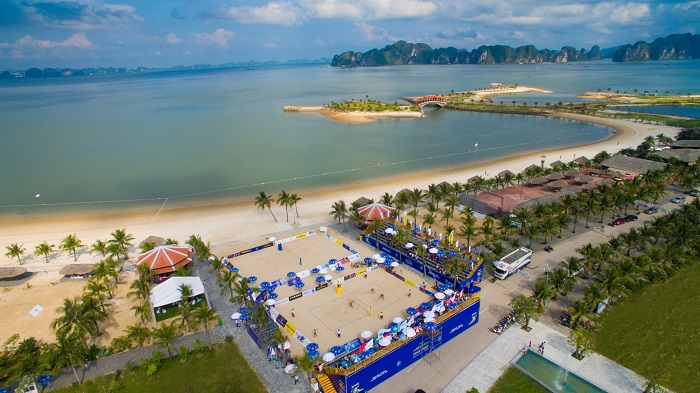 Tuan Chau island
Ticket price to Tuan Chau Island
Tickets for both programs above are VND 100,000 / adult, VND 60,000 / child, excluding entrance fee: VND 40,000 / adult, VND 20,000 / child.
Besides the tourist area, there are many other interesting activities such as circus, crocodile club, underwater entertainment area (including adventure activities such as water skiing, paragliding ...), dance music shows, mysterious houses, games in children's play areas.
Especially, recently the entertainment area on Tuan Chau Island has had a new 5D movie projection service, each screened about 10 minutes and played from 8:30 - 11:30, 13:00 - 18:00, 19:00 - 22:00.
In addition, you should not ignore the beautiful beach stretching 2km, and enjoy diving under the clear sea or walking around the coast.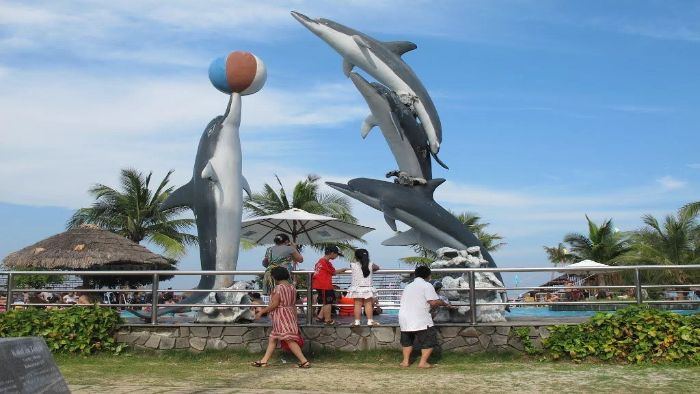 Tuan Chau island
Visit us at Halong Bay Tours to get further information about Halong Bay tours and Halong cruise tours, to have access to the best cruising services and to meet our professional consultants who are always available for help. For any inquiry please contact us via Halong Bay tours.