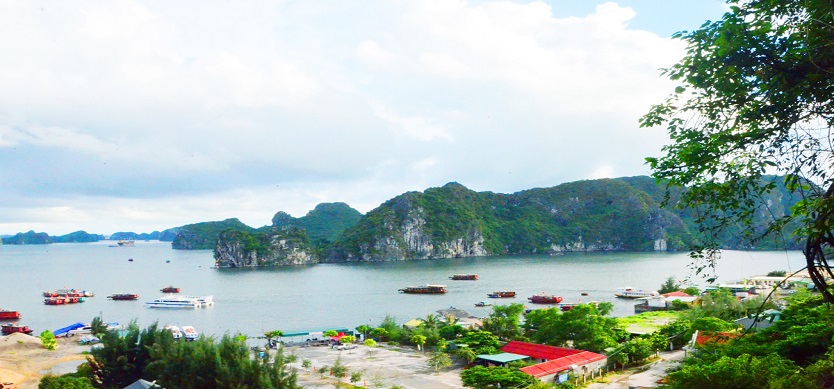 Located on the beautiful Bai Tu Long Bay away 24 km from Halong Bay Vietnam, surrounded by Ban Co mountain range, Vung Duc cave tourist area is located in Cam Dong ward, Cam Pha city which is an attractive tourist destination that tourists should not give up when having the opportunity to visit this city.
About Vung Duc cave
After a long pause of sightseeing activities for renovation, from the end of April 2018, Vung Dam Cave tourist area has reopened to welcome visitors. With only VND 60,000 for adults, VND 30,000 for children, visitors will be able to see the peaceful view of Vung Duc and inhale fresh air.
Vung Duc cave is located by the Bai Tu Long Bay in the Cam Pha Town at the foot of Ban Co Mountain, 45 km to the north-east of Halong City. This is a unique tourist site of high historic, religious significance. It is composed of five imposing caves: Thien Dang – Long Van – Ngo Ngang – Kim Quy – Doi that can be accessed by a car cable system. In Thien Dang Cave, at an ideal elevation, tourists can get a view of the Bai Tu Long Bay.
In Vung Duc, you can call on some islands and beauty spots such as Ba Mun National Park, The Vang Island, Cong Tay and The Vang Island eco-tourist zones.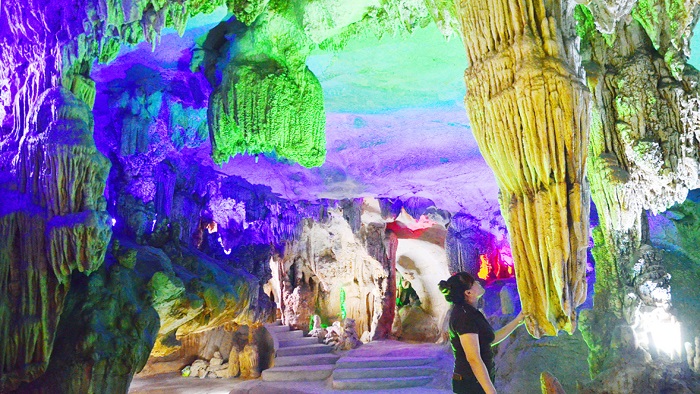 Thien Dang cave
The itinerary to explore the Vung Duc cave tourist area
As one of the 5 recognized tourist sites of Cam Pha City, in the past years, Vung Duc cave tourist area has always been invested, upgraded and renovated to meet the needs of tourists. Exploited for tourism from 1999 up to now, Vung Duc Joint Stock Company has invested about VND 15 billion to invest in the elevator system, lights, walkways in the cave to create favorable travel for tourists.
The first stop of tourists is Thien Dang cave, 46m high compared to the sea level. The cave is quite wide with an area of ​​about 300m2. This is also a stop for visitors to admire the panoramic view of Bai Tu Long Bay with rocky islands bobbing on the deep blue water. Inside Thien Dang cave, there are stone curtains softly curving, looking like a big stage with fine lines. Above the ceiling, there are stalactites falling down like the carefully shaped chandeliers, sometimes the light from outside shines again and again, making the inner beauty become very shimmering.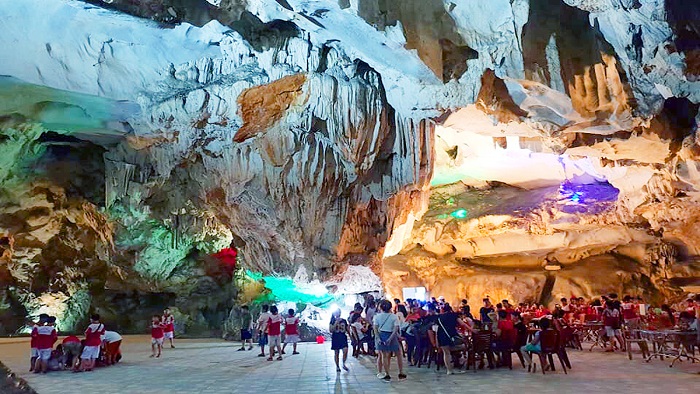 Kim Quy cave
The next stop is Long Van cave which is higher than Thien Dang cave. Inside the cave is divided into two branches. The cave has many interesting rock shapes, under the rich and diverse imagination of people, the stones become lively animals like elephants, swans, bells, lotus ... Especially , inside Long Van cave there are large spaces containing stones of different sizes, which people here call "gold store".
Exit Long Van cave, follow the main road, visitors will walk to Kim Quy cave and Ngo Ngang cave. Here, visitors will see the fairy tale "the 100-tab bamboo tree" clearly appears inside with the image of a hundred-tab bamboo tree and 3 sitting statues successively with strange shapes. Finally, follow the poetic path, visitors have arrived at Bat Cave. True to its name, Bat cave is now home to many bat species. Here visitors can hear very clearly the chirping of bats here. And this is also the last cave in Vung Duc's cave system.
Coming to Ha Long, don't forget to visit Vung Duc cave tourist area. Planning and preparing luggage for an exciting trip in Halong with family and friends right now. If you have any question, feel free to contact us via Halong Bay tours to get more detailed. Thank you!