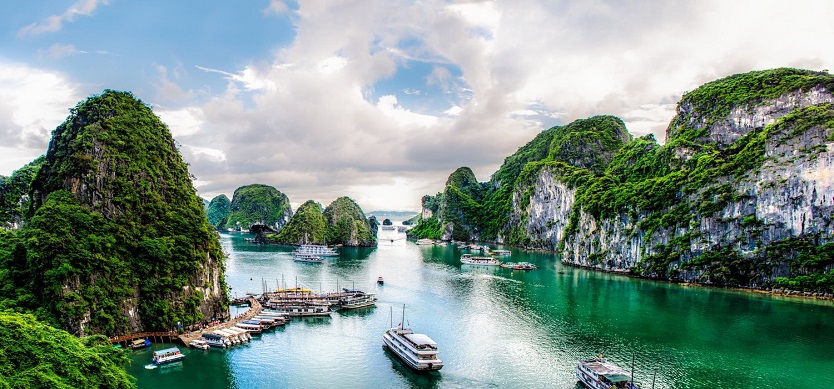 Amazing places to be and what to bring in your trip in Halong Bay. These tips will surely prepare you for the upcoming trip to Halong Bay, and thus increase the enjoyment of the holiday overall. Hopefully, after reading these tips, you will have an easy trip in Halong Bay, Quang Ninh.
Thien Cung Grotto
Thien Cung Grotto is located in the north of Dau Go island, 4km from the tourist ship harbor to the south. Is one of the most beautiful caves in Halong. The 10,000m² wide enclosure is very complex and includes many levels, many with very high ceilings and walls. Especially in the cave, everywhere we can also see a lot of stalactites, stalagmites with strange shapes. A famous destinations in Halong Bay tours 3 days, you should visit Thien Cung Grotto as soon as possible.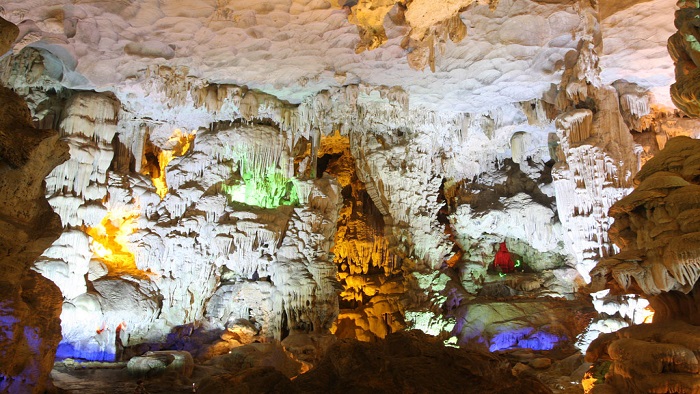 Thien Cung Cave
Dau cave
Dau Cave: Along the Dau Go island, about 300m from the Thien Cung cave, Dau Cave is a large, beautiful cave with mossy antique features, the French called "Cave of wonders." The cave has a diverse fauna and flora. Due to the wide opening of the store, the humidity in the cave is high and the effect of sunlight can be seen immediately on the diversity of the flora, especially mosses and ferns. wood tree ... This is a distinctive feature compared to many other caves in Halong Bay.
The Me Cung cave
The Me Cung cave is located 25m high on Lo Bo Island, about 2km south-west of Ti-Top Island. Look at the distance from the door as a deep-rooted island. The Me Cung cave has a complex structure with many levels, many compartments, a niche spreading over the roof of the stone with the length of more than 100 meters, rising to the west and looking down to a small lake called Ho Me.
Trong cave and Trinh Nu cave
Trong Cave and Trinh Nu Cave: Located on the two wings of a small mountain ridge east of Bo Hòn Island, over 3km south of Sung Sot cave by sea to the southeast. Two caves 700-800m apart by a small bay. The gates turn in different directions. From this cave to shout out, the other cave can hear.
These caves not only have many stalactites and beautiful scenery but also attract visitors because of a very moving area. In a cave, there is a horizontal rock that looks like a girl lying with her hair reaching out to the sea so it is called the Virgin Cave. The other cave has a very tall stalactite column that looks like a giant guy looking out to sea. The fishermen say that on rainy days the wind blows loudly, through here the wind blows on the cliffs as the drum beat and they call this cave drum.
If you do not know what to do in Halong Bay, by all means, visit this place.
Soi Sim island
Soi Sim Island: Soi Sim is about 8.7ha, located in the west of Halong Bay, about 12km from Bai Chay tourist port (Halong city), about 700m from Ti Tung Island. The island is a primeval forest with many kinds of plants, many of which are endemic, valued and characteristic of the Ha Long Bay ecosystem. Local people said because on the island grew a lot of sim trees should be called Soi Sim.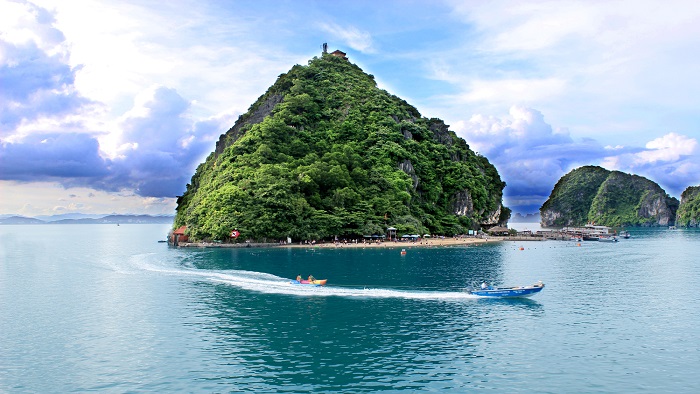 Soi Sim island
Ti Top island via Cat Ba resorts
Ti Top Island is an island with steep slopes, with a shallow white sandy beach. Regular cruise ships come here. Visitors ashore to bathe or climb to the top of the mountain to view the whole island. From above, Ti Top Beach is shaped like a full moon embracing the island. Unlike many other tourist destinations on Ha Long Bay, in addition to the beautiful natural scenery, Ti Top Island also owns a beautiful beach, called Ti Top beach. Beach area is not large but quiet, airy and very clean, the beach and is constantly tied up and down, clean white, sea water in four seasons. Ti Top island is one of the greatest destinations in Halong Bay, in case you do not know what to do in Halong Bay Vietnam.
Above is the list of beautiful attractions in Halong Bay that you definitely visit in your Halong trip. If you have any question about tours and excursions, contact us. Thank you!