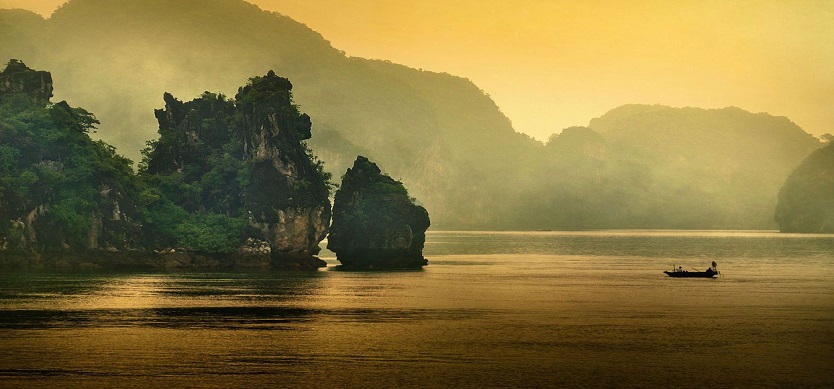 Halong Bay is a small but gorgeous bay in the west of Tonkin Gulf belonging to Quang Ninh province, Vietnam. Arriving in Ha Long, visitors can take a boat trip to the bay to see a series of limestone islands with great structure and shape. It is possible to visit Halong all year round, but the weather in Halong is quite changeable which maybe affects your trip, so take a bit to read this article to decide the time to carry out your Halong trip.
The weather of Halong Bay
When is the best time to visit Halong Bay really depends on your own definition of a perfect trip? If you are most concerned about the weather, then the periods September – November, and March-May are ideal for Halong bay day tours package. The dry climate and pleasant temperature will enable you to enjoy all activities offered on board while making sightseeing as perfect as it could be.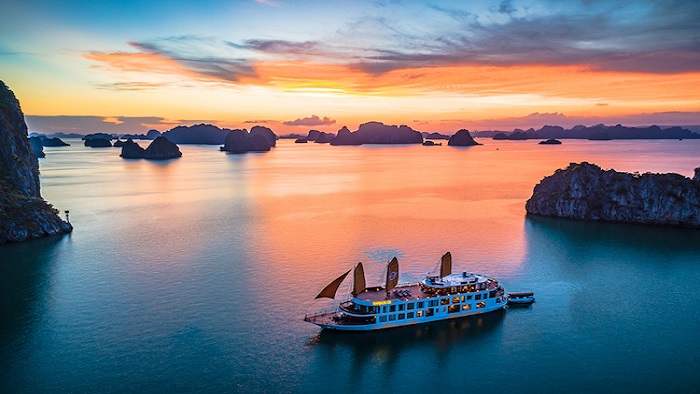 An afternoon in Halong Bay
If you are a budget-minded travelers, then schedule your trip between May and September. This is often considered the low season and many cruise ships offer massive sell-off on cabin: you can save as much as 40% on a cruise trip compared with other time in a year. However, the months of July – August often see sporadic hurricanes and storms, which may render cancellation and delay of your trip. In those cases, you can switch around by visiting another destination in the North of Vietnam and visit Halong Bay later. These storms will not last longer than 3-4 days.
If you do not have the option of time, then be rest assured that you will enjoy your trip as much as when you do no in another month or day of the year. The Bay is filled with sunlight and rain usually does not last long. In warmer season you can take advantage of swimming opportunity and in the cooler season you will enjoy Halong Bay like no-one else: imagine a steamy BBQ lunch by the caves in one of the most gorgeous natural complexes of the world – it's all about the experience.
Halong Bay in the peak season
Anytime is a great time to visit Halong Bay but some months receive more visitors than the others. The peak season falls on December and January - the months that coincide with Christmas and New Year break. Other months that also see busy lines of travelers include October, November, February, March, and April. During these months, the weather is also most suitable to visit Halong Bay.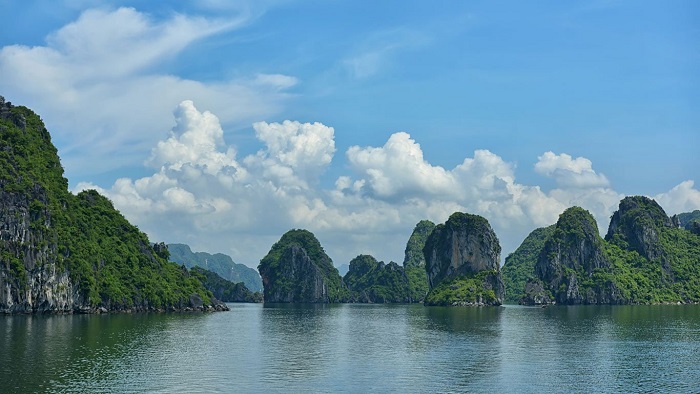 Halong Bay sea in a clear day
Halong Bay in the low season
The period from May to September is often considered a low season for international travelers in Halong Bay. Besides the glowing sun - which makes it perfect for water-based activities, the uncrowded beach and various cruise promotions are all attractive reasons for you to plan your holiday around this time of the year.
With this information about Halong climate, we hope that you will choose yourself an appropriate time to visit Halong Bay. Don't forget to book a Halong junk boat tour via our website. Thank you!