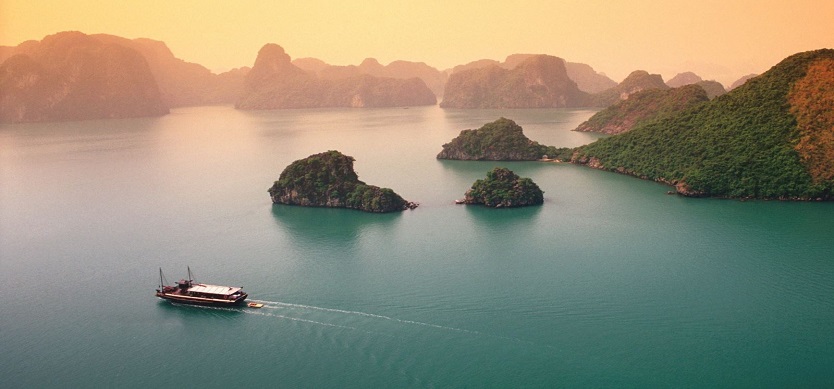 Coming to Halong, it would be an omission if you don't spend time for exploring the cuisine of this city. This land won't let your stomach empty because there are a range of delicious and special dishes that are waiting for you.
Grilled Chopped Cuttlefish (Cha muc)
Address: Halong 1 market, Bach Dang ward, Halong city, Quang Ninh province
Once you come to Halong city, Quang Ninh, the first dish you should go seeking for is probably grilled chopped cuttlefish. According to tourist's reviews, grilled chopped cuttle-fish in Halong is the best which deserves to be in the list of the best foods in the world. So, there are so many tourists seeking for this dish to confirm this great favor and of course, they are not disappointed of what this dish's flavor bring back. The dish is delicious and extremely special as its rumor. We warn about that there are a lot of tourists addicted to this dish and they can eat it in the whole week. The dish is simply made with chopped cuttle fairly and fully seasoned, and deep fried. It is absolutely tempting that you are irresistible. You can enjoy this dish with chili, fish sauce or even ketchup, it is worth to have a whole new taste experience.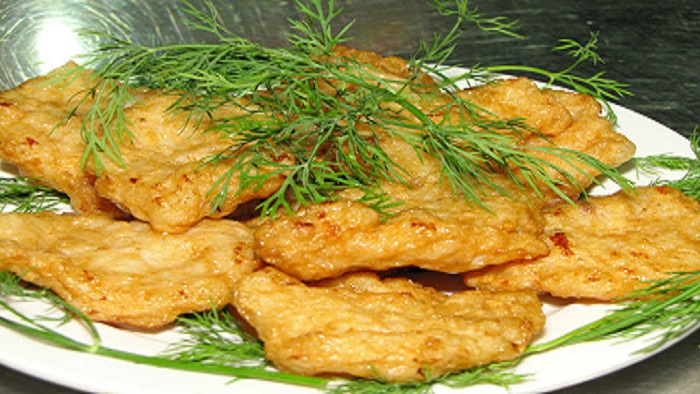 Grilled Chopped Cuttlefish
Grilled Chopped Cuttlefish Fermented Rice Sheets (Banh cuon cha muc)
Address: 36 Doan Thi Diem street, Bach Dang ward, Halong city, Quang Ninh city
Not sure if you once heard of rice sheets but whether you are a picker or a glutton, grilled chopped cuttle-fish with rice sheets is what you should try for once in your lifetime when visiting Halong city. As you walk through any morning food stalls in Halong Vietnam, one of the first choices is probably a dish of rice sheets. It is like a kind of pancake or crepe made of rice flour. What makes the difference and unforgettable impression of this dish may be the ingredients. Cat's ear mushrooms, chopped pork are just the types of seasoning. All of that are wrapped inside of a rice sheet and the grilled chopped cuttle-fish with fried onion is added that gives the dish the completing perfection and distinguishes it from any other regular kinds of rice sheets. The perfect combination of the crunch of onion, the tempting juice of cuttlefish and the softness of rice sheets that are indeed the surprise of your mouth. Especially, what gives the exciting part of this dish is the home-made fish sauce with the taste of hot chili lingering in your mouth. The whole dish is truly the care and love that the cook wants to bring to you.
Quang Yen crustacean (Sam Quang Yen)
Address: 25th April Street, Halong city, Quang Ninh province
Even if you are not a big fan of seafood or an extreme food picker, Quang Yen crustacean will make you fall in love once you try it. From the main ingredient is the crustacean, the cook can improvise to deliver different kinds of dishes with a variety of flavors that can surprise as well as please the most difficult diners. There are a number of the dishes made of the crustacean such as crustacean rolling, bitter and sour fried crustacean, steam crustacean, crustacean fried with noodle, etc. Quang Yen crustacean is definitely a must-eat dish that we highly recommend to you to try when visiting this famous tourist attraction.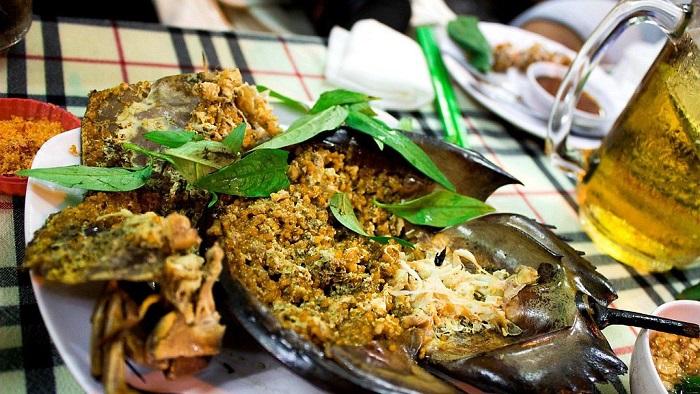 Sam Quang Yen
Sipunculus Nudus (Sa sung)
Sipunculus nudus might be a strange name with many people, but for those who visit Halong before, this is one of the mouth-watering dishes you must try in this city. This dish might give you a lot of surprises because at first sight, it looks nothing different from the earthworm and there is no potential to be a good dish. However, this is listed as one of the most expensive dishes in Halong city and it is also not easy to have a dish because of its high price. The taste, indeed, is much more delicious than its appearance. The common dish is fresh sipunculus nudus fried with garlic. Garlic is just the right spice that stimulates the sweetness of the meat. In addition, they also dried the sipunculus and roast it until the dish has just the yellow-brown color. Roasted sipunculus eaten with chilli and lettuce is just the right dish that you should try once in your life despite the price can be a little bit high compared to your planning budget.
Stomatopoda Noodle (Bun be be)
Address: White Bridge, Halong city, Quang Ninh
Directly caught from the sea, the main ingredient of this dish- stomatopods will surely give you a positive impression as one of the best foods that ever exist on earth. Sweet cabbage, shrimp, catawissa, fried onion, tomato, and chili are also added as sub-ingredients. The dish offers a wonderful taste of stomatopods boiled with the irresistible taste of chili. But of course, what makes the dish different is still the fantastic stomatopods meat with the most wonderful bouillon of all tastes from sweet, spicy to sour.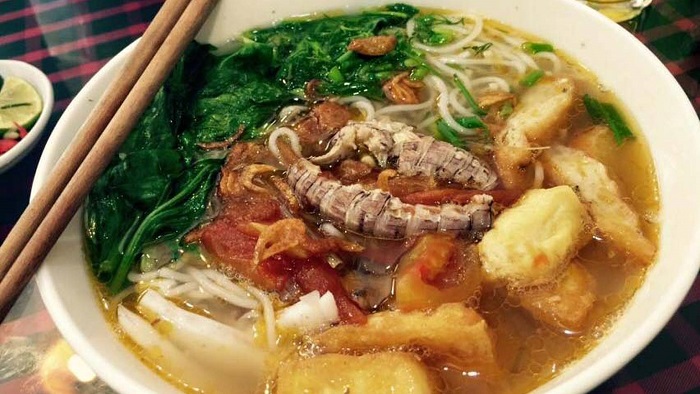 Bun be be
Tourist season in Halong has come, having a Halong bay tour to this attraction to explore the beauty of Halong Bay as well as the specific features of cuisine is such a great experience in your lifetime. If you want to get more information about Halong attractions or Halong cuisine, let's contact us. Thank you!