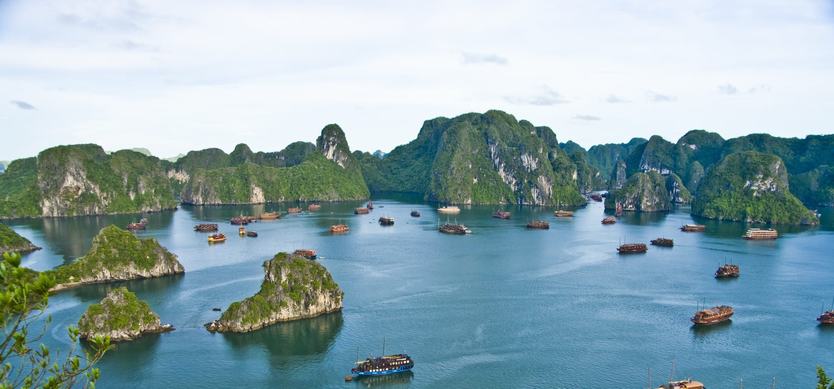 Coming to Halong Bay, you should probably refer to these tips, to have a wonderful cruise trip in Halong Bay. Knowing this information might be crucial because it gives you instructions on how to spend your time, or where to go in Halong Bay right now.
Spend at least two nights on the Bay
If you only spend a day to tour Halong Bay, you feel the surface of this beautiful land. With just a day, you can glance through some caves and back out immediately. But if you spend more time exploring here, you will have a delightful experience. Once you have traveled a long way, your trip will be more valuable if you spend two nights on the Bay.
Visit Cat Ba island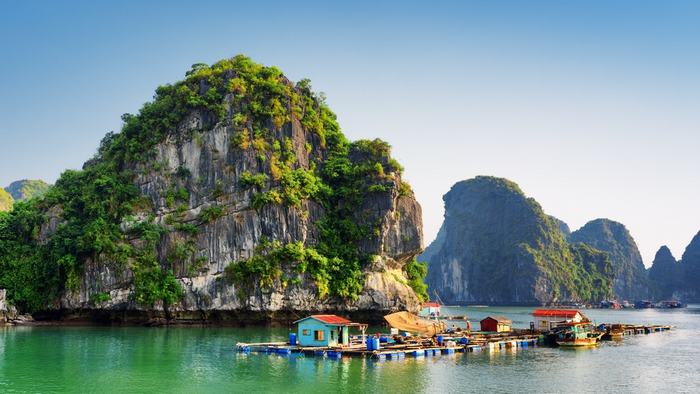 Cat Ba Island
Another reason you should spend at least two nights here: you can visit Cat Ba island. Marry especially enjoyed the time on this beautiful island. We had a free afternoon wandering the fortress, the most favorite part of the trip. The scenery is breathtaking! If you do not like walking, you can rent a motorcycle or spend the afternoon on the beach.
Cat Ba island is the best destination for your Halong Day Tour.
Know the safety information on the boat
I hope this is not a problem with the trip, but I heard about the accident a few years ago that killed 12 people. Since then, I have firmly believed that all boats have an escape hammer placed next to their bed. Make sure you know where the lifejacket is located so that it can be picked up when needed. And with a little caution when taking a kayak, do not change your route on your own!
Climbing
If possible, conquer a mountain here. The view from the top of the mountain so majestic you can not imagine it! If you are in Cat Ba Island or Bai Tu Long Bay, do not miss the opportunity to climb the rocky mountains. I wish I had more time to conquer some more mountain peaks.
If you are in Halong Bay tours one night, consider climbing at least once or twice depends on your time.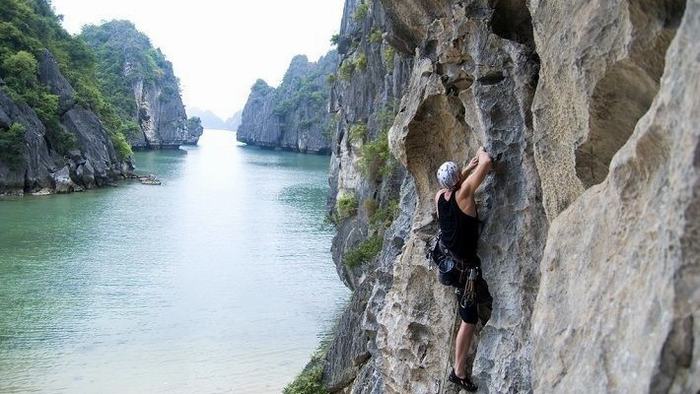 Climbing in Halong Bay
Talk to the guides
Most guides in Halong Bay speak English quite well. Taking this opportunity, we talked with them about the lives of the Vietnamese people, from families, from education to daily life, and we know a lot more. Talking with the locals throughout the journey is also a good way to learn about a new culture.
Some beautiful locations in Halong Bay
Fishing villages on the bay
The coastal fishing villages in Ha Long, such as Vung Vieng fishing village, Cua Van fishing village, Ba Hang fishing village ... are not only an interesting stop but also a favorite spot for tourists.
Beautiful caves on Halong Bay
Halong Bay is more tourists such as the painting of nature, created for perfect beauty. And in the water painting that, in addition to "water and rock" as many people often say, the place is also famous for the beautiful and unique caves such as Sung Sot cave, Dau Go cave, Tam Cung cave.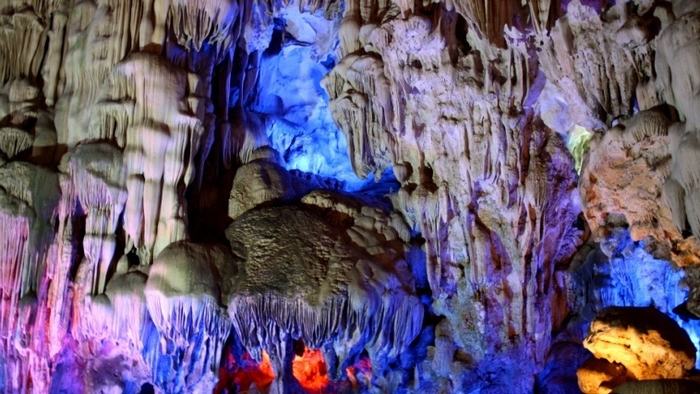 Thien Cung Cave
Taking photos on the cruise
Traditional Halong cruises around Halong Bay are popular with tourists. With impressive architecture and exquisite decor, Halong Cruise is always the place to give visitors the opportunity to "come out" many remarkable photos.
Seaplanes
Currently, besides the usual means of transport, Ha Long Bay tourists from Hanoi also have new options with the modern and luxury seaplane of Hai Au Airline.
Airplanes with two seats for pilots, 12 seats for passengers and large windows, not only help you save time traveling, but also help you to enjoy the beautiful view from the plane, also it records the memorable moments of Halong Bay from 150 to 3,000 meters above sea level.
Take the 'two-floor bus' cable car
On 25/6, Ha Long cable car system was inaugurated and put into operation after two years of construction. The project is located in a complex of entertainment projects worth 6,000 billion VND stretching along Bai Chay beach to Ba Deo Hill (Hon Gai).
The tower at the head of Bai Chay was built 188.8 m high, set a record as the tallest tower in the world. The tower at Ba Deo Hill is 133 m high. The cable car system has only two cabins, such as a giant double-decker bus with a capacity of 230 people per cabin. Inside the cabin large cabin with seats, handles, rails, so the guest is surrounded by large glass windows to help you see the entire Ha Long Bay from above.
Hopefully, you will be able to have a blast in Halong Bay this 2018!
Please return to our homepage for more articles and guidance. Hope you enjoy your time in Halong Bay, and see you again in Halong Bay soon.