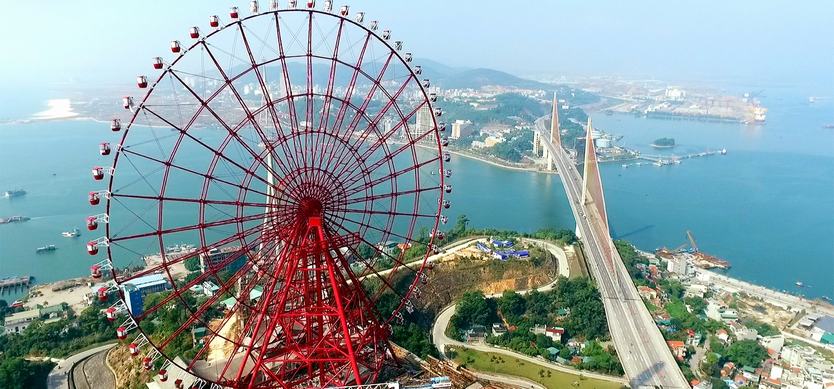 Besides Halong tours, Bai Chay is also a tourist attraction in Quang Ninh. For a wonderful Bai Chay trip, you should not miss the following Bai Chay travel experience.
Bai Chay is located along the banks of Halong Bay. With the average annual temperature of about 20 degrees Celsius, the climate here is cool all year round. Besides the sandy beach which is over 500 meters long, there are the gentle hills to the sea and the rows of ancient pine, creating the pristine natural beauty for Bai Chay ward. All of those advantages have made Bai Chay trip attractive to many domestic and foreign tourists from all around the world.
At present, Bai Chay is planned to be the most beautiful tourist spot in Halong, including luxury restaurants, water puppet shows, traditional music, Royal International Park with windsurfing and water motorbike rental services.
Best time to visit
With a fresh and cool climate all year round, travelers can visit Bai Chay at any time of the year. However, the time from June to August is the most beautiful time in Bai Chay when the climate is cool, the sea water is clear blue, and there are fewer storms, suitable for swimming and relaxing.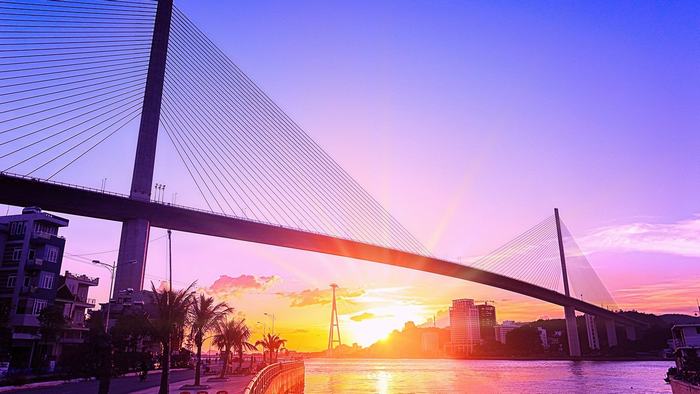 Bai Chay Bridge
How to travel
Bai Chay is situated in the center of Halong, so the route to travel to Bai Chay is very developed and convenient. Transportation to Bai Chay from Hanoi can be accomplished by private means such as car or motorbike, passenger car, and train.
Passenger car
To catch the passenger car from Hanoi to Quang Ninh, tourists can go to Luong Yen or My Dinh bus stations. Every 10-15 minutes, there is one car departing. Ticket price is about VND 100,000/guest for a car seat and VND 200,000/guest for a car bed.
Train
Visitors can buy Halong Express train ticket from Gia Lam station. The train departs at 7:5 a.m which takes about 5 hours to Halong. Ticket prices are USD 5/guest (for Vietnamese guests) and USD 15/guest (for foreign guests).
Private vehicles
There are two routes travelers can refer to which both go through Bac Ninh province. The first route is 160 kilometers long: Noi Bai Airport (Hanoi) - Bac Ninh (32 kilometers) - National Highway 18A (through Pha Lai, Sao Do, Dong Trieu, Uong Bi) - Halong. The second route is 155 kilometers long: Hanoi - Highway 5 - Sai Dong junction (10 kilometers) - Highway 1 - Bac Ninh (23 kilometers) - Highway 18 - Pha Lai - Chi Linh - Dong Trieu - Uong Bi - Halong (122 kilometers).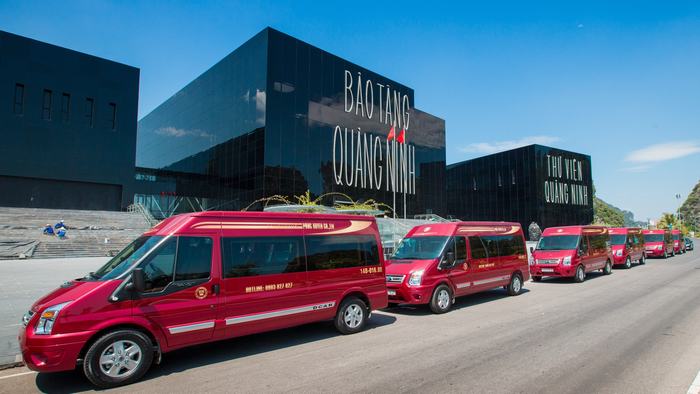 Transports to Bai Chay
In a Bai Chay travel, generally, if you want to save time, you should go by motorbike. For the most convenient way, traveling by passenger car is ideal. For those who need how to get to Halong bay from Saigon, they will fly to the airports of Van Don or Cat Bi and then move to Halong bay by taxi.
Top attractions of Bai Chay
Bai Chay beach
Traveling to Bai Chay, tourists must swim in Bai Chay beach and enjoy the interesting moment in Dragon Park first. It is an artificial beach which is designed very carefully and meticulously in a desirable location near the shore of Halong Bay. Bai Chay beach is wide and beautiful. Not only received the excitement of domestic visitors but international guests also favor Bai Chay beach. Recently, Bai Chay tourist spot has been renovated with green - clean - beautiful space, clear water, and cool air in summer.
Halong night market
Besides, visitors can visit Halong night market to buy souvenirs for friends and relatives like wind chimes made from seashells and conches, pictures, and crafts decorated by coal. Also, the night market offers tourists with a variety of mouth-watering seafood and specialties of Halong.
Bai Chay bridge at night
Bai Chay bridge is 1,106 meters long which is also a beautiful and famous tourist spot in Bai Chay visitors should not miss. It is a bridge connecting Hon Gai and Bai Chay, across Cua Luc river. This bridge has a beautiful geographic location. Halong people and tourists often choose Bai Chay bridge as an ideal destination for sightseeing. Taking a walk on the bridge, travelers can feel peaceful and quiet beauty here, especially in the evening.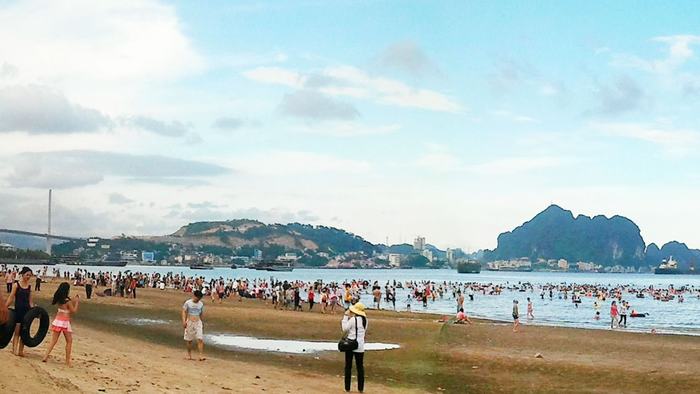 Bai Chay beach
What to eat
Going to Bai Chay, you definitely must try grilled chopped squids. The dish fried squid is extremely hot and fragrant. Besides squid, there are many mouth-watering dishes you should try in Halong such as shrimp, crab, fish, clams, shellfish, and horseshoe crab, etc.
Bai Chay is an ideal beach destination in summer with clear blue water. Hope that with our full guide, tourists will have an opportunity to enjoy the fun, the seafood, and specialties of Quang Ninh. If you like the place, don't hesitate to like and share this with others. Thank you.