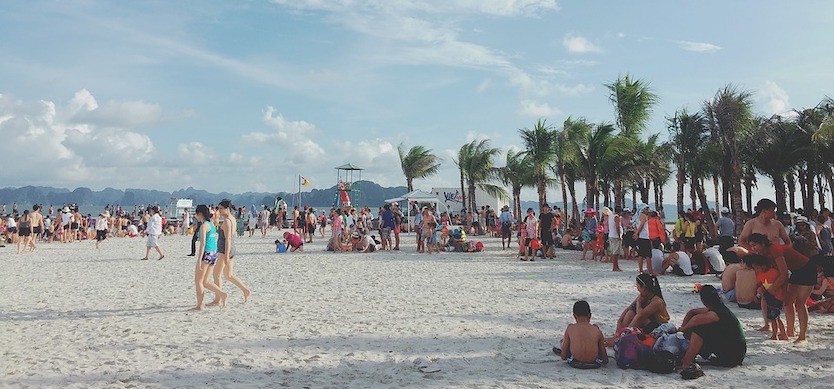 If you fall in love with the green crystal water and smoothy sand of Halong Bay, you should not miss Bai Chay - one of the most attractive beaches here.
Where is Bai Chay beach?
Bai Chay beach is a large, beautiful, artificial beach, which lies close to the coast of Halong Bay. The 100-meter-wide-sandy beach spans over 500 meters.
In summer days, it is a popular destination not only for local people but also for tourists. Early in the morning or in the late afternoon, thousands of people liven up the atmosphere here. The asphalt road winds its way through the white sandy beach and luxuriant casuarinas. Significantly invested, Bai Chay tourist site has rapidly transformed into one of the most captivating beaches in Halong city.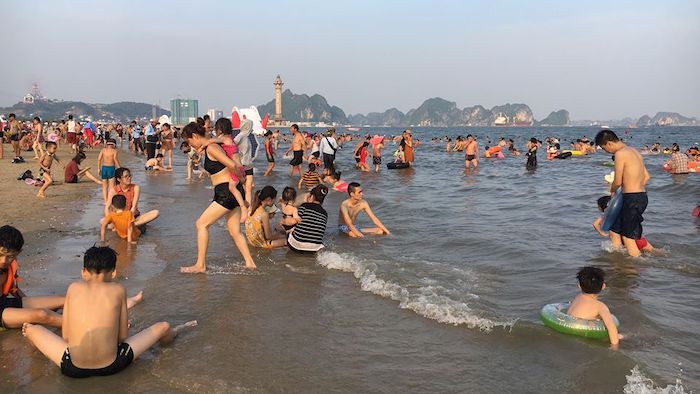 Bai Chay beach in summer
Best time to visit
With a fresh and cooling climate all year round, you can travel to Bai Chay at any time of the year. However, the period from June to August is the most beautiful time for choosing a Halong Bay cruise to visit Bai Chay. In this season, the weather is comfortable with the blue sea and fewer storms, suitable for swimming.
How to get there
Bai Chay is one of the attractions of Halong, so tourism is very developed and transportation is quite convenient. You can go by private means such as cars or motorbikes, buses or trains.
By bus
To catch a bus Hanoi - Quang Ninh, you can go to Luong Yen or My Dinh bus station. There is one bus every 10-15 minutes to Bai Chay bus station. The price is VND 100,000 per seat and VND 200,000 per bed.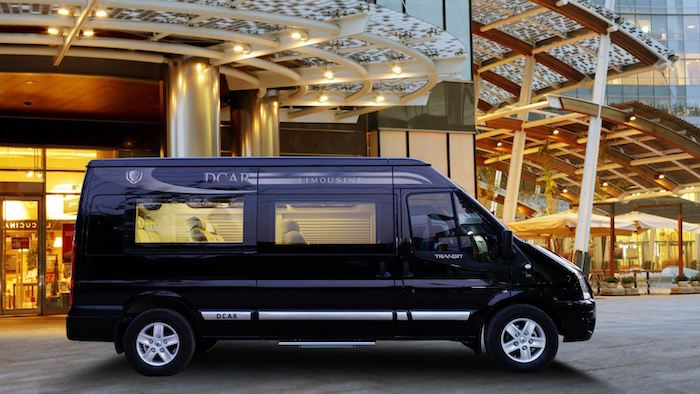 Traveling to Bai Chay by bus
By train
You can buy tickets of Halong Express train going from Gia Lam station. The train departs at 7:05 am, taking about 5 hours to get to Halong. Ticket price is USD 5/way/person (for Vietnamese guests) and USD 15/way/person (for foreign guests).
By cars/motorcycles
There are two routes that you can choose.
The first one is Hanoi - Bac Ninh - Halong. It is 160 km long. From Noi Bai Airport (Hanoi), you follow Highway Noi Bai - Bac Ninh (32km) to Bac Ninh, then go to Highway 18A, through Pha Lai, Sao Do, Dong Trieu, and Uong Bi to Halong.
The second route of Hanoi - Bac Ninh - Halong is 155 km long. Traveling by motorbike will take about 5 hours and while traveling by car, it only takes about 3 hours to reach Halong. From Hanoi, you follow Highway 5 to Sai Dong about 10 km, then turn to Highway 1 about 23 km to Bac Ninh. From Bac Ninh, you go along Highway 18 about 122 km through Pha Lai, Chi Linh, Dong Trieu, Uong Bi to Halong.
The origins of the name Bai Chay
There are many legends for the name Bai Chay. According to local people, legend has it that when the fleet carrying food for the Yuan-Mongolian invaders led by Truong Van Ho came there, the Vietnamese troops and locals under the leadership of Tran Khanh Du set fire to it.
The whole fleet was engulfed in fire. Meanwhile, the northeast wind blew hard and further added fuel to it. The fire was so fierce that it burned down the forest in the western side of Cua Luc. The name Bai Chay then came into popular.
Another legend has it that the western side of Cua Luc used to be a wharf for seagoing boats. Acorn-barnacles firmly attached to these boats' sides and underneath, and might wreck the ships. The local people had to use casuarinas leaves to burn acorn-barnacles. From Hon Gai and other neighboring places, people always see a blaze from there, so they called it Bai Chay.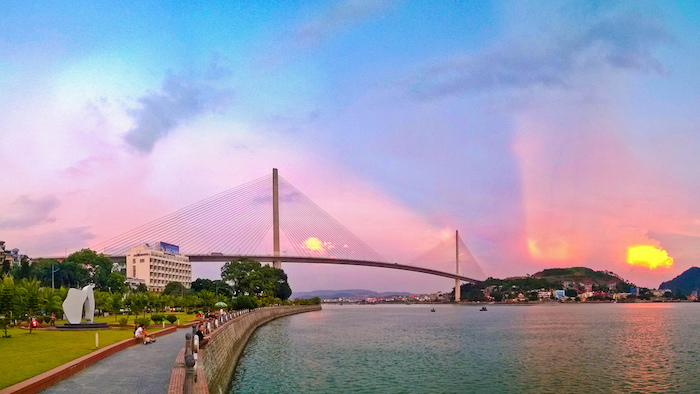 The attraction of Bai Chay bridge
Services in Bai Chay
The Bai Chay tourist site is fast changing into one of the most captivating of this kind in Halong city. It comprises restaurants, water puppet and traditional music theater, Hoang Gia Park, water-skiing, and sea motorcycling.
Today, Bai Chay is a well-known attraction with qualified services, which can meet the increasing demand of visitors. From Bai Chay, it is also convenient to Halong bay cruise tours or Halong bay tours to visit other nearby attractions like Halong Bay, Bai Tu Long Bay, Quan Lan island, and islands, beaches.
Considered one of the most beautiful beaches in Halong Bay, Bai Chay beach will make your trip more unforgettable than ever. For further information about Halong group tour, feel free to contact us or visit our website. Please like and share the article if it's useful for you. Thank you.