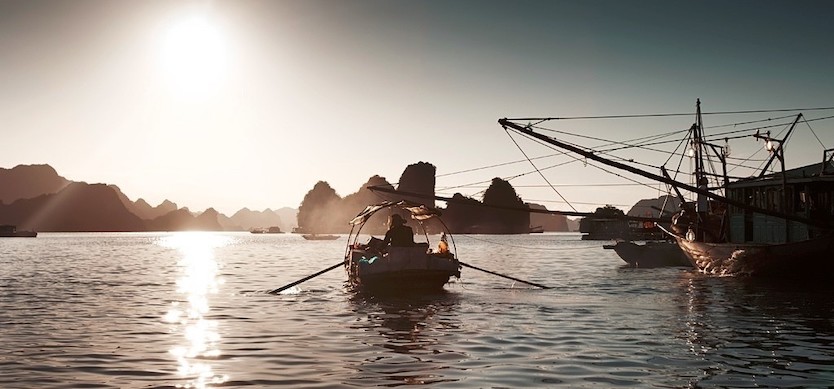 Coming to the Cong Dam, you will be captivated by the majestic and poetic beauty of the landscape, the mountains formed from straight and natural stacked stones.
Cong Dam fishing village located on Halong Bay is a tourist destination with both poetic and majestic beauty of high mountains, the vast sea, and the surrounding landscape. Not modern, bustling or extravagant but this place brings an incredibly peaceful feeling to visitors.
Where is Cong Dam fishing village?
Cong Dam fishing village is located in Bai Tu Long Bay next to Halong Bay, which is favored by nature with a poetic and majestic beauty that makes anyone visit. Currently, tourists can come here by the rustic and straightforward rowboats of fishers or by kayak to discover the beauty here.
The area is an outdoor geological museum area preserved for 340 million years, forming straightforward stacked stones. These rocks have created impressive natural mountains for the Cong Dam fishing village in Halong without the impact of human hands.
Attractions of Cong Dam
Being quite far from the mainland and completely isolated from the usual tourist routes, the scenery in the village has many original wild features and a highly clean environment.
Also, although it is just a small ancient village with only about 120 people living together, Cong Dam still retains almost intact the traditional culture of the place. Besides, there is also a rock park area with stacked rocks forming mountains with many different shapes that make visitors extremely excited.
Located entirely separate from the bustle, life in the fishing village of Cong Dam on Halong Bay is very peaceful. Let's come here and enjoy an endless atmosphere to make all the worries disappear.
Many coral reefs, underwater caves, and clear lakes in the limestone mountains here will make you excited to explore. Not to mention, around the fishing village also has beautiful natural beaches with clear blue water and white sand for you to experience.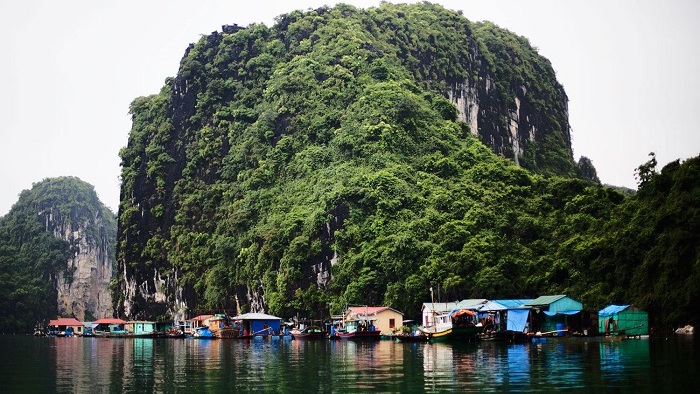 Cong Dam fishing village
Best time to visit
Cong Dam belongs to the complex of the World Natural Heritage of Halong Bay in which has two distinct seasons of the hot, humid summer (April to October) and the cold, dry winter (November to March next year). The annual average temperature is from 15-25 degrees Celsius.
Summer and fall time from March to May and August to October attract domestic tourists the most, why winter time is ideal for foreign visitors. You should not travel to Halong from June to July because this season is often stormy.
Best ways to visit
Many means of transportation can take you to Halong easily such as motorbike, car, passenger car, plane, and train.
By passenger bus
Traveling by bus from Hanoi to Halong is 160km far. You can reach here in two directions.
The first one is going from Sai Dong along National Highway 1A to Bac Ninh and then from Bac Ninh, following the Highway 18 towards Chi Linh, through Dong Trieu, Uong Bi to Halong.
The other route starts from Hanoi along National Highway 18A passing Pha Lai, Sao Do, Dong Trieu and Uong Bi towns to Ha Long.
There are many popular passenger cars with high-quality beds for travelers. The vehicles are spacious and fast moving. You can buy tickets of car lines like Hoang Long, Duc Phuc and many other ones that have schedules to come to Quang Ninh.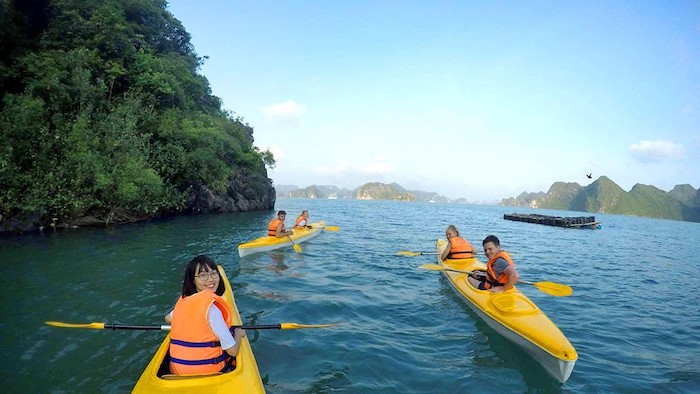 You can arrive here by kayaking
By motorbike/car
Moving by motorbike is often the primary way for those who love adventure or want to travel to Halong at an affordable price. If traveling by motorcycle, you need to prepare a map or google map, items such as raincoat, sunscreen, face masks, water, and other necessary items to avoid fatigue on the way.
By plane
For Halong Bay travel from Saigon, you can travel by plane, but the stop will be Cat Bi Airport, so you need to catch a bus or taxi to Quang Ninh. This way is only suitable for those who combine the Hai Phong and Halong tourism.
By train
Travel by train will cost $5 for Vietnamese and $15 for foreign passengers. At Gia Lam station, Halong Express departures from 7:00 am to Yen Vien station. You should consult and preview the schedule to actively arrange your departure time.
Also, you should not ignore the 6 tips to know for a good Halong trip.
With a poetic and charming beauty of nature and people's life, Cong Dam fishing village will make your time in Halong more fanciful and memorable. For further information about Halong bay cruise reviews, feel free to contact us or visit our website. If you find our guides are useful for you, please like and share with others. Thank you.