Most Vietnam visitors go for a midrange or budget travel so that how to travel from this place to other attraction saving cost is a tough question. In this article, we will help you with the answer for how to get to Halong from Hanoi, Sapa, Mai Chau, and Ninh Binh.
How from Hanoi to Halong
If you are a first-time visitor to Halong the question: How from Hanoi to Halong may confuse you. As we always love you and desire to help you, here are some bits of advice for you.
Motorbikes/cars
Ha Noi - Bac Ninh - Halong route: 155 km. It is the shortest ways to reach Halong Bay from Ha Noi by car from about 3 hours; the journey is as follows:
Hanoi route 5 - Sai Dong junction: 10 km.
Sai Dong along Highway 1 - Bac Ninh: 23 km.
From Bac Ninh province: 18 km - Pha Lai - Chi Linh - Dong Trieu - Uong Bi - Halong: 122 km.
Ha Noi - Bac Ninh - Halong route: 160 km.
Noi Bai Airport (Ha Noi) by Noi Bai - Bac Ninh (32km) to Bac Ninh.
Connect National Highway 18a through Pha Lai, Sao Do, Dong Trieu, Uong Bi to Halong.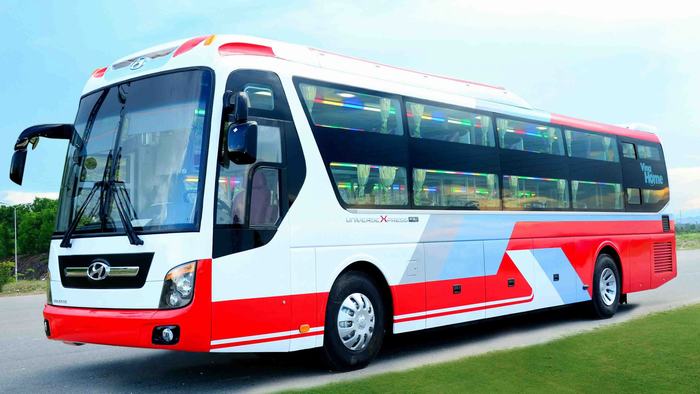 Shuttle bus from Hanoi to Halong
Coach/ bus shuttle
Visitors should choose popular and trustful coach service's name, they gather mainly in major stations such as Yen Nghia, My Dinh, or Giap Bat stations in Hanoi city.
The first departure is usually at 6:00 am, and the last one is at 5:00 pm ( a trip take from 3- 4 hours). It takes about 5 to 15 minutes to Bai Chay Bus Station in Halong, Quang Ninh Province. Carfare ranges from VND 100,000 / seat to VND 200,000 / bed.
Trains from Ha Noi - Halong
Guests can take the train departing from Gia Lam station. The train departs at 07:05 am, takes about 5 hours to Halong. Tickets are $ 5 / ticket / guest (for Vietnamese guests) and $ 15 / ticket / guest (for foreign guests).
Taxis in Halong City
Taxi 886 - Mong Cai: 0203 886 886.
Halong: 0203 62 62 62.
Hon Gai: 0203 84 84 84
Mai Linh: 0203 628 628
How from Ninh Binh to Halong
There are various routes from Ninh Binh to Quang Ninh province; this is a detail list for you to choose:
The 1st route is about 133 km from Ninh Binh zone which is also the longest route. You need to go along the QL10 – the 10 highway. This way will lead you to go though Nam Dinh province, Thai Binh province then turn into TL351 road, after that, keep moving along TL351 road. Next, take a ferry at Rung ferry to across the Bach Dang river one of the largest and most famous rivers in Vietnam history. After that go along the QL18 road – the 18 national highway until you reach Quang Ninh prefecture zone.
The second route is about 128km, from Ninh Binh province, join the National Highway 10 and turn into QL 18 – National Highway 18. From here, go straight through the territory of Nam Dinh province, Thai Binh province, then Hai Phong province until entering the territory of Quang Ninh province.
(after arriving Bai Chay bus station) take a taxi or motorbike taxi(s) from Bai Chay bus station to Tuan Chau harbor in Tuan Chau island directly
Distance between Bai Chay bus station and Tuan Chau harbor is about 15km
Bai Chay area(mainland) and Tuan Chau island are connected with an artificial "bank" having a road for vehicles (buses & cars & motorbikes) so going to Tuan Chau island(=Tuan Chau harbor) from Bai Chay bus station itself is very easy as above.
Remember to obey the traffic law, don't go in the wrong lane, don't blow the red light, besides, search for information about the route from Ninh Binh to Quang Ninh carefully, so that you can prepare for the unexpected situation.
You should spend some time investigating how long, how far the distance between the two prefecture. Also, if you don't want to dive yourself, you'd better take a coach in coach station. There are always departures available every 15-20 mins from Ninh Binh's coach station. The price ranges from 120.000-250.000 VND.
Bus from Ninh Binh to Halong
As the public regulations, in addition to tourist tickets, you have to buy one more sightseeing ticket as a contribution of tourists to preserve Halong Bay. You should go to the official ticket counter to buy, don't spend any time and money for brokers.
Ninh Binh – Hanoi – Halong is an ideal schedule for a self-sufficient traveler asking for how from Ninh Binh to Halong as you can experience 3 of the favorite attractions of travelers in the north of Vietnam. One small advice for you is spending a night on the cruise ship to enjoy the fresh air, fresh seafood, peaceful night and exciting party on board. The lowest price for this kind of experience is 2.028.000VND / night.
However, the prices of services at the ship are quite high and usually apply for two days one night, with a lot of recreational activities such as squid fishing, Kayaking, climbing, cave tours. So if you want to know How to spend the night on the cruise you can visit: Halong Bay tour, this site will help you with information about cruise, hotels, especially tour exploring Vietnam from the North to Halong Bay. You will never doubt how from Mai Chau to Halong, or worry Halong bay package tour in this World Heritage Site.
How from Sapa to Halong
Summer is probably the ideal time for you and your loved ones to make a trip from Sapa to Halong. All year round Sapa is always under cool weather, pleasant as a temperate zone. If the temperature in Hanoi is up to 39 - 40 C, that in Sapa ranges from 17 to 19 degrees Celsius.
Sapa - Halong tours can be one of two types: take a tour operated by a travel agency or make a self-sufficient journey. If you buy tours from travel companies, you do not need to prepare and worry much about how from sapa to Halong because they will take care of you and even your feelings. All you need to do is reading the schedule and enjoy the trip. However, this kind of service often costs you much more than a self-sufficient journey, the visit to the tourist site is often restrained and not as comfortable as you make the exploration yourself.
A self-sufficient journey requires you specific knowledge and well-preparation for budget means of transportation, physical health, time limit, repairing skills and your hobbies as well. About the means of transportation, there are various options for you to choose from.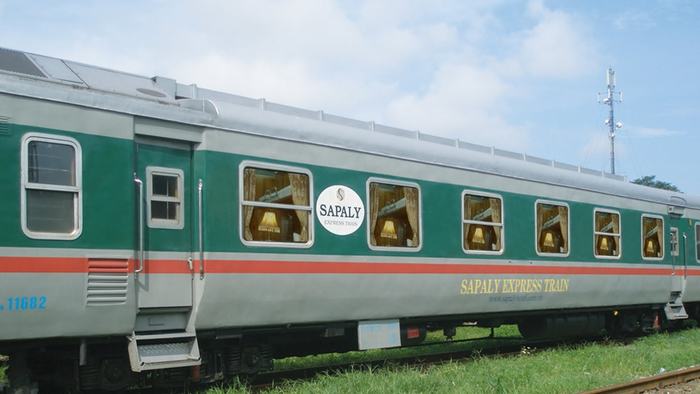 Train from Sapa to Halong
How from Sapa to Halong by motorbike
If you are a backpacker and you love adventures, you can make the trip with a motorcycle conquering challenging trails. However, you need to be extremely well-prepared as long as you need strong physical health. This adventure is only for people with very good mental health, strong physic muscle and have plenty of time as there are great deals of things to see, enjoy, experience, and feel, and fall in love with.
Moreover, the distance from Hanoi to Sapa is more than 300km and from Sapa to Quang Ninh is over 400km. It will take you a lot of time and effort to complete, besides, mountain ranges with challenging, winding passes, twisted trails, hiding many risks and hazards you unexpected to face with.
From Hanoi to Sapa you can take a train, services offered by VNR are varied from budget to luxury, with different kinds of seats. This train often departs at 21h00- 22h00 every night and arrive in Sapa in the morning of the following day. The price is 150.000-280.000 for budget choices. Meanwhile, the luxurious cabin might range from 500.000-1000.000VND. After wonderful days in Sapa, coach or motorbike are the two only options.
By coach
Buses or coaches are the most suitable vehicle from Sapa to Halong. This means of transportation is saving, faster, more comfortable and much cheaper compared to the others.
Every day from Hanoi much high-quality Sapa coach is departing such as Camel Travel, Queen Cafe, Hung Thanh, Sapa Express, Sao Viet, 180,000 - 250,000 / ticket, VIP ticket with the highest luxury car is VND 400,000 / ticket.
Booking tickets to Sapa from Quang Ninh - Halong Bay and vice versa run daily from Sapa to Halong and vice versa. The buses often depart from Sapa at 18.00pm - 785 Dien Bien Phu (Gate Co Doi Thuong Ngan) ticket 350.000VND / ticket.
If you concern about Halong Bay Tour, please contact us for more information. Share this article if it is helpful for you!