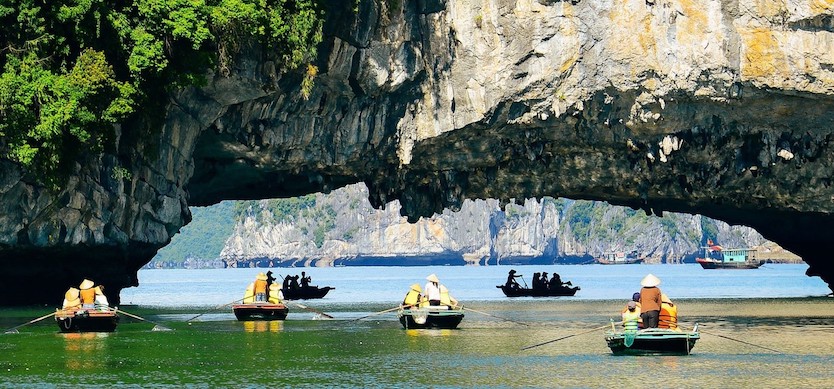 Traveling to Halong, it will be a shortcoming if you don't visit the mystery cave system here, of which Luon cave is a unique one with peaceful scenery.
Where is Luon cave?
Luon cave is famous for its green complex and in-mountain waters and islands, a popular destination for most kayaking tours in Halong Bay. The cave is located in the northeast of Bo Hon island, about 14 kilometers to the south of Bai Chay beach, near the Turtle islet and the Surprise cave.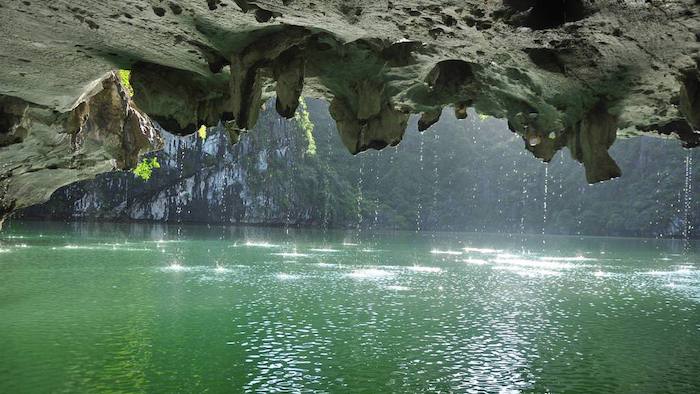 The lake inside Luon cave
The scenery in Luon cave
Luon cave is about 60 meters long and 4 meters wide. Height of the ceiling ranges from 2.5 to 4 meters up on the tidal level. Therefore, it only can be accessed by small boat or kayak. Passing through Luon cave, tourists will reach a lake formed by an enclosed group of limestone mountains.
The lake inside seems like a stadium surrounded by the high podium. It's a salty lake with calm and green sea water. Size of the lake is nearly 1 square kilometer. On the cliff are many fossilized freshwater snail shells proving that place used to be a deep freshwater valley.
If you love kayaking, you shouldn't miss Luon cave because of the round lake with emerald water hiding inside the cave when joining Halong Bay travel from Mai Chau. The lake is surrounded by lush trees and high dangerous limestone walls. Thus, you can only get inside the cave via a natural gate with a lot of beautiful stalactites on the ceilings.
That is also the reason why local people call this place as Luon cave (means Tunnel Cave). The gate is 4 meters wide, 100 meters long, and about 2.5-4 meters high depending on the tide level. Looking at the arched entrance, you can quickly realize that the weathering process still occurs here, water even drops off slowly from the stone.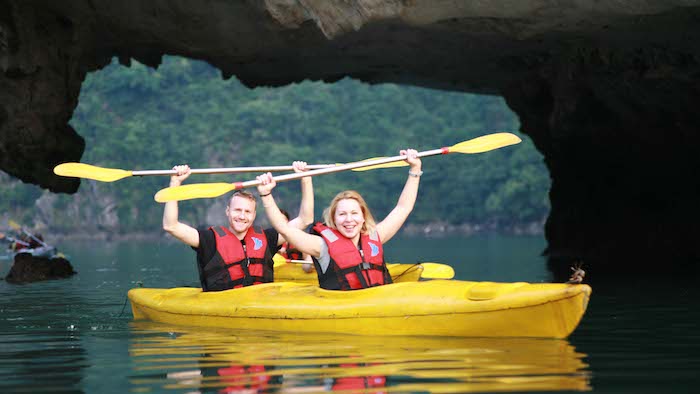 It is an ideal place for kayaking
After passing the pretty gate, you will see magnificent scenery with cycads, ferns, benjamin's fig trees shading the landscape, and many orchids hanging their sweet-scented flowers. If you're lucky, you will have the chance to contemplate and take pictures of beautiful golden monkeys jigging up and down on the trees around the cliffs.
Of courses, they are so lovely and friendly with tourists. Below the calm emerald water's surface in lake, there is a vibrant life of many species like shrimp, fish, crab, and cuttlefish, etc.
The size of the cave's mouth isn't big enough for cruising. However, you can either reach inside the cave comfortably by kayak or small boats rowed by local people and need to spend about 20 minutes for the return route. You will be instructed to wear life jackets according to the provisions of Halong Bay Management to ensure tourist's safety.
Luon cave possesses beautiful scenery, high values of geology and paleontology so that we can do sightseeing or research, etc. It's hard to find anywhere else in Halong Bay being as amazing as the cave which is the mingling of several factors, from the mountain's size and form to the color of the water, the clouds.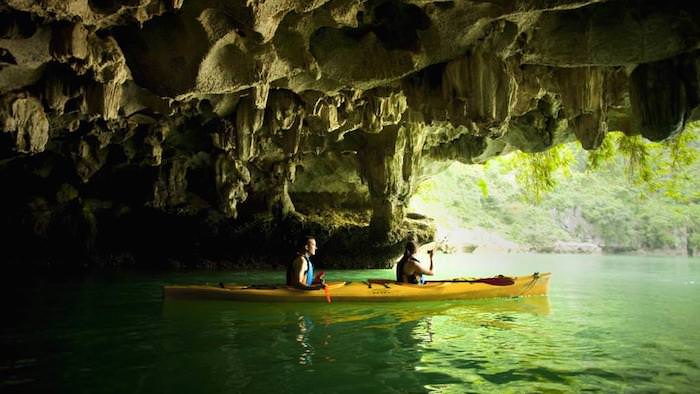 The stalactites in Luon cave
Luon cave will bring to you one of the most relaxed and memorable experiences of your lifetime. If you have a chance to travel to Halong Bay, don't forget to explore Luon cave on a kayak. For further information about Halong cruise price, feel free to contact us. If you find the article useful for you, don't hesitate to like and share it with others. Thank you.