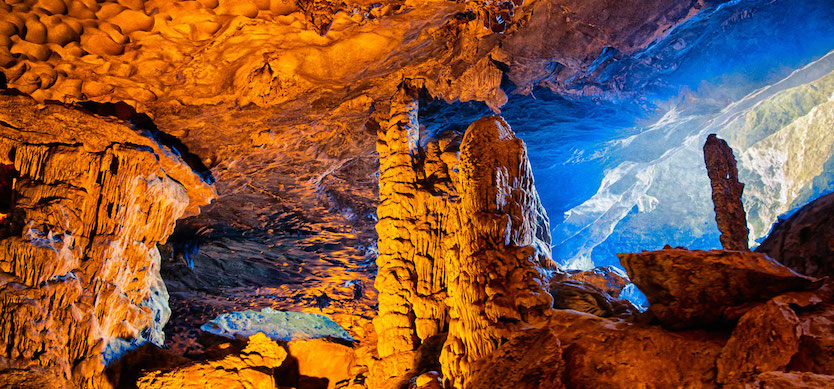 Recognized by UNESCO as a World Natural Heritage, Halong Bay offers tourists a variety of attractions to visit. Here are the most favorable sites in the bay.
Halong Bay is a famous tourist destination of Vietnam, located in the west coast of Tonkin Gulf, in the Northeastern Vietnam area. With thousands of magnificent islands - a miraculous creation of nature, Halong Bay has been recognized by UNESCO many times as a natural heritage of the world. Halong tourism has the advantage of beautiful scenery, attracting domestic and international tourists.
Thien Cung cave
Thien Cung cave is located north of Dau Go island, 4km south of the tourist ship port to the south. It is one of the most beautiful caves in Halong. The cave is nearly 10,000m² wide with a complex structure, including many layers and compartments. The ceilings and walls in the cave are high and wide. Notably, we see countless stalactites and stalagmites with strange shapes everywhere.
Dau Go cave
Dau Go is a large and beautiful cave with ancient features. The French called it "a cave of the Wonders."
It has a rich diversity of flora and fauna. Due to the wide gate, the humidity in the cave is high. Along with the impact of sunlight, it creates the development of diverse flora, especially moss, ferns, and woody plants, etc. It is a distinct feature compared to many other caves in Halong Bay.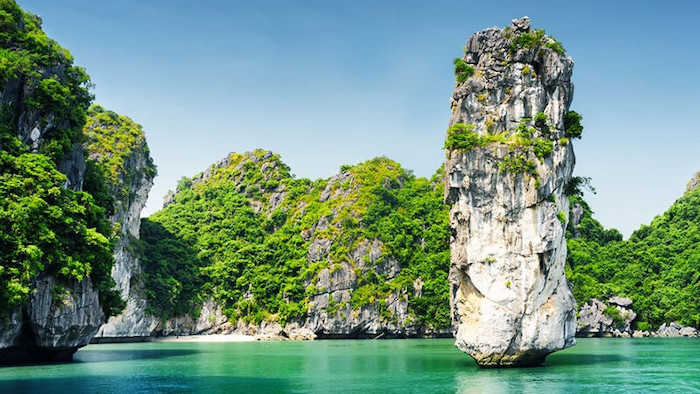 Islands in Halong Bay
Titop island
From above, Titop beach is shaped like a moon embracing the island foot. Unlike many other tourist spots in Halong Bay, besides the beautiful natural landscape, the island also possesses a beautiful beach, called Titop beach. The beach, although not comprehensive, is quiet, airy and very clean.
Luon cave
Luon cave is located on Bo Hon island, 14km from Bai Chay. In here, you can see the stalactites created for millions of years with different shapes and sizes. In front of the cave is Con Rua island, on the right is the Heaven Gate. Luon cave is ideal for kayaking.
Cua Van fishing village
It is one of the most featured destinations of Halong tourism. In Cua Van fishing village, tourists can not only immerse themselves in a peaceful space but also explore the cultural life of fishers, learn how to row a boat, spread nets, and catch fish, shrimps, etc.
Bai Tho mountain
Bai Tho mountain located in the middle of Halong city has a mysterious appearance that attracts tourists right from the first sight. From Bai Tho mountain peak which is 168m high - one of the highest mountains in Halong, visitors can take a look away to see almost all the main roads of Halong city as well as the World Natural Heritage of Halong Bay.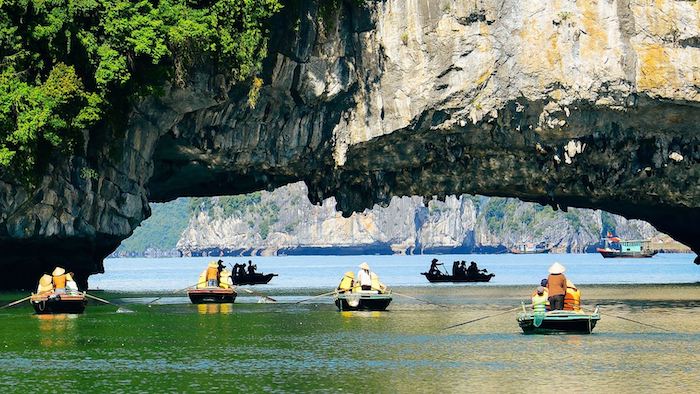 Luon cave
Bai Chay beach
Bai Chay tourist site is located along the coast of Halong Bay, suitable for resting and swimming. This resort has a sea breeze all year round, and the average annual temperature is about 20 degree Celsius.
Tuan Chau island
It is the most beautiful of the 1,969 islands in Halong Bay and also the only island inhabited. It has the most extensive artificial coast in Vietnam. Tra Co beach with white sand is an ideal place to have fun and participate in exciting water games on the island.
Quan Lan island
It is situated in Van Don district, about 55km from Halong city. Quan Lan island is known as a beautiful beach destination, attracting tourists by the green, spacious and pristine landscape.
On the island there are many historical and cultural relics, marking the glorious victories of the ancestors in fighting against foreign invaders. Especially, coming to Quan Lan in the summer, visitors should not miss the beaches of Son Hao or Chan Tien.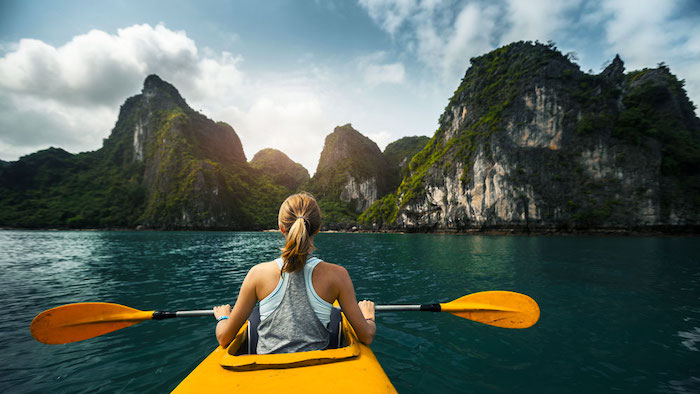 Kayaking in Halong Bay
Trong and Trinh Nu caves
Located on two wings of a small mountain arc east of the Bo Hon island chain, they are more than 3km from Sung Sot cave by sea to the southeast. The two caves are 700-800m apart, through a small beach. The gates of these caves face different directions.
The two caves not only have a lot of stalactites and beautiful scenery but also attract tourists for a very moving love story. In one cave, there is a horizontal rock that looks like a girl lying reaching out to the sea, so it is called the Trinh Nu (Virgin) cave. The other one has a considerable stalactite that looks like a giant man standing to look out to the sea.
Hope that with our guides, you will be able to save the most beautiful time in Halong Bay with your friends and family. For further information about the best Halong Bay tour as well as how from Mai Chau to Halong, feel free to contact us or visit our website. If you find the article useful for you, please like and share it with others. Thank you.