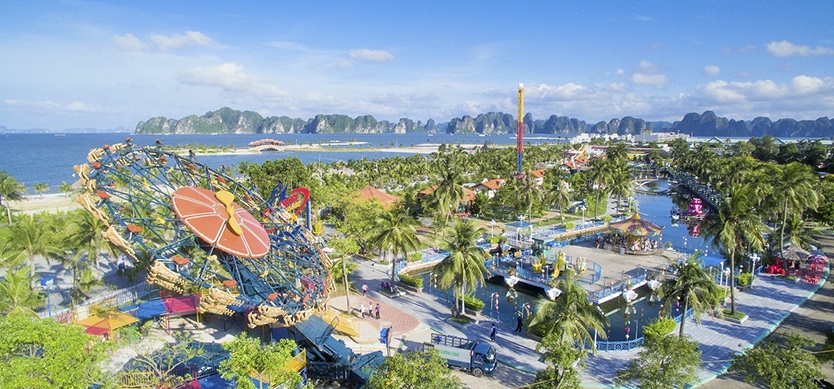 Quang Ninh attracts many tourists to famous destinations, of which Tuan Chau is known as the "golden spot" for the northern sea tourism with its magnificent scenery.
Under the hot weather of summer, travelers will probably find themselves an appropriate place and beach resort to have fun, be immersed in nature, and experience the exciting game and activities, etc. Coming to Tuan Chau international tourist area this summer, visitors will definitely be surprised by the new changes in a beach tourist attraction in Vietnam which have been certified by the Ministry of Culture, Sports, and Tourism of the country.
Best time to travel
From the end of April to October, the weather is extremely cool and pleasant, suitable for many tourism activities on the beach like swimming. This period is considered the most ideal time to travel to Tuan Chau. According to our Tuan Chau island travel experience, you should avoid going there at the weekend or on holidays because of the crowded scene, leading to the situations of the inconvenience and the increasing price of services.
Best ways to travel
Passenger car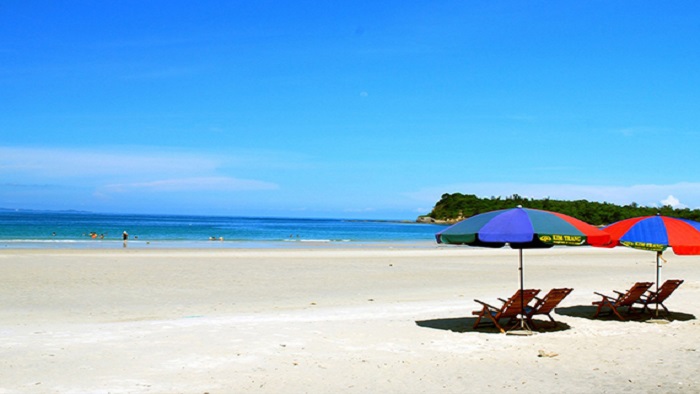 Tuan Chau sandy beach
From Hanoi, you catch the passenger car to Bai Chay. From Bai Chay, there is a small road linking Bai Chay to Tuan Chau so you can catch a motorbike taxi or taxi for more convenient and safe to Tuan Chau island which is only VND 100,000/4-seat taxi. Besides, the taxis are always available here that you can catch at all times. The passenger car ride to Bai Chay takes about 3 hours and costs around VND 150,000-200,000 depending on the services of each vehicle.
Travelers can choose many car organizers, of which the most reputable ones are Kumho Viet Thanh and Phuc Xuyen. Kumho Viet Thanh passenger car departs from My Dinh, goes through Co Nhue crossroad, Bac Ninh city, Pha Lai ward, and Dong Trieu town to Bai Chay bus station. Every 30 minutes, there is a car departing. Phuc Xuyen passenger car goes through Ha Tu ward (Halong city), Nguyen Van Cu street, and Cao Thang ward to Bai Chay bus station.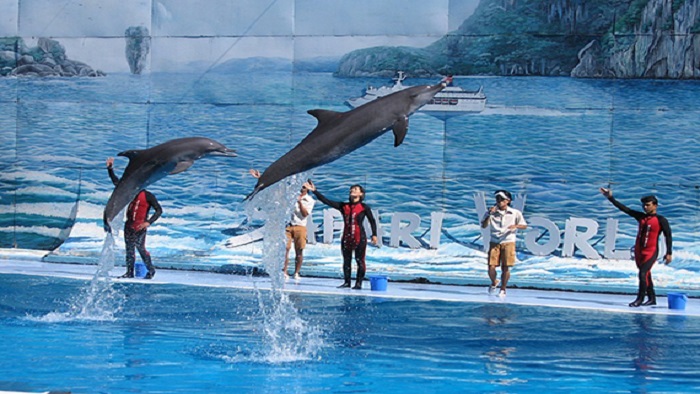 The fascinating shows in Tuan Chau
Motorbike
If you want to travel to Tuan Chau by motorbike, you have to travel about 160 kilometers through the provinces of Hai Duong andBac Ninh on the Highways. In this way, travelers have to research clearly the route on maps, Vietnamese tourism, or use the positioning application of Google Map to find the most appropriate route and avoid traffic violation.
From Hanoi to Quang Ninh, there are a number of roads to choose from. The shortest route is that from Hanoi, you go straight National Highway 1A and turn to Highway 18 to Pha Lai and Sao Do wards to Bac Ninh. At this point, you turn right and then go straight to Bai Chay.
In the second road, from Hanoi, you go to Highway 5 through the city of Hai Duong about 5 kilometers. When you meet the junction to Sao Do ward, you turn left to Sao Do, turn right to Highway 18, and continue to go as the first route.
Train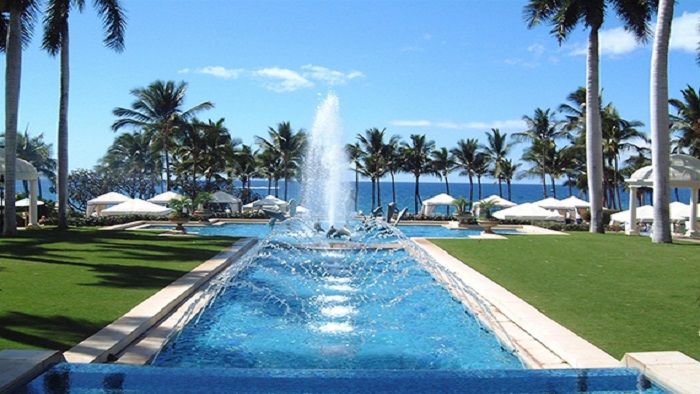 The luxury resorts in Tuan Chau tourist spot
Visitors can buy Halong Express train ticket from Gia Lam station. The train departs at 7:5 a.m which takes about 5 hours to Halong. Ticket prices are USD 5/guest (for Vietnamese guests) and USD 15/guest (for foreign guests).
Plane
If visitors want to have a Halong Bay travel from Saigon, they should travel by plane from Tan Son Nhat Airport to Cat Bi Airport and then move to Tuan Chau island.
Top attractions in Tuan Chau island
Tuan Chau is a beautiful and famous island which is preferred by many domestic and foreign travelers. Besides swimming in the beautiful beach, tourists can enjoy several fascinating entertaining activities occurring at certain times such as monkey circus performances, crocodile show, water music performances, sea lion and water dog circus performances, and 5D movie cinema, etc. There are also many games available all day round like kangaroo ferris, electric racing, merry-go-round, strange house, and children's house, etc. The price ranges from VND 180,000-200,000/guest, and it's free for children who are shorter than 1 meter.
Also, visitors should move to the nearby areas which have many famous tourist attractions in Quang Ninh such as Hon Gai, Bai Chay, or Co To, etc.
Where to eat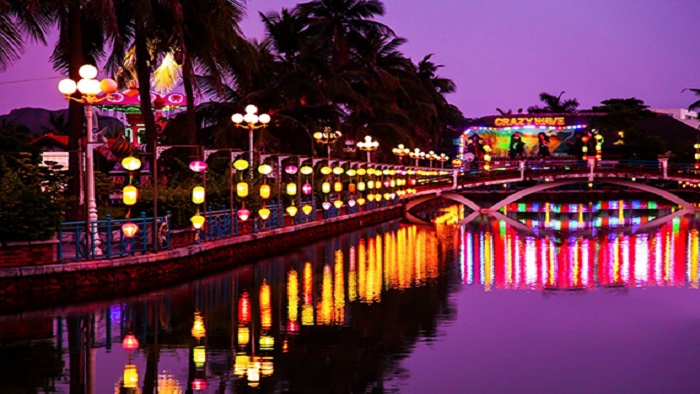 The sparkling Tuan Chau at night
Tuan Chau cuisine is very special and attractive, of which the Tuan Chau cuisine area and Chinese restaurants have the most delicious food. However, the price in these places is very expensive, so travelers can also move to Bai Chay or Hon Gai to be served the fine food at a reasonable price. Going to Bai Chay bridge to Hon Gai island and then to Hong Dam village, visitors can enjoy seafood raised in the raft which is cheaper than Bai Chay seafood.
In addition, travelers can go to Co Ngu and Thien Anh seafood restaurants. These restaurants are the most famous ones in Bai Chay with high-quality food, enthusiastic service, and affordable price.
Tuan Chau has a variety of seafood and specialties, of which the mouth-watering dishes you must try in Halong are grilled chopped squids, peanut worms, and horseshoe crabs, etc.
Tuan Chau island with beautiful natural scenery and interesting games has attracted many tourists to visit and relax each year. If you like this place, feel free to contact us via Halong Bay tours for more information and don't forget to like and share this with others. Thank you.